The relationship between America and the Middle East has been difficult, but the town of Paterson, New Jersey, proves that it has never been broken. The crime rate here is at a record low, business is booming, a food revolution is happening, and the American-Arabian mayor is rightfully proud of it.
Speaking in response to Donald Trump's disrespectful comments towards Middle Eastern migrants living in America, Mayor Sayegh simply said, "If Donald Trump wants to see what Arabs and Muslims are doing in America, let him come to south Paterson, and he can see for himself."
First, A Little History
Once upon a time, Paterson was famous for its own strain of New Jersey casinos. It's difficult to imagine, but there were glittering, glitzy gaming halls lining the streets. Nowadays, as with most big cities, you'll find the big gaming brands only if you travel a little further from the center of the town, where you'll be able to enjoy all the roulette and poker that New Jersey has to offer.
But the center of the town is still definitely worth a visit (especially if you're a foodie), as now Paterson has another string to its bow. South Paterson is fondly referred to as Little Ramallah, thanks to the vibrant Middle Eastern community that has formed there.
Back in the early 20th century, Lebanon's decimated silk trade was salvaged and moved to Paterson. Locusts and blight had ruined a centuries-old trade, but Syria was not ready to let their business die. By 1924 Paterson had at least 25 flourishing silk factories and a whole new industry that was boosting a broken economy. Along with this industry came many Syrian migrants, bringing with them an exciting food heritage that is finally being celebrated now in 2020.
Bring On The Food Tour
Mayor Sayegh has been outspoken in his desire for South Paterson to become a foodie destination. It looks like his plans are already coming to fruition. Middle Eastern cuisine is incredibly varied, but it has taken a while to gain traction amongst the foodie community. New initiatives to bring this culture into the mainstream are popping up more rapidly, whether it's Palestinian cookery books or entire food truck festivals.
One thing is for sure, Paterson's Main Street is a dangerous street to walk down; well, it is if you're on a diet. Most of Paterson's Middle Eastern restaurants can be found near the main street, so the smell of meat over charcoal and freshly ground spices is heavy in the air. Just follow your nose and you'll certainly find something delicious.
Fattal's Bakery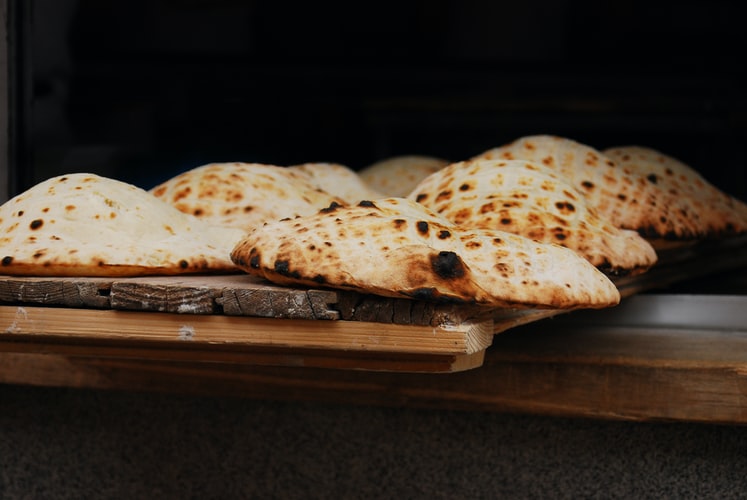 One of the longest-running establishments in Paterson, Fattal's Bakery began in 1968 as a small bakery, tucked away at the back of a parking lot. Now it has survived three generations and has exploded in size.
The bakery is still the big draw, with homemade pita, baked in the brick oven, being the star of the show. Light and slightly smokey pita is topped with a plethora of delicious ingredients. Tomato and cracked wheat, za'atar, and ground lamb are the most popular.
Now it's possible to get a seat inside, where you can browse a range of ingredients hard to get hold of in other parts of the country. Though some businesses lose a little charm as they expand, Fattal's has found the perfect balance. Everything they sell is high quality, whether it's 24-carat gold jewelry or powdered milk. A trip into the supermarket here is like walking into Arabia.
Nouri's Family Restaurant
Nouri is another family name that is well known in Paterson. Nouri started as a bakery back in 1978, which also morphed into a supermarket. Recently they have opened a restaurant that serves traditional Lebanese cuisine.
Pomegranate lahmacun is one of their standout dishes, a home-baked flatbread topped with ground lamb, and drizzled with a sticky fruit syrup. The distinctly Arabian combination of fruit and meat is finally being appreciated all around the world, but there are still a few fusion dishes that have a distinctly American culinary vibe. A pita bread stuffed with salted french fries, topped with a dill pickle, and a fiery garlic mayonnaise combines the best of Lebanese and American comfort food.
This willingness to adapt and mold is perhaps what is behind the success of Paterson. Whilst halal butchers, modest-fashion stores, and Arab barbers line the streets here, there's still a fierce patriotism amongst Paterson's community. Paterson's residents have held onto their own identity, while fully embracing the morals and values of their new country. Mayor Sayegh might say it best, at the end of each of his conversations, where he signs off with 'God Bless You, and America'.
WE SAID THIS: Tell us your thoughts in the comment section below.