The holy month of Ramadan has blessed us again this year. It's the month where social gatherings and connecting with your families and friends are almost sacred. However, due to the unfortunate circumstances the world is going through, a few safety measures and fundamental control mechanisms were implemented to curb the spread of the coronavirus that led to the cancelation of many social gatherings.
When focusing on the current situation and the worldwide panic surrounding it, most have come to the conclusion that virtual alternatives were the key to enjoying this year's holy month. And in order to keep the stay-at-home audience united and entertained, Vodafone, the number one telecom operator, is uniting us with the ones we love by launching a campaign to not only amuse us, but to also give us hope. Ramadan's "عزوتنا ملايين" campaign comes in line with Vodafone's bigger COVID-19 campaign "Stay Home…Stay connected", calling for people to stay connected in these distanced times, and avoid large crowds gatherings.
Vodafone has chosen a different approach when creating the "عزوتنا ملايين" campaign. It's well known that Vodafone has always played a significant role in driving culture, especially in times of crisis; the company anticipates possible changes and takes alternative actions. So, due to the fact that it's hard to shoot a compelling new TV commercial under quarantine, Vodafone managed to gather your favorite stars from the comfort of their homes! In this year's ad, stars actually took the lead in directing and shooting their own scenes from their own homes. From Mohamed Salah, Mona Zaki, and Amina Khalil, to Mohamed Henedy, Amir Eid, Esaad Younis, Ahmed Fahmy and others who were seen sharing their favorite stay at home moments with their loved ones while Sherine's amazing voice sings about "العزوة" in the background. Vodafone followed the necessary precautionary measures, and it put everyone's health and safety as a top priority while filming the ad, sending all the celebs a special, sanitized camera.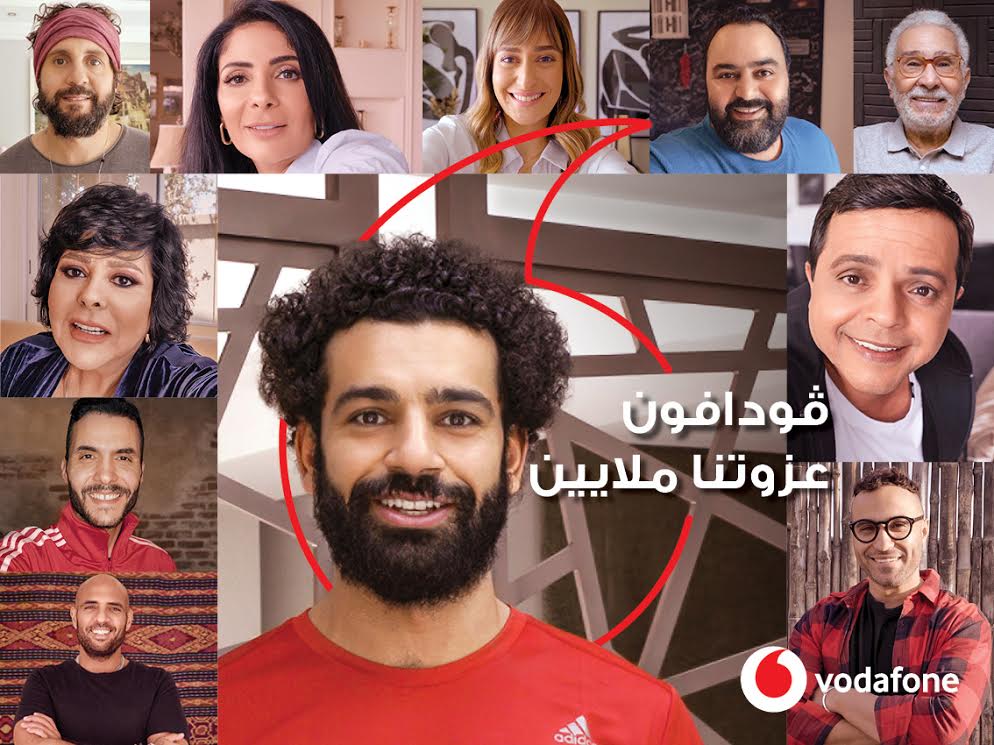 The aim behind Vodafone's Ramadan ad isn't only intended for promotional purposes, as it has a greater goal of delivering a powerful message to its audience during these exceptional circumstances that the world is facing. Focusing on Esaad Younis' scene in the ad, she appears having an important discussion with Dr. Ahmed El-Manawy, who initiated the manufacture of a medical face protector with special features to protect all of our doctors and nursing staff from the constant risk of infection due to the fact that they're always exposed being the front-line fighters in the pandemic. This clearly shows how Vodafone not only encourages us to stay at home, but also reveals Egypt's new initiative that is directed towards the health sector fighting COVID-19.
Vodafone has announced its support for this initiative by generously donating medical face protectors to help medical staff preserve their own health while working at quarantine hospitals, enabling them to treat more coronavirus patients safely.
The concept behind creating "عزوتنا ملايين" comes from the fact that fans have always been admiring and supporting their favorite stars throughout their career, and now it only makes sense that it's time for them to entertain and support these people during their difficult times in lockdown by encouraging them to stay at home and capture their favorite moments with their loved ones. To prove that despite the distance, Vodafone still excels at connecting people to their "عزوة".
The ad has such an emotional and fun twist that it managed to touch all of our hearts while making us laugh. The naturally shot scenes managed to send vibes of happiness and joy to everyone's homes. A truly unique, lighthearted, and uplifting Ramadan campaign that is completely different from any other.
Finally, Vodafone has also painted Cairo's sky a glowing red, using Cairo Tower as a part of "عزوتنا ملايين" campaign that comes in line with their "Stay Home…Stay Connected" initiative. The tower will continue to display Vodafone's name along with its Ramadan slogan "عزوتنا ملايين", while striking lights onto Cairo's sky throughout the first week of Ramadan. This is all intended to remind us of the importance of staying at home, and how Vodafone never disappoints at connecting people with their loved ones, no matter what the circumstances are.
WE SAID THIS: What do you think of the campaign?