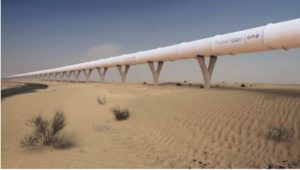 Commuting from Abu Dhabi to Dubai in less than 15 minutes has been a dream for many, but it's no longer a dream. A futuristic trainline, dubbed the Hyperloop One, will be set to revolutionize UAE's transport system. It has recently been unveiled by Bjarke Ingels Group (BIG) – the team working on the design of the project – and will officially launch on November 7th in Dubai.
A video is released by the group to share snippets of the new supersonic rail system design. This invention will merge between the capital and the city of lights. "We are in a new time now where you can develop a new transportation system in very few years and change the world," said Jacob Lange, partner of BIG.
The train works by sending a rail capsule, carrying passengers in an air-cushioned pods speeding through airless vacuumed tube, traveling at 150 kilometer distance in a matter of minutes. It usually takes an hour and a half to reach Abu Dhabi, so this will save almost 75 minutes!
The ultra-fast system is a huge investment for UAE as it is the first in the region. It will pass through Abu Dhabi Airport, Al Maktoum Airport and Dubai Airport.
WE SAID THIS: I would definitely give this a try. It's like riding a roller-coaster!