GFF2020 Highlights: From Funny Memes to Tributes and Trash Talk, Here's What You've Missed So Far
By Nour El-Miligi
If you access your social media accounts, even once a day, you'll inevitably stumble upon hundreds of posts, and they all happen to be covering the Gouna Film festival that has been going on for 3 days.. to an extent that has become overwhelming and challenging to catch up on everything – because it's ALOT!
And because we understand the dilemma and your eagerness to be on track with all that's going on, we're here at your service giving you the full scoop on the past 3 days, highlighting the most prominent dresses and gossip that has been circulating all over social media.
The dresses that stopped the show
We can't deny that our favorite celebrities outdid themselves this year, perfectly glamming themselves up and turning heads with their stunning dresses. Yet, like every year, there are some dresses that just left us speechless! So feast your eyes..
Stephanie Saliba in Georges Hobeika
Raya Abi Rached in Maison Valentino
Hilda Khalifa in Elie Saab
Tara Emad in Deana Shaaban
Sara El Tounsi in Emme
Memes and interviews gone wrong
Celebrities pay a huge price for their fame, especially being under constant spotlight. Imagine wearing a dress and then POOF- millions are literally judging every detail of your outfit and mocking you for your taste? We're not denying anyone's right to express his opinion.. but criticizing a dress is a thing, and bullying is another.
Maha Al Sagheer's dress
Okay, we're not telling you that you're supposed to be madly in love with Maha's chosen dress for the first day of El Gouna's film festival, but the thread of memes that followed her entrance was, well, too much. Let's remember the sole purpose of the festival, which is showcasing special films and enjoying ourselves through it all, it's no runway neither a fashion festival.. it's a FILM festival.
Yasmine Sabry and Leila Elwy sparking controversy
In a quick chat with Yasmine, she was asked about the roles she aspires to play, and when her answer was "anything that represents women", the presenter was clarifying if she means "defending women's rights", she replied "there's really no issue to be defending".. oops!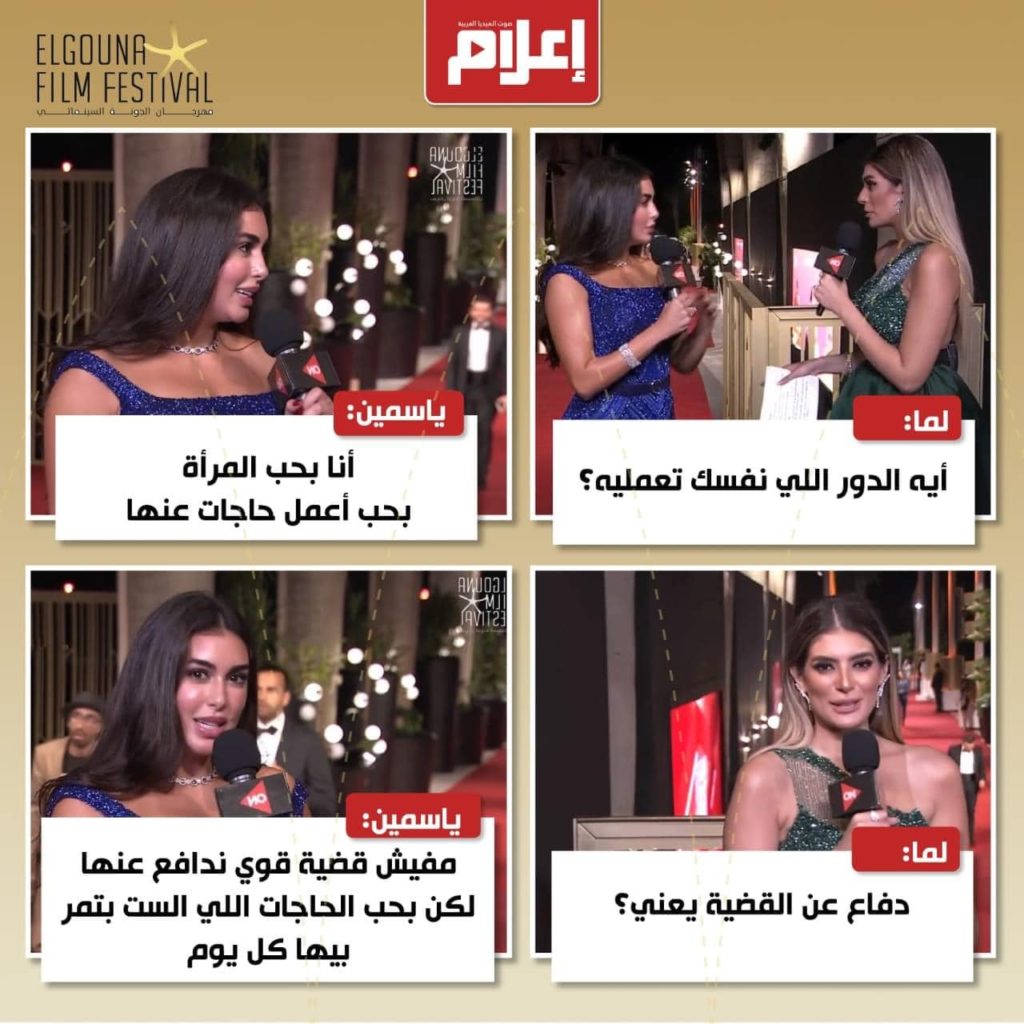 On a similar note, when Superstar Laila Elwy was asked in a separate interview whether or not we're living in a patriarchal society, her answer was no.. and her proof was simply because "the number of females in Egypt is more than the number of males".. say what?
We're not saying that what's being said about women's rights isn't frustrating, but we are saying that harshly judging people for clumsy mistakes and wardrobe decisions isn't the point of this festival.
Honoring those who have left us
Another touching take was remembering our favorite stars who left us too soon, and whose absence on the red carpet still saddens us.
The meme that went viral
You know, a naturally sarcastic population will never cease to stun us with the kind of funny content they choose to share and fill our news feed with.. and regardless of the meaning they're trying to convey.. it was just hilarious!
So much has happened already and it's only day 3. Waiting to see what's to come in terms of beautiful dresses, feuds and memes during the upcoming days!
WE SAID THIS: Stay tuned for further live coverage from our side at El Gouna Film Festival!