From Getaways To Business Meetings: How St. Regis Almasa Is Making Strides Towards Becoming The Location For Cairo Events
A premier choice for the finest events and most discerning guests, from world leaders and global summits to resident families and intimate gatherings. The St. Regis Almasa is perched over 120 acres, this expansive complex serves as a destination within a destination, combining both the glamour of the renowned St. Regis brand's luxury and the cutting-edge facilities and prime technology needed for city-wide events.
On the fast track to becoming the new hub for Cairo's key and international events, The St. Regis Almasa is uniquely poised to meet the multidimensional needs of every event. Guests will have their choice of four regal ballrooms, dedicated bridal suites, twelve meeting rooms, and six impressive VIP lounges with access to private dining, a purposely-built Summit Hall that is ideal for meetings of high-level dignitaries, and the state-of-the-art Teatro Al Assema offering an outstanding spectator experience.
Turquoise Ballroom
Located inside the hotel, the floor-to-ceiling windows of the Turquoise ballroom offer an aesthetic appeal and bring exquisite outdoor views and bright daylight inside. This ballroom is suitable for hosting the most glamorous events and gala dinners where you can welcome your guest in its spacious foyer that features luxurious and classic furniture bordered with golden ornaments, vintage antiques, lavish marble floors, and a comforting combination of blue and white hues.
As for larger events, The St. Regis Almasa offers a two-story convention center that extends over 42,000 square feet of flexible event space. It comprises an array of expansive and multipurpose venues that are designed to match the requirements of any diplomatic, corporate or social event. Every corner is an iconic masterpiece that never fails to leave guests awe-inspired.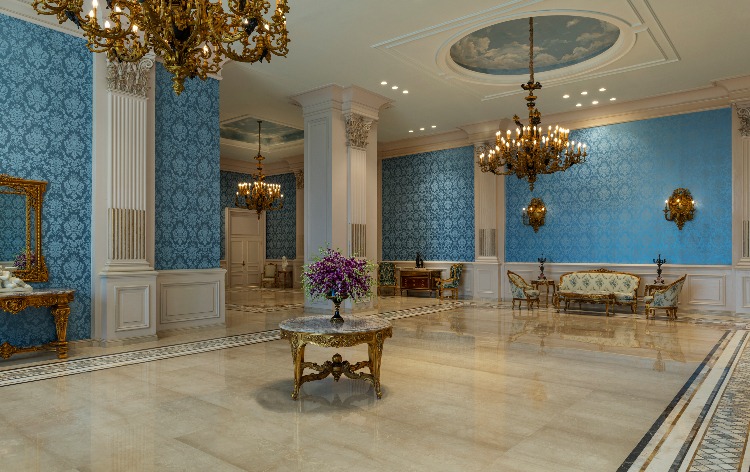 The Summit
A one-of-a-kind Summit Hall that can be compared to none in Egypt, This 6,200 square meter hall stands apart with its magnificent architecture, ornate dome, and high-end desks that are equipped with separate digital screens and microphones. Complimented by an adjacent VIP lounge and a glamorous entrance that revives the glory of Egypt through the beguiling combination of breathtaking grand pillars, an array of glittering chandeliers, and artful murals, The Summit hall is built to host arbiters of politics and key governmental figures from all over the world.
Teatro Al Assema
A world-class theatre that promises an unrestricted space for imagination and entertainment; Teatro Al Assema. With its vanguard spirit and timeless glamour that is evoked by its hues of blue and gold, alluring hand-painted ceiling, and embellished walls, Teatro Al Assema is an iconic masterpiece that is created from a palette inspired by Roman architecture to set the stage for the finest events for up to 1,535 guests. This theatre is equipped with state-of-the-art audio-visual equipment, a dedicated entrance, and separate parking to guarantee that every event will be organized down to the smallest detail.
Charisma Ballroom
On the opposite side of the theatre, make your way to The St. Regis Almasa's breathtaking ballroom; Charisma. Upon entering its foyer which features an alluring grand staircase encompassing a dazzling grand chandelier, you will immediately be charmed in a world of opulence that will lead you to the regal ballroom. Enchanting weddings and mega events are held at Charisma ballroom with its expansive space that accommodates up to 1500 guests. The ballroom's flexible space and bright colors harmonize with every design plan or theme.
Florence & Chantel Ballrooms
Holding onto the house of Astor's bespoke celebrations, The St. Regis Almasa offers two astonishing ballrooms; Florence and Chantel with their magnificent wood features, elegant arches, crystal chandeliers, high ceilings, unobstructed spaces that suites every event setup. Alongside the two ballrooms, there is a dedicated marble foyer that is an ideal choice for intimate cocktail receptions to mark the beginning of your iconic events.
The Press Room
To complement your well-organized event, The St. Regis Almasa hotel offers a distinctive press room with a state-of-the-art translation room to host press conferences that may take place on the sidelines of mega events or governmental meetings. The hotel also dedicated a separate entrance and a spacious foyer for esteemed media representatives and journalists.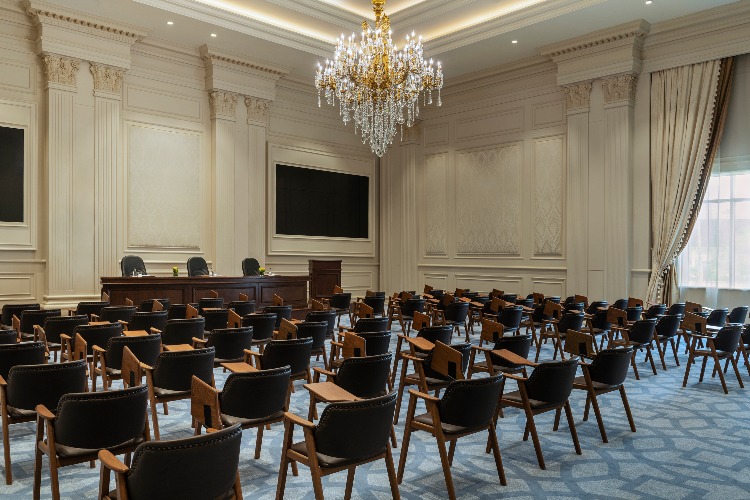 Twelve Meeting Rooms
Twelve meeting rooms that are exquisitely appointed with premier technology and designed to accommodate any type of meeting or breakout session setup. Whether you need a meeting room that is surrounded by natural light and inviting views to keep your attendees sharp and energized, or you need a private one that guarantees the confidentiality of your meetings, The St. Regis Almasa's meeting rooms are your ideal destination.
Quintessential luxury comes to life in The St. Regis Almasa Hotel, poised to become the best address in the heart of the up-and-coming city, which is slated to be the new face of Cairo and the financial hub of Egypt. Representing the ideal destination for bespoke events catered by the hallmarks of the iconic brand signature services.
WE SAID THIS: Don't Miss…Here's How The St. Regis Almasa's Serviced Apartments Provides A Homelike Feel