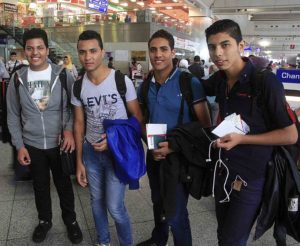 After getting bailed out of a five-year sentence for allegedly "insulting Islam," it was revealed that the four Coptic teenagers have sought asylum in Switzerland. Their lawyer, Ehab Ramzy, told the Daily News Egypt that the four teenagers left Cairo five months ago for Turkey, where they were granted residence and received support from Human Rights organisations. Later on, they requested a humanitarian visa to Switzerland.
"The boys were expressing their views and opinions, not insulting the religion," Ramzy told the media. "Anyone who felt that they were in danger due to the influence of extremist ideas inside governmental institutions would do the same as these boys."
The history of this case dates back to February, where the Minya Juvenile Court sentenced the four minors to five years in prison for "mocking Islamic prayer rituals" and posting a video that "disrupts public order," according to the Egyptian Commission for Rights and Freedoms. They were released on bail pending trial in May.
WE SAID THIS: Let us know what you think in the comments section.