Following a widespread social media campaign, Lauryn Hill has canceled this week's planned concert in Tel Aviv, stating that she wanted to schedule shows in both Israel and Palestine, but that the latter "proved to be a challenge". In the official statement posted on her website and Facebook page, she states, "It is very important to me that my presence or message not be misconstrued, or a source of alienation to either my Israeli or my Palestinian fans. For this reason, we have decided to cancel the upcoming performance in Israel, and seek a different strategy to bring my music to ALL of my fans in the region." Rock band Primus have also canceled their upcoming concert in Israel, but have not yet provided an official reason for doing so.
This week's best new song may just be A$AP Rocky's "Everyday", off his upcoming album At.Long.Last.ASAP., due this June. It features Miguel and Mark Ronson, and samples Rod Stewart's "In a Broken Dream", and the result is melodic and gorgeous:
And Snoop Dogg has teamed up with Stevie Wonder and Pharrell to bring us "California Roll", but it ain't about the sushi. Besides Wonder's distinctive harmonica and impeccable vocals, the track is pretty forgettable. Snoop's album Bush drops this week.
Adele turned 27 this week, and celebrated by dressing up as George Michael, as one does…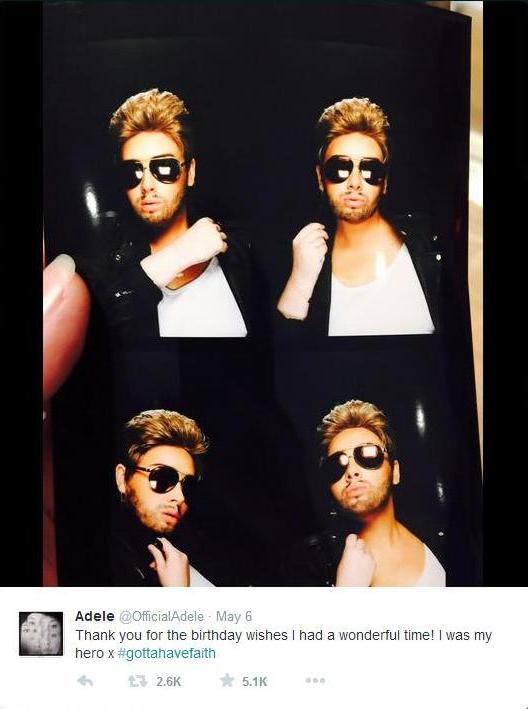 Fortunately, The Chemical Brothers didn't keep us waiting long for their Q-Tip collaboration "Go", and this week we have the brand new video as well:
And Adam Lambert has released the clip for new single "Ghost Town" from upcoming album The Original High. The track features a house beat and an extremely catchy whistle hook, and unsurprisingly has already been remixed multiple times.
Jimmy Fallon and Jack Black have recreated, frame by frame, the iconic video clip to Extreme's sappy 90s hit and karaoke favorite "More Than Words", right down to the hair and outfits, and it is both hilarious and a musical accomplishment. Enjoy the falsetto and the memories, and for the sake of everyone around you, try to refrain from singing along:
WE SAID THIS: Don't miss last week's "For the Record: The Chemical Brothers Are Feeling Deserted".