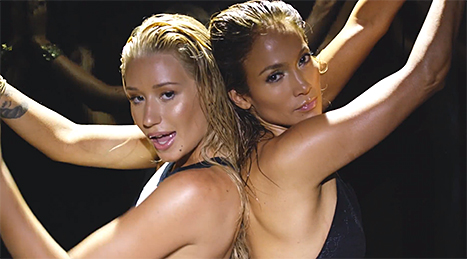 Freddie Mercury and Michael Jackson's duet "There Must Be More to Life than This", which was recorded in the early 80s, has finally surfaced. The track was written by Mercury in 1981 and previously released without Jackson's vocals, but this version has been mixed by super-producer William Orbit. The song, along with other unreleased Queen material, will be featured on upcoming album Queen Forever, out this November.
Chris Brown's new album X dropped this week, and despite the multiple hit singles, the critics have absolutely slammed it. I mean, who doesn't love to hate him? The album includes charting singles "Loyal" and "New Flame", as well as the newly released title track, which starts off great and builds your hopes up until the beat drops and you wish it hadn't:
But this I can get behind – here's his much-publicized and overdue Ariana Grande duet "Don't Be Gone Too Long":
Mr. Worldwide may drip sleaze, but he sure knows how to throw a party. Here's Pitbull and John Ryan's "Fireball", featuring a real-life Jessica Rabbit:
2014 is definitely the year of butts. We've heard from Nicki Minaj and Jason Derulo and Meghan Trainor, but so far nobody has been as direct as Jennifer Lopez and Iggy Azalea. Here's their new collaboration, subtly titled "Booty":
Gone Girl is about to hit theaters later this year, and it looks like one of the most promising films of the season, especially since it's being scored by Trent Reznor and Atticus Ross. The pair had previously worked together on the soundtracks for The Social Network (for which they won an Oscar for Best Original Score) and The Girl with the Dragon Tattoo. A preview of the soundtrack can now be heard on the official Nine Inch Nails website. The film is an adaptation of Gillian Flynn's stunning 2012 novel of the same name.
It may be three years too late, but better late than never – Puscifer have just released a video for "Toma", off their 2011 album Conditions of My Parole. The video could have been better, but nobody really needs an excuse to listen to Puscifer:
If you've been waiting for commercial house music to go back to its electronica roots, I'm happy to report that Alesso is back and has taken the first step. Check out his new single and guaranteed party-starter "Tear the Roof Up" here:
And if you're loving the new R&B diva wave, then it's time to add Tinashe to your playlist. Her debut album Aquarius is due next month, and includes singles "2 On", "Pretend" and this new one "Feels Like Vegas":
WE SAID THIS: Don't miss this week's Eargasm: Songs to Work Out To