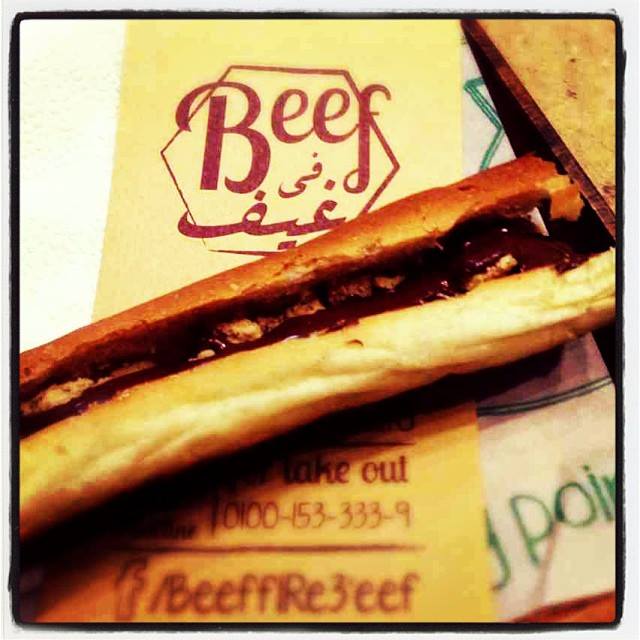 Mushrooming over night, you're most likely to wake up to at least two or three new food outlets around the capital, ranging from sophisticated to chic cheap to basic. With all the options around, you have to sift through the lists upon lists of places to actually decide what to try, especially given the similarity between concepts.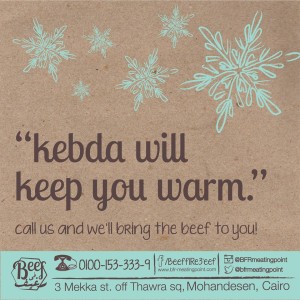 One that caught my attention on one of my sifting sessions was Beef Fi Re3'eef. First, because of the name, which I found very witty and to the point. And second, because of its simple yet short menu, which sums up all that you might crave from Egyptian fast food, without any fuss.
Upon calling them for my order, a very friendly female operator with excellent English answered my call and took me through the short yet yummy menu, and said I was in luck because they do deliver to Zamalek – I didn't understand at this point whether they just deliver to Mohandessin or they also do Zamalek and other neighbouring areas on specific days, so do ask if you are going to have it delivered to your home.
The menu is comprised of three kebda sandwiches, two sogo2 sandwiches (all never exceeding 15 EGP as you go up a size), two hawawshi types ranging between 15 and 20 EGP approximately, five salads within the 3-7 EGP range depending on size as well, fries for 5 EGP and one dessert sandwich which is the infamous sakalans at 8.5 EGP.
I decided to experiment and ordered a kebda zaatar sandwich, hawawshi sogo2, a betengan salad and a sakalans sandwich, which I was informed would be replaced by a 'shakalans' sandwich instead as it's not available – the twin of the latter but with nutella instead of strawberry jam. All together, the check was 45 EGP, which I found very affordable.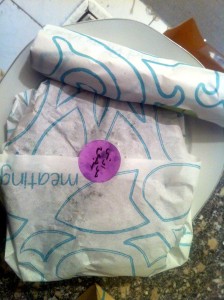 The order was an hour late when it was supposed to arrive in 40 minutes, so the food was a bit cold but nevertheless really good and surprisingly light, as opposed to the norm. The food came packaged in translucent white butter paper with a blue pattern and the slogan "meating point" and a sticker with the food item holding it together.
For a small salad, the aubergines came neatly stacked in four pieces, stuffed with cumin, garlic, oil, parsley and tomato sauce – very tangy and not too spicy, but still leaving the strong after taste that a good old Egyptian betengan salad should.
The hawawshi was excellent, made up of a small round loaf of baladi bread cut in quarters and fried, stuffed with a spread of cinnamony sogo2, which is not spicy as it usually is but stings just about right and was actually quite light. I finished the whole thing in 2 minutes.
The kebda zaatar was a good combo of flavors, yet too dry, which made it a bit rubbery. I felt it was missing something and the bread was a bit stale, but it was the perfect size and texture of the typical fino bread you most likely have kebda with on the street. Complimentary pickles and tehina gave a perfect pairing to both items, washing away any dryness or spicy aftertastes.
The shakalans (which is genius – name and contents alike) had the perfect amounts of everything, so as not to leave you with that annoying tingling throat sensation which makes it too sugary to enjoy. Mixed and packed in fino bread as well, the cream (eshta) neutralized the strong honey and nutella combination with the crunchy texture of the halawa in between, ending the meal perfectly.
It might seem like a diamond in the rough for many, although it has been around for months now. Hats off to Beef Fi Re3'eef for keeping it real and simple, delivering clean, affordable comfort food. They might not be in your face every day in terms of marketing, but they are certainly worth exploring; let the hawawshi speak for itself and you will see!

WE SAID THIS: Check out more food reviews in our Food & Dining section.