There is only a few female-run mosques around the globe, yesterday, Scandinavia celebrated the inauguration of its first, Mariam Moskeen in Copenhagen, Denmark.
"When women can drive a bus, build buildings, fight against ISIS, they can also be imams," said one of the Imams. In its first Friday prayers, Mariam Mosque had its athan – prayer calls – sung by one of its Imams, Sherin Khankan and the other Imam, Saliha Marie Fetteh, of the mosque delivered the khutba – Friday sermons, discussing women and Islam in the modern world.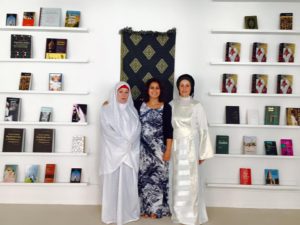 They're not only willing to challenge patriarchy in society, but they're also willing to challenge patriarchy in "misinterpretations" of Qur'anic verses. Khankan, born to a Syrian father and a Finnish mother, says that the inauguration of this mosque is a feminist project.
"We have normalized patriarchal structures in our religious institutions. Not just in Islam, but also within Judaism and Christianity and other religions. And we would like to challenge that," she said. "There is no valid religious criticism of us – we are on safe theological ground. It is possible to change patriarchal structures but it's a long journey and we have met opposition. But we decided not to focus on the opposition and instead speak about all the people who support us. We've had very positive reactions to the mosque – from Pakistan, Iran, Europe, Turkey, Arab countries," she added.

The mosque was informally and unofficially introduced to Copenhagen in February, but now it became official, open to all women from all faiths and beliefs.
WE SAID THIS: Oh, look at the world change.