Farida Osman, the 26 year-old Egyptian competitive swimmer, headed to Instagram for a statement following her elimination from the Tokyo 2020 Olympics after facing ruthless backlash.
The decorated swimmer was subject to relentless scrutiny after many described her performance at the Olympics as below average for her skill level. Her statement came at the heels of her being eliminated from all swimming competitions after placing 20th in the 100m butterfly event.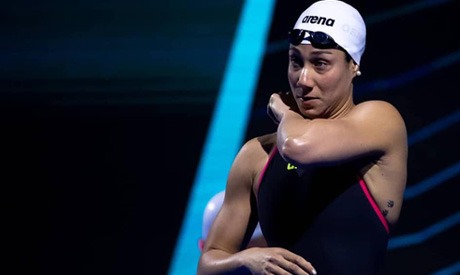 The young champion said via her Instagram account that she was proud to represent Egypt at the Olympics, and that it is an athlete's dream to qualify to the Olympics and stand next to the world's greatest. "For me, it is heartbreaking that I wasn't able to perform at my best and usual during this year's races. But as an athlete, I know how to make this obstacle an opportunity for growth, learning, and progress," said Osman.
In her own defense, Osman made an empowering statement, saying "an athlete is not defined by a single performance. It's the discipline, mindset, sacrifices, and hard work they put in that define both their character and career. I'm still keeping my head high and believing in myself."
We of course still believe in the Egyptian swimmer, no matter the scrutiny and critique. To be an Olympic athlete is a feat of its own, and we're looking forward to the young champion's bright future.
Farida Osman's rise to stardom
Farida Osman gained international recognition when she was invited to participate in the 2012 London Olympics at the age of 17. 
She started swimming at the age of four at the Gezira Club, and went on to win a number of international titles, including the bronze medal in the 2017 World Championship in Budapest, which marked Egypt's first medal in the 50m butterfly event. Her monumental achievement earned her the title of Best Female Athlete in Africa for that year.