Egypt's Finest Voices Bring Us Oscar-Winning Soundtracks
Screenshot via YouTube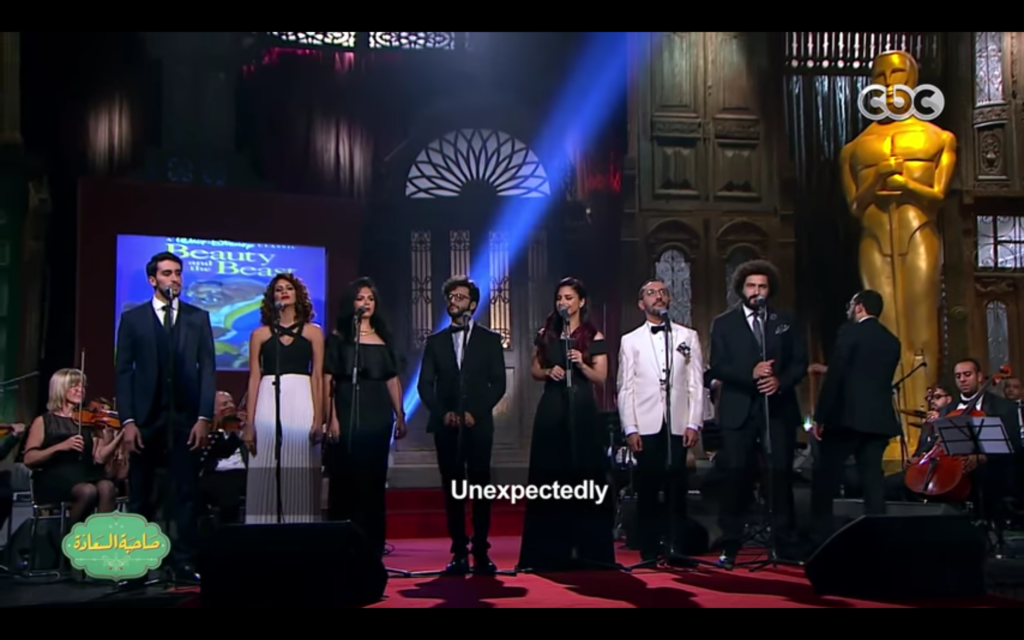 For the last two nights we have been wonderfully serenaded by some of the finest voices in Egypt, and from the comfort of our own homes no less!
Hearkening back to the days when Nady ElCinema was the only way Egyptians could hear music from the west, Monday and Tuesday's 'Nady ElCinema' program on Sahibet Al-Saada, hosted by the one and only Essad Younis, brought the likes of Nesma Mahgoub, Hany Mustafa, Ahmed Harfoush, Shady Ahmed and a host of other guests to the stage.
Backed by both a live band and an orchestra, these fantastic home-grown singers brought us a flurry of medleys and songs from Oscar-winning film soundtracks ranging from The Godfather and Sound of Music to Indiana Jones and Disney's Aladdin that we want to listen to over and over.
It was fantastic and, for 23-year-old Hungarian-Egyptian singer Nada Ayoub, surreal.
"You're looking into a lens that represents the eyes of millions of people, but in reality it's just a camera," she told Scoop. "After all the hours of memorization, preparation, psychological pep talks, it all comes down to this moment and it's a make it or break it situation." She also said she's learned not to judge after experiencing just what it takes to perform on TV.
Ayoub certainly shone in what, amazingly, was her debut television performance. Her duet of "Falling Slowly" from Once with Hany Mustafa stood out for her, and we can see why. It blew us away.
The duet was particularly touching for Ayoub because of how much she looks up to Mustafa. "I more or less started REALLY singing when I sang with Hany in Aida [at AUC]," she said. "Singing with him again, but on national TV, was a good indication of how far effort and dreaming can take you."
Nady ElCinema marked the third project Nesma Mahgoub has worked on with Sahibet Al-Saada, and she was thrilled to be back and work with the artists she appeared on stage with. "I knew they would be a great choice for such an episode and my expectations were more than right," she told Scoop.
From musical theater to opera to pop, Mahgoub does a bit of everything. "I always seek new, different and challenging projects and that's why whenever Essad Younis, the host, and Mohamed Mourad, the director, want to do something different, they call me because they know how passionate I am in what I do," she told us. "We trust each other and we work hard towards the best results possible."
Mahgoub had a hard time picking a favorite song. "My favorite song is the whole episode!" she told us, adding that from her perspective "none of the songs were less than brilliant." Finally, though, she said her cover of Beyonce's "Listen" was particularly special to her, as it was a simple song where she was accompanied only by her friend Shady Elhalawany on piano.
For Mustafa, it was easy to choose his favorite.
"It has to be 'Windmills of Your Mind'" from The Thomas Crown Affair, he told us. "It blows me away as a musician. Everything about it, from the intricate arrangements to the chord changes to the incredible vocal line."
Mustafa – aka HanyMust – is known for his incredible voice, and you might know him for his rock band Egoz, his solo project, the Beatles cover band Glass Onion, or you might even remember him as Jean Valjean in the first-ever Egyptian Arabic version of Les Miserables here in Cairo.
Participating in something like this, however, is completely different because he isn't Hany the musician but rather Hany the singer. "I get to focus on using the instrument God has given me with more focus and attention," he told us, adding that he enjoyed working with the other singers on stage with him.
"It was an absolutely wonderful experience."
For Shady Ahmed, who is used to performing as a solo artist or with a band, told us being able to "study parts in harmony and sing with that many voices was a challenge I was happy to cross off my list."
Ahmed picked "Eye of the Tiger" as his favorite of the pieces he performed in. "I come from a Rock n'Roll background, [and] despite having the ability to sing the mellow and vocally challenging songs, Rock n'Roll is where I feel at home."
"I only hope that I made all the Rock n'Roll fans in Egypt proud," he added (we definitely think you did!).
Collaborating on Nady ElCinema "was an astounding experience," Ahmed said. "That group of musicians and singers really pushed me to be better."
A number of other artists also participated in the program, including…
Ahmed Harfoush, here giving us the classic "Singing in the Rain"
Dynamic duo Hana w Maged, giving us some great duets including this one from Greece
Rapper Karim Mohamed, here performing "Lose Yourself" from 8 Mile
And last but not least, Indian singer Sukanya Ghosh, here performing "Jai Ho" from Slumdog Millionare alongside Mustafa, Mahgoub, and Ayoub.
WE SAID THIS: There's so much good music here you really should watch the full episodes, but we've given you a good place to start!!