Egyptian Startup, Ship'nbag, is Finally Here: The Universal Language of Individual Shipping
By Kareem Sheta 
Imagine sitting in your bedroom surfing the internet and you come across an item that you need from abroad, whether it's an iPhone X, an American Eagle shirt, or a Casio watch, in only a few days with minimal shipping and customs fees.
Now visualize across the globe in let's say Berlin, there's a fellow traveler who is on a European tour and wants to earn some extra bucks to buy an item or two for his wife or maybe wants to compensate all the money that he spent on pricey plane tickets and accommodation.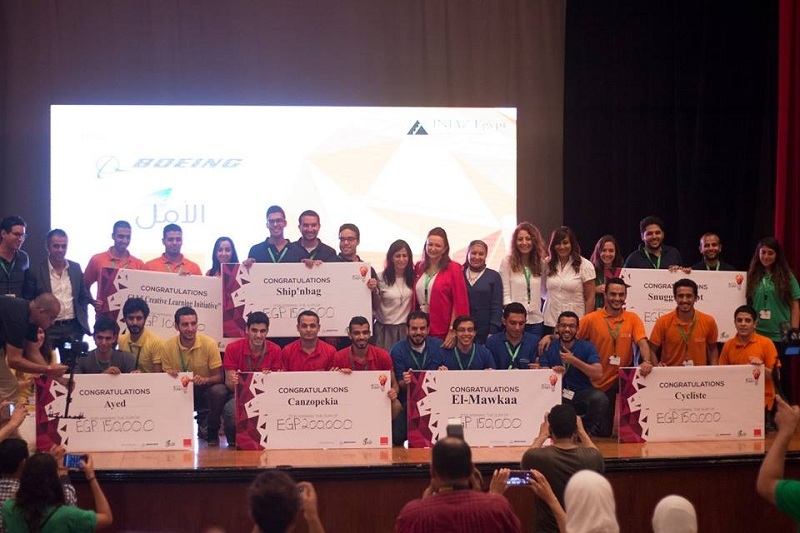 Well, Ship'nbag solves both problems in a matter of seconds! Basically, it is a web and mobile-based platform that offers value to its customers through solving one single equation: To provide buyers with a low cost and ultimately secured item bought in a short period of time while travelers earn an adequate commission on each online or offline product that they purchase for the buyers.
The story of our featured startup, Ship'nbag, began on stage at the StartUp Egypt awards ceremony. Prior to the competition, Ship'nbag had spent 6 grueling yet beneficial months of pre-incubation tackling countless tasks, sessions, and projects in INJAZ Egypt's established accelerator program for startups. Despite the tedious difficulties of balancing their studies while developing a business, the team of co-founding engineering seniors strode on to win at the finals ceremony against almost 50 other teams and proceed to the incubation phase under INJAZ's wing. Their prize was 150,000 EGP and a fully funded trip to Silicon Valley where they were mentored by some of the biggest tech giants in the industry, such as Google, Facebook, Apple, Uber, and LinkedIn.
The 8 months that followed the contest were figuratively a whirlwind of ups and downs. Immeasurable meetings and deals were made in the fields of marketing, law, payment solutions, and numerous others so that Ship'nbag's service could be accessible to the public as soon as possible. And now they are finally here! After increased demand from buyers and travelers all over the country, the startup initiated a soft launch this weekend. Clients can now reserve their orders through the chatbot on Ship'nbag's Facebook page and deposit their cash payments at INJAZ Egypt's Headquarters where the transition of the purchased items will be made.
WE SAID THIS: So sign up now and purchase the items of your dreams with the utmost speed, security, and cost-efficiency as well as earn some money in your pocket during your next trip!! Check all the details of the process on Ship'nbag's official Facebook page