Egypt Air Bans Samsung Galaxy Note 7 from All Flights
A Samsung Galaxy Note 7 that has exploded. Via Forbes
Dear Samsung lovers, Egypt Air has some bad news for you. Following multiple reports of Samsung Galaxy Note 7 phones spontaneously bursting into flames, Samsung made the decision to recall every single phone and stop it from being sold or shipped.
While many Samsung users have been aware of the risk of keeping their purchased phones, many chose to ignore the warning. Egypt Air took a responsible safety measure, in collaboration with Samsung, and made an announcement on their social media.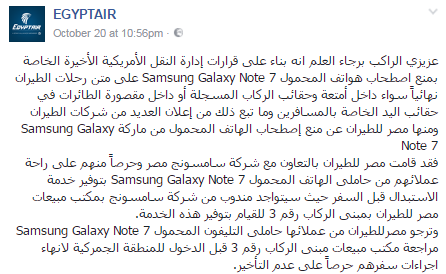 The post read "Dear passengers: In accordance with the US Federal Aviation Administration announcement of banning Samsung Galaxy Note 7 smartphone devices, being carried onto the aircraft, whether in carry-on baggage or check-in luggage EGYPTAIR in collaboration with Samsung Egypt, have offered this additional step – Pre-check in Exchange Service. Accordingly, device owners are advised to visit Egypt Air office at Terminal 3 before entering the Customs zone, where a representative of Samsung Egypt will offer an exchange service for Samsung Galaxy Note7 devices. Egypt Air and Samsung wishing passengers a peaceful and safe flight."
WE SAID THIS: Stay safe everyone.