Meet
Norine Farah
, the 25-year-old Alexandrian designer who is already leaving an impression on Egypt's fashion industry with her bespoke dresses. At such a young age, she has many accomplishments under her belt.
She trained at Milan's Marangoni School and Polimoda in Florence, owns a clothing line and was featured at Cairo Fashion Festival III. Did I mention that she is only 25 years old?
Norine's designs are best known for their feminine yet daring approach. With her passion, creativity, artistic insight and ability to create curve-hugging dresses, her collections evoke fierceness, sensuality and independence.
If you dare to be sexy, modern and exude originality, Norine is your go-to designer. We had the chance to sit down and talk with Norine Farah and here's what she had to say:
What were your first steps in the fashion industry?
My first step was actually when I was a child. I have always loved art and fashion, so during my university years, I decided to travel and study fashion during the summers. After graduation, I decided to explore my options.
I became a corporate employee, but one day, I woke up realizing that I wasn't doing what I love and I needed to take a risk and start my own business. With the passion I had in me at that point, I was sure I was going to make it work.
As a young designer, do you try to keep up with trends?
I'm definitely not a trend follower. Not all trends suit every woman. Figures are different. Trends are also overrated and become very common very fast, so I always go for uniqueness. I'm definitely a trendsetter.
What is the one thing that makes you stand out in the market?
What makes me different is that I am very versatile with my designs. Like my personality, I love change. I also enjoy mixing different materials with various textures to give character to my garments.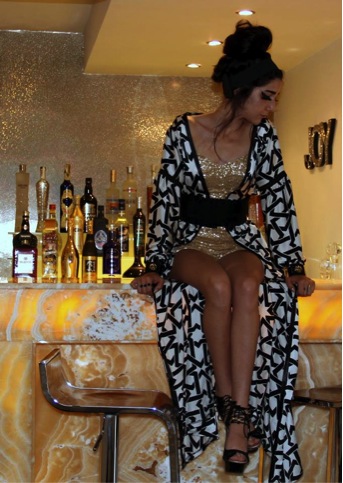 Which designer influences your work the most?
I don't have a certain style but most of my influences come from Dolce & Gabbana and Balmain.
Which celebrity would you love to dress?
Scarlet Johansson.
Do you have people in your life who inspire your creations?
Every person I see affects my designs. I'm passionate about watching people and observing how they are dressed and how comfortable they are in what they are wearing.
Of all the dresses you've designed, which one shows your character the most?
The long, burgundy, one-shoulder velvet piece because it accentuates the woman's figure.
What is your favorite color to use in your designs?
I don't have a specific favorite, but black is always a winner.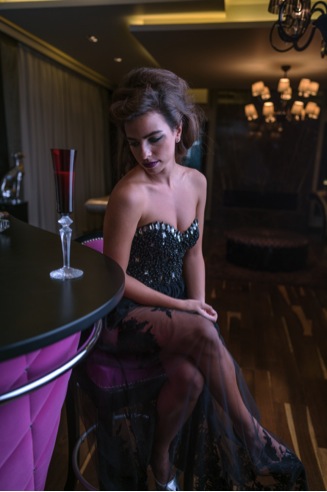 Do you target a certain age group and figure?
I only target the daring modern woman.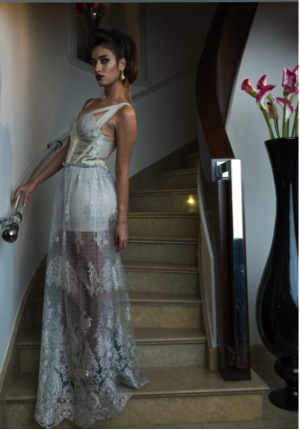 Davidoff has been sponsoring major events in Cairo lately, how do you feel about being their chosen designer for the brand's "Extraordinary" hostesses?
It was an honor working with the prestigious Davidoff's "Extraordinary Team", dressing their beautiful ushers all summer. It was a lovely experience that I enjoyed very much.
What was the theme of your designs at Cairo Fashion Festival III?
For CFF III, my theme revolved around bringing back velvet.
What is your favorite part of this job?
Seeing my client wearing the biggest smile when she tries on a dress.
Which one of your dresses has received the most reviews and likes?
The gold lace, extravagant gown that fashion blogger behind @satisfashionbysn, Noha El Sherbiny, wore. She perfected it with emerald green earrings and shoes.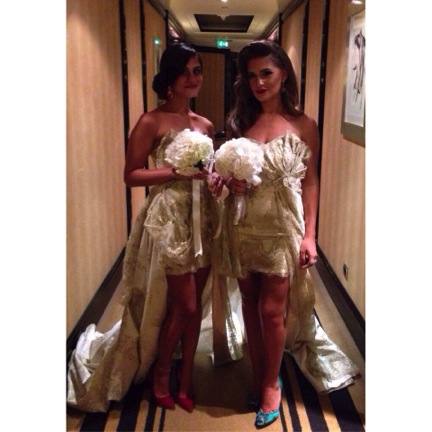 What are the best and worst materials to work with while constructing a garment?
I truly enjoy working with velvet because it's very elastic, which gives the body the right curves. I don't enjoy working with tafta and harsh materials as much.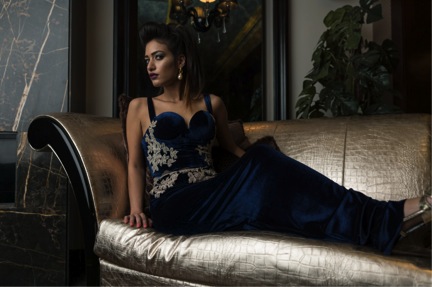 How do you balance creativity with the Middle Eastern woman's style?
I try my best to make my dresses revealing but not over the top. I usually don't follow the Middle Eastern trends much, though, but I plan on incorporating and experimenting with them in one of my collections.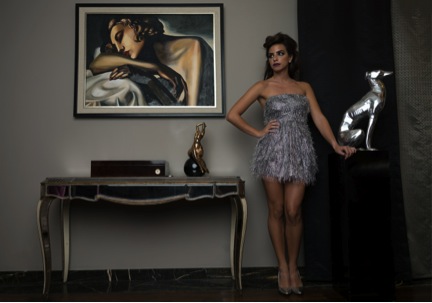 What do you think of the world trying to control models' weight and, alternatively, dressing for a curvier figure?
A model doesn't have to be too skinny, not only because it tends to be unflattering for the dress, but also because it gives teenagers the idea that skinny is beautiful and that concept creates many issues. I truly believe a woman is identified by her curves.
Tell us about your bridal dresses collection.
For my bridal wear, I don't believe in the ordinary. I like dresses that are fun and reflect the bride's personality. Elegance and attitude is what I look for in my bridal dresses. My favorite one is a lace bustier dress with a feather skirt and an endless train.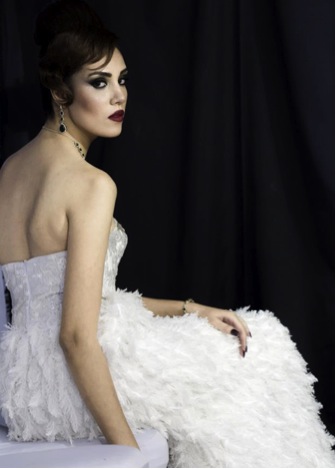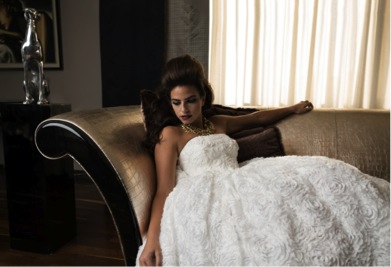 Where can we find your dresses?
The new concept store called 1st Floor in Alexandria and very soon my own showroom in Cairo.
For more info on Norine Farah's collection and orders, follow her Facebook page and Instagram account.
On a final note, what was the worst fashion trend this year in Sahel?
Oh God, so many, but by far I would say the high wasted tiny shorts that don't cover much with the over-revealing crop top that doesn't cover much, either.
WE SAID THIS: Don't miss our interview with Yasmine Yeya.