To celebrate World Oceans Day taking place on Wednesday, June 8th, come dive in and explore the depictions of aquatic life in the uniquely Egyptian art of khayyāmiyah.
Anyone familiar with Egypt's Red Sea will know its spectacular array of marine life, which has rightly put Egypt on the map as one of the world's best places to dive. With colourful corals, enormous sea turtles, schools of dolphins, sea rays, endangered species like dugongs, and a whole array of other rare and beautiful fish and aquatic life, of which 10% is understood to only be found in the Red Sea, Egypt's Red Sea is unlike anywhere else.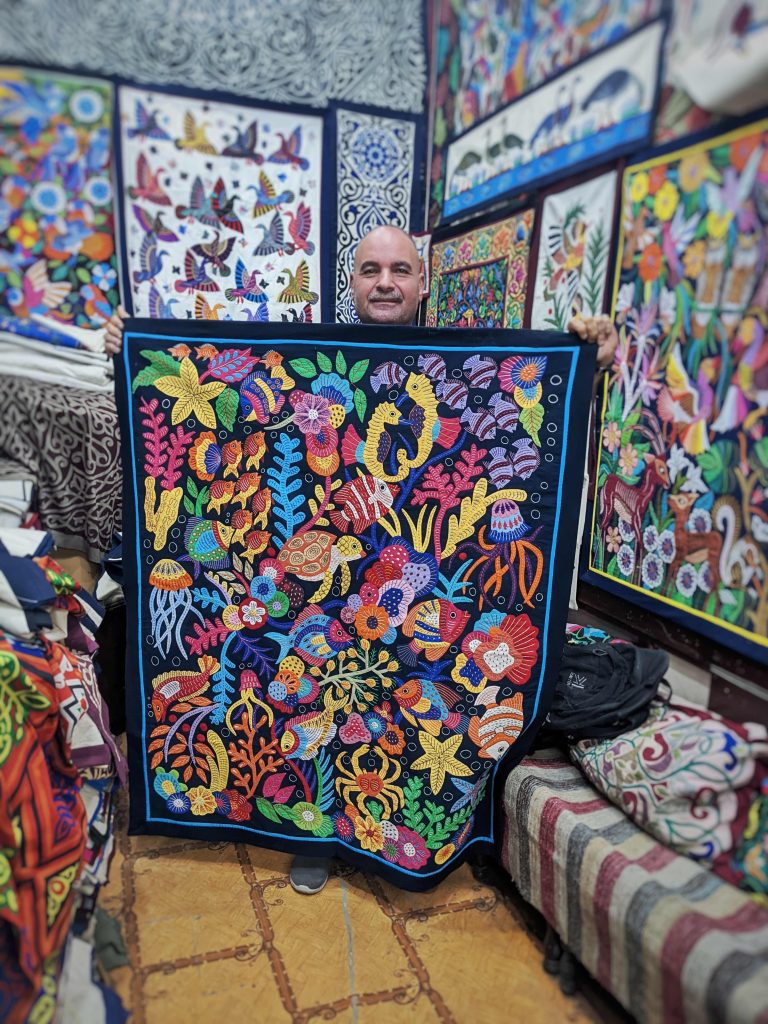 Looking through the Egyptian Museum or pharaonic inscriptions, depictions of Egypt's array of aquatic life are plentiful and show the importance of these sea animals to the country's identity. This is carried through to Greek and Roman art in Egypt, with vases and mosaics depicting exotic and colourful fish that would have fascinated these Mediterranean peoples unaccustomed to such vibrant sea-life.
This convention of fish in art carried on through the Coptic period, with the symbol of the fish having a special religious importance. For Coptic Egyptians, fish had a symbolic significance due to it being a secret symbol for the then-outlawed faith in the Roman Empire, in addition to the story of Jesus feeding five thousand with just five pieces of bread and two fish, among other stories that can be found in the Gospels prominently featuring fish. During the Islamic period, fish also featured prominently in art, particularly ceramics, possibly related to the Quran's description of fish as symbolic of knowledge and eternity. Tales of fish can also be found in literature and folklore from the Islamic period, notably with the still widely celebrated The Fisherman and the Jinni from One Thousand and One Nights.
Also featuring aquatic life of all kinds, throughout all these periods is the ancient art of khayyāmiyah that according to some dates as far back as ancient Egypt. However, it has remained a large part of Egypt's artistic culture and carries on until today with a vibrant community of artisans in Cairo's neighbourhood of Darb el-Ahmer. Almost entirely situated in and around the stunning seventeenth-century covered market known as the Suq el-Khayamiyya, known in English as the Tentmakers Market, artisans can still be found stitching away and selling their impressive creations.
From the Arabic for tent, khayma, the term khayyāmiyah references how the decorated fabrics would often adorn tents. However, in the present day, the small arched shops mostly sell wall hangings and cushion covers, with an array of different styles and subject matter perfect for any house.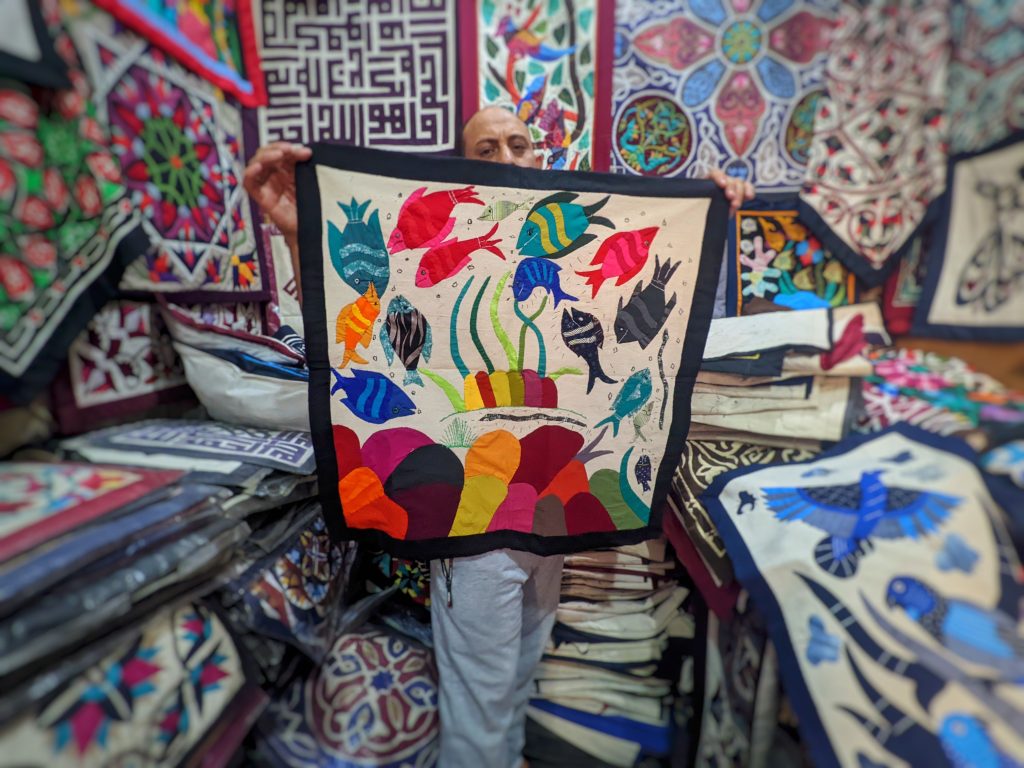 World Oceans Day takes place every year on June 8 as a day for 'humanity to celebrate the ocean', according to the United Nations. This year, under the hashtag #RevitalizeTheOcean, World Oceans Day is warning us that the ocean, which 'connects, sustains, and supports us all', is suffering from over-fishing, pollution, and climate change. The oceans of the world are 'at a tipping point and so is the well-being of all that depends on it', and World Oceans Day 2022 is urging us to 'work together to create a new balance with the ocean that no longer depletes its bounty but instead restores its vibrancy and brings it new life'.
Earth is not called the Blue Planet for nothing, with 70% of the planet covered by oceans, which provide more than 50% of the planet's oxygen. However, with '90% of big fish populations depleted, and 50% of coral reefs destroyed, we are taking more from the ocean than can be replenished', according to the United Nations, and action is urgently needed. For more information, you can check out the official website for inspiration and how to get involved, and you can catch the celebration streamed online on June 8th.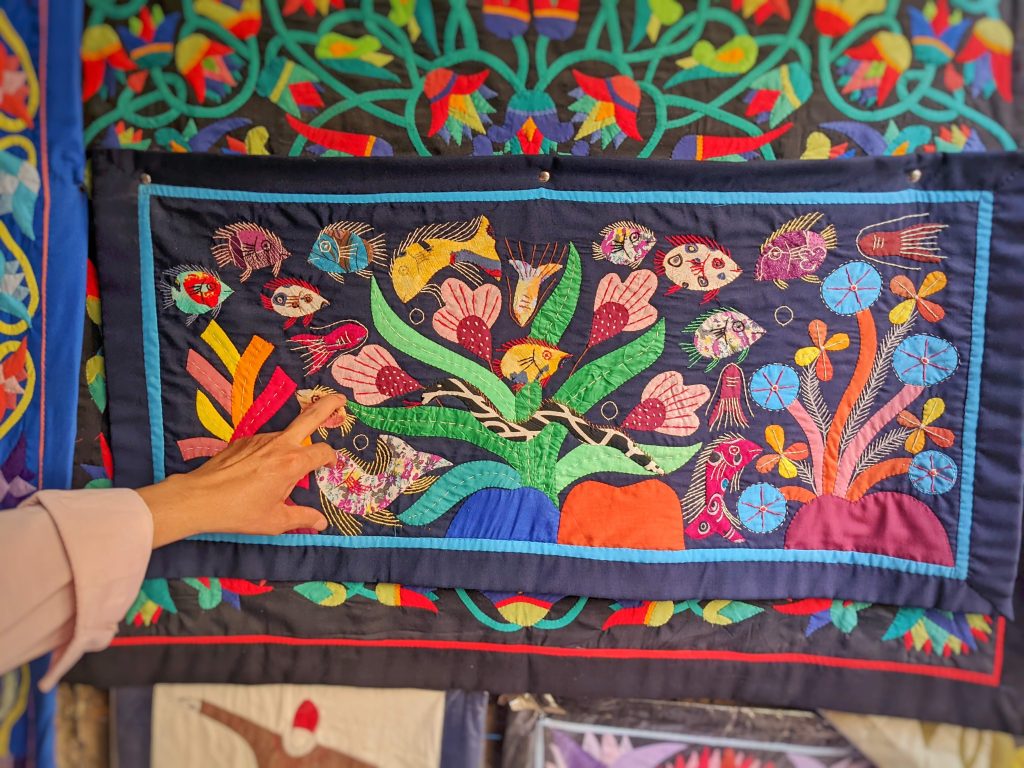 Special thanks and appreciation go to the workshops of Ashraf Hashem and Tarek El Safty, whose exquisite work is featured, and I keenly encourage Cairenes and tourists alike to visit the market and buy something special for your house or a present so you can support these fantastic artists who have contributed so much to Egyptian culture. Much like our oceans, which are threatened by climate change, over-fishing and pollution, the artisans of this uniquely Egyptian craft of khayyāmiyah deserve our support in the face of printed and cheaper imported fabrics pushing them out of the market.
WE SAID THIS: Don't miss…World Ocean Day: From Sharks To Shipwrecks, The Red Sea Is Every Diver's Paradise