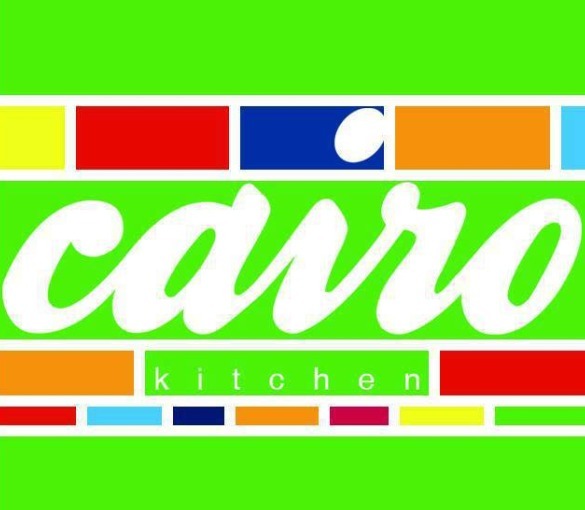 Serving in Ramadan is a tricky business. The hungry crowd is usually very skeptical because "no one offers food like home." Cairo Kitchen has taken up the challenge and sure enough, has to a great extent succeeded. A celebratory colorful place, it marvels to stand out with its authenticity and uniqueness.
Cairo Kitchen created its own allure with its festive array of decorative bottles, which are lined up against their white walls and pillars. Perfectly matching the overall theme, the menu dances colorfully on the walls just above their quaint pots and plates.  From the get go, one enters with a positive light smile and is equally greeted with one.
On regular days, Cairo Kitchen offers traditional Egyptian cuisine, which is known to be somewhat heavy, however, one has the option of eating a healthy light meal from an extensive salad bar or ordering their moist and tender herbal infused crispy grilled chicken.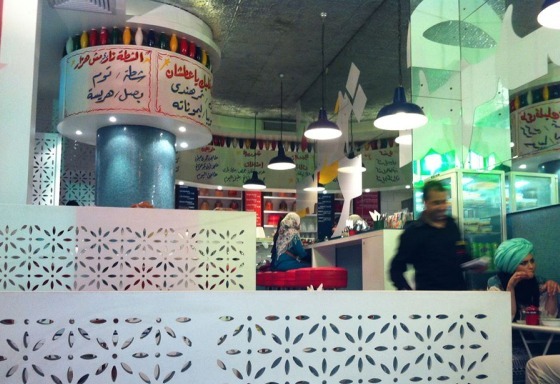 Catering for this month, the Cairo Kitchen team created a Ramadan set menu that is very filling and luckily full of options; it includes a beverage, a soup bowl, an appetizer platter, a main course, dessert and of course with an offered side of a salad from a salad bar that is tasty and extremely bright.
Set Menu Breakdown: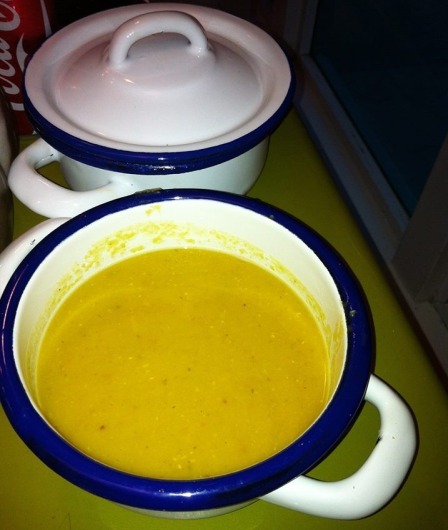 Soup:
First on the set menu is traditional lentil soup or a choice of "soup of the day." The lentil soup was deliciously thick with spices and with the perfect balance of lentils. Their soup of the day was a traditional vegetable soup, clear in stock and with flawlessly cooked vegetables chopped up to be eaten effortlessly. Both soups offered the comfort of a home tasting meal.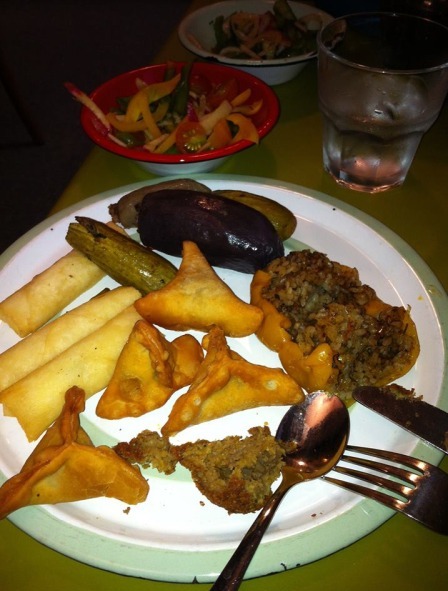 Appetizer Platter:
For appetizers, one has the option of choosing amongst the four different items or just ordering the platter, which includes: a mix of dolma (Vegetables stuffed with rice), kobeba (deep fried minced meat ball), sambousek (fried pastry stuffed with meat or spinach), and cheese spring rolls. The kobeba was fried so that it was not too oily with a smooth taste that would melt in your mouth as soon as you take a bite. Like the Kobeba, the cheese spring rolls were not over cooked with a golden crunchy coating with a kick of savory cheese. The dolma mix and the sambousek were good but nothing too exciting about them.
Salad:
The salad bar is a garden of freshly cut pleasantries ranging from the traditional salata balady (freshly cut into small cubes cucumbers, tomatoes, lettuce, and onions drenched in a homemade vinaigrette) to more creative displays and blends of vegetables.
Main Course:
There are five offered options for a main course along with the daily special, which was Egyptian Fattah with veal chunks.  The dish was appetizing as it was layered with rice, bread minced in stock, and soft veal chunks topped with a tasty tomato based sauce.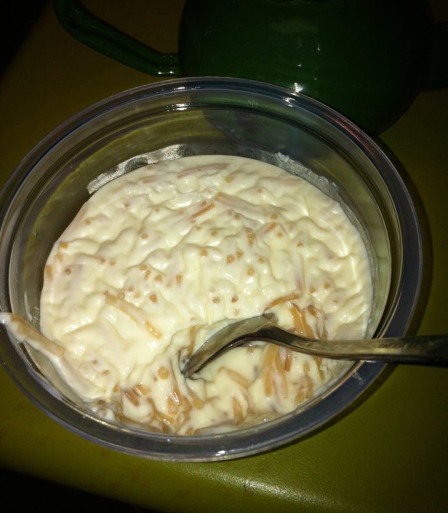 Desserts:
The best part of the Cairo Kitchen experience lies in the dessert section whereby they not only offer the traditional Ramadan favorites like konafa, basbousa, and baklava, but also their own house specials: rice pudding with dates and sharia (vermicelli) with cream. One could easily be skeptical of the latter dish, yet it was surprisingly delectable with its creamy soft crust. This memorable dish feels like diving in a cloud of sweet vanilla infused cream with the perfect texture of the pasta to balance it out.
Cairo Kitchen does not only offer a meal, it offers an experience. It would be challenging to leave the place without at least one favorite item and a new friend.
Rating: