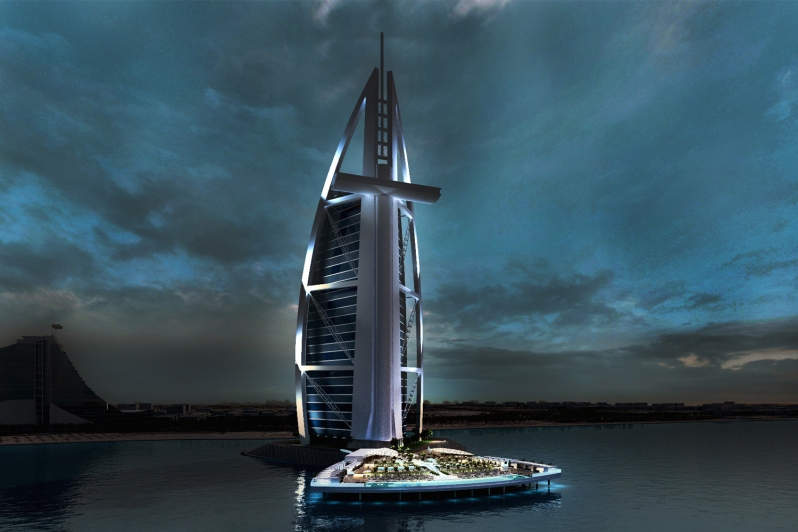 We ceased to be surprised when it comes to Dubai a very long time ago. Whether it's a Porsche draped in Swarovski crystals, a pet jaguar or a human made of gold, anything is doable in the UAE. As if Burj Al Arab Jumeirah was not luxurious enough or an impressive enough symbol of modern Dubai, it just had to step it up another notch by building its very own leisure island.
Now this is not just about adding an island to one of the biggest tourist attractions in Dubai, it's the insane details. The 5,000-tonne island, called "The North Deck", was constructed at a shipyard in Finland and is currently being shipped to Dubai. The 10,000-meter deck will accommodate a 612-meter fresh water pool, an 828-meter salt water pool, 32 cabanas and 400 sun lounges.
Jumeirah Group Chief Operating Officer, Robert Swade, explained that this is the first time a structure of this nature and size has been built in one country and then transported to another country to be assembled and operated.
The hotel also aims to ensure the safety of the marine environment during installation, and the design itself will offer shade for local fish.
General Manager of Burj Al Arab Jumeirah, Anthony McHale, added that as a hotel, they are dedicated to surpassing guest expectations by providing the ultimate Arabian hospitality experience and without doubt, North Deck will do just that.
WE SAID THIS: Don't miss The UAE Is Building a 24-Hour Party Island.