Recently, Madaar Development signed an agreement with Egypt's party kings, Ahmed Ganzoury and Kareem Nabil, the dynamic duo at the helm of GnK Hospitality. GnK will manage and implement a beach restaurant and bar located in Madaar's first residential resort, Azha, located in Ain Sokhna and offering a quick escape from the hustle and bustle of the city. Azha's waterfront stretches along the azure Red Sea waters of the Suez Gulf, strategically positioned on the best and last sandy spot along the breathtaking coastline.
PR pro Ahmed Ganzoury, CEO and founder of ByGanz, brings his exceptional experience to the table, having managed the hottest beaches and most buzzing nightclubs in Egypt and organizing over 250 events, including massive parties featuring top-notch entertainment. Meanwhile, hospitality veteran Kareem Nabil brings more than 10 years of experience in high-end hospitality and F&B projects.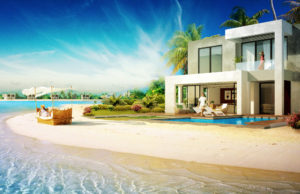 The idea behind it all is to offer an incredible, all-year-long beach experience in Sokhna with an exclusive, luxurious sandy beach and crystal blue water where people can relax to the soothing sounds of crashing waves and the latest chill-out beats. Tempting, isn't it?
Beach lovers will get to enjoy lunch and dinner menus featuring mouthwatering dishes inspired by the flavours of both the Red and Mediterranean Seas.
On special occasions, the entire place will be transformed into an events platform, hosting wedding receptions as well as special parties featuring the biggest DJ's and entertainers from around the world.
The newly-born partnership guarantees a refreshing experience. The Azha beach will be up and running after summer, ready to welcome its guests all year round.
Madaar Development is a full-service, privately held commercial and residential real estate investment and development company. It prides itself on going the extra mile by providing optimum value, functionality and lifestyle convenience.
WE SAID THIS: Check out Azha's website here.