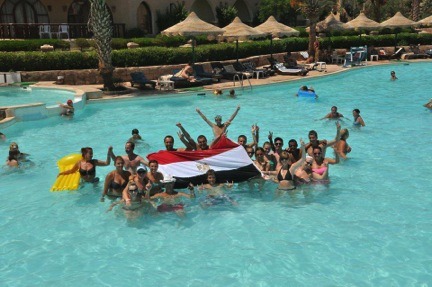 With so much bad press, Egyptians and Egypt-lovers are taking the country's PR problem into their own hands, using social networks to spread the message of safety and hospitality.
Tourism to Egypt has plummeted following international headlines containing words like "coup" and "massacre". In response, various social media-centered initiatives have sprung up to offset the negative mainstream media coverage.
Photos of tourists posing with signs reading "We are safe in Egypt" (or some variation) began popping up in July and the trend picked up quickly. More and more people, especially those with tourism-based businesses in places like Sharm El Sheikh, Cairo, Hurghada, Dahab and El Gouna, posted and shared similar pictures in the hopes of attracting travelers.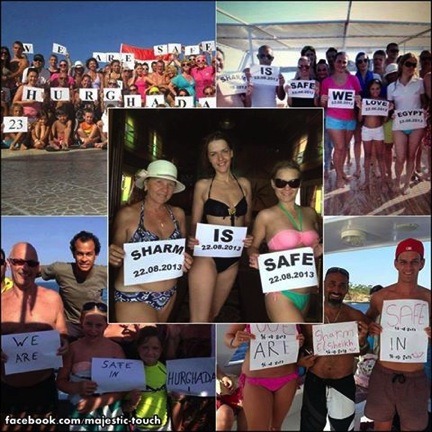 Videos on YouTube soon followed, with excited foreigners and locals assuring viewers of their safety and praising Egyptian hospitality.
New photos of smiling tourists are shared daily, while special hashtags like #ThisIsEgypt and #ReasonsToVisitEgypt are being promoted on Facebook, Twitter and Instagram to encourage people to post a tweet or picture about how beautiful, welcoming and safe the country is.
The multi-billion dollar tourism industry is a crucial part of Egypt's reputation and economy and a source of livelihood for many. Egypt is still a safe and exciting destination, but it's hard to prove such a statement when the country is constantly in the news for protests and instability.
Which is why grassroots campaigns like the "We are safe in…" trend are so important, spreading far and wide on social media platforms in order to reach international crowds. With so much negative coverage about Egypt, it's up to us, her people, to send a positive message. The people make the nation, so we must invite and ensure safety to our travelers to welcome them back to our historically and culturally rich country.
Be sure to check out the absolutely stunning video below and share this with your friends. We're proud to live in such a beautiful country.
WE SAID THIS: We are safe in Egypt! Come visit!