Ever since the COVID-19 pandemic started two years ago, things have been locked up pretty tight for obvious safety concerns. However, as we pass 2022's midpoint, we can safely say things have been loosening up a bit, with festivals and events returning to some semblance of normalcy.
In Morocco, one of its biggest festivals that shine a spotlight on Amazigh culture and music is returning for its 17th edition, and we're excited.
What's Happening This Year?
On July 15 & 16, Morocco is seeing the return of the Timitar Festival in the coastal city of Agadir at its Al-Amal Square, under the slogan "Amazigh Artists Welcome The World's Music."
The event will include two nights of high-caliber and well-known artists in the local music scene, including Zina Daoudia, the band Hoba Hoba Spirit, and Amazigh star Abdullah Al-Fawy.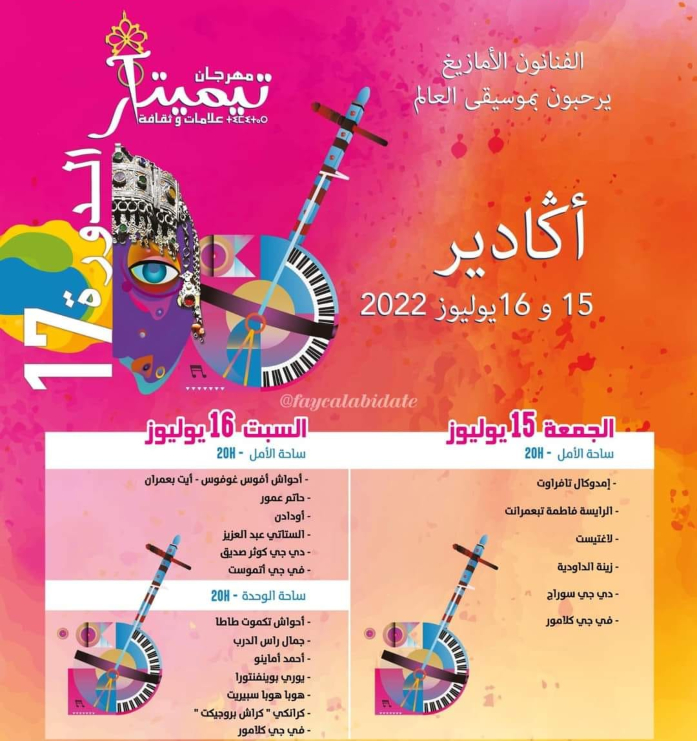 What Is The Timitar Festival?
The Timitar festival is a popular annual event that highlights and celebrates the North African Amazigh culture, as it attracts local and international guests from all over the world.
There they can listen to music and poetry, as well as learn more about the Amazighs through a diverse program of cultural and artistic activities.
While at first, the whole thing was just a one-off, over time, the festival became a popular annual event, with 2022 being its 17th edition.
According to the travel website Trip Advisor, the event evolved into something of a "social movement" too, discussing several subjects that affect the Amazighs in the region.
Unfortunately, this year the festival will be on a smaller scale as there are intensive development projects within the city, according to Aziz Akhannouch, President of the City Council of Agadir.
According to the local publication Moroccan Telegraph, the last time Agadir held the event was in 2019. At the time, 1.25 million spectators attended the festival, which had 40 shows and included three stages with 400 artists performing.
Who Are the Amazighs?
The Amazigh are an ethnic group of peoples also known as Berbers. They're spread all over Northern Africa, with most of them staying primarily in Morocco, Algeria, and Tunisia. You can see a small group of them in the Siwa region in north western Egypt too, but they're aren't as many there.
Why Agadir?
Agadir is one of Morocco's hottest tourist destinations, thanks to its location on the Atlantic Ocean. From its sandy white beaches to its wavy waters that are perfect for surfing, Agadir is primed to accept people from all over the world.
Agadir also has several sights to visit besides the event, including the Crocodile Park, the Amazigh Heritage Museum, Loubnane Mosque, Memory of Agadir Museum, and more.
WE SAID THIS: Don't Forget…Uniting East And West Through Art: Louvre Abu Dhabi To Display Philippine Gold Artefacts