Jouda Al-Hirbawi is from Al-Khalil, Palestine, and he is now one of the owners of Al-Hirbawi Textile Factory. They are the only ones left who still locally produce the Kaffiyeh in Palestine. Kaffiyeh is the traditional Arab headdress, and It is a symbol of the Palestinian struggle, and it was worn by the Yassir Arafat. CNN just shared a short video about Jouda, that reminded the Arab world of how precious this piece of cloth means to all of us.
The Kaffiyeh is a four by four foot fabric, that's usually black and white that resemble Palestinian heritage; the middle pattern resemble the Israeli occupation, while the oblong-shaped patterns on the side represent olive leaves- a symbol of Palestine and peace. The revolutionaries wore it; the farmers wore it for the cold and is generally worn a lot by activists in the Arab world.
Jouda's 2 brothers, Abdelazim and Ezzat have been working in the factory since they were kids, inheriting their father's, Yasser Hirbawi, business, which was founded in 1961, and continuing his proud legacy. Their father described working in the factory as a "battle," as he and his family struggle to compete with cheaper imported producers, who produce mass quantities at a fraction of Hirbawi's price.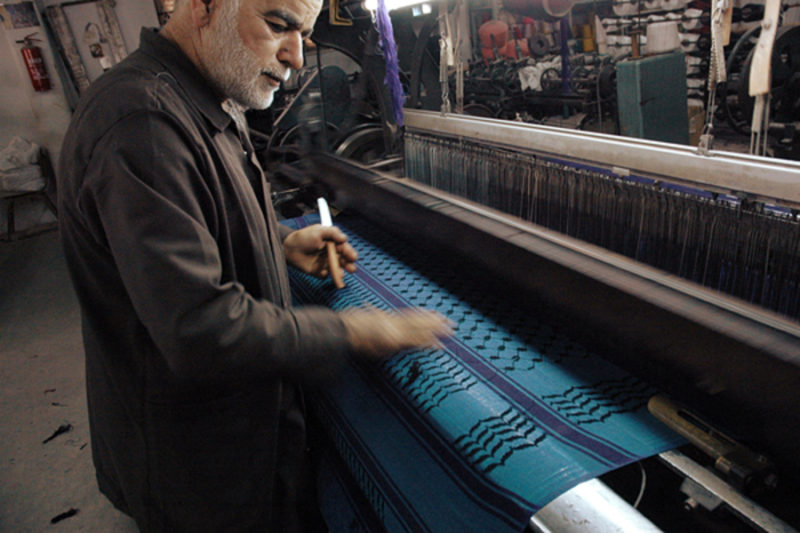 The Hirbawi factory has 15 machines and it used to produce 150,000 keffiyehs annually since the early 1990s. However, after the opening of trade with the outside world and the emergence of more competitors, only 4 machines remain in operation producing 10,000 scarves a year, but not a single one of them is exported.
The deterioration in the Palestinian economy creates obstacles for small local businesses like Hirbawi's. In Yasser's own words, he said "my machines are in good shape. They can start working tomorrow. I just need a market."
WE SAID THIS: They're as authentic as it can get!