In case you haven't noticed, over the last couple of years Cairo has witnessed a spread of the best extreme sport on the planet: Kitesurfing. I got into Kitesurfing a couple of years ago, and it changed my life forever. A lot of people have been asking me about Kitesurfing, so I thought it would be really cool to share with you my experience and guide you through the whole process.
First of all, Kitesurfing is an extreme sport. That means that by nature, it's a dangerous sport if you're not too careful. The nice thing about it though is that you can control what you get from it. If you're looking for an adrenaline rush or some time to relax then this is definitely for you. If you're wanting to try and get into it, have a look through a great range of wetsuits from Ann's Cottage.
So how do you start?
The School:
There are several international organizations that have set standards for Kitesurfing. The most popular one is IKO. You'll find a lot of IKO certified Kitesurfing centers and schools around the world.
Why IKO? Obviously, any Kitesurfing school can teach you to kitesurf. However, unless it's IKO certified, it cannot give you the IKO card after you're done with your course.
What does this IKO card do? It allows you to rent kite equipment at any kitesurfng centers, if provided. Kitesurfing equipment is rather expensive and therefore, people tend to rent equipment for a while as they get the hang of it before fully committing to buying their own gear. So make sure you pick an IKO certified school.
It's a 9-hour course that's divided over three days. It's better to take the three days in a row, but then again, it's up to you. After the third day, you should be able to do the basics and from there you have to keep practicing until you get the hang of it. It's not that easy to learn, so don't get frustrated at first, trust me in the end, It's totally worth it.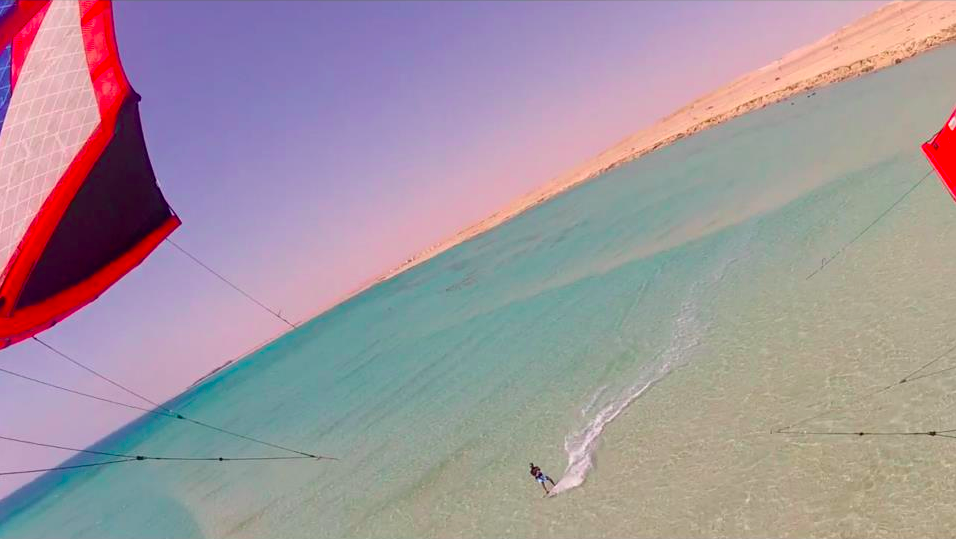 The Spot:
This is another very important aspect when you're learning. First of all, pick a spot you know you can visit frequently. This will be your training ground for the first few months. It's always better to stick to one spot at first until you're completely comfortable with Kitesurfing. The moment you feel confident; you can go out and explore new spots!
Another factor that you need to consider is the wind direction and speed at your spot of choice. As you may have figured out already, kite surfing depends heavily on the wind. As you begin, you'll need an area with moderate wind speed (13-18 knots is ideal) in order to practice. Kitesurfing in light wind is possible, but it requires some skill controlling the kite but don't worry that comes with practice.
   
Wind direction is one of the things that most people won't tell you about. I found this aspect to be a very important factor in my learning experience. There are three main wind directions. Onshore: from the sea to the beach. Offshore: from the beach out to sea. Side or Cross shore: from left to right or right to left. Some spots have a combination of two (e.g. Side on shore would mean that the wind is coming from the sea to the beach at an angle).
When you first start learning to kitesurf, you'll only be able to go downwind. That means that you'll be able to move left and right with the direction of the wind. If we were to imagine a spot with onshore wind and where to go into the water and look at the beach, the wind will be hitting our backs. This is the direction you'll always face; away from the wind. So with our backs against the wind, we start Kitesurfing and we'll move left or right. As we surf, we'll move left (or right) and towards the beach. This is called going downwind.
This will be the first thing you learn how to do. Once you master that, you'll start surfing upwind; which means you'll be going against the wind. This skill could take you some time to learn.
So how does this affect your experience? If you pick a spot that has onshore wind, then no matter what happens you'll always end up at the beach. If you pick a spot with side shore wind, then you'll end up at the beach but really far from your launching spot. If you pick a spot with offshore wind, good luck coming back to the beach. Personally, I experienced both onshore and side-shore as I was learning.
Onshore wind was much easier to learn with as I began to kitesurf. You don't want to go far away and get stuck with the kite.. These things are heavy and carrying them while walking back is known as "The walk of shame" and I'm sure none of you want to do that 😉
So to recap. Here's what you'll need (this applies to both guys and girls):
1. A sense of adventure!
2. An undying love for water and the beach.
3. An IKO certified school preferably with on-shore consistent wind.
4. Sunglasses and sunscreen
5. Board shorts. Girls, you will definitely need those. Guys, board shorts are more comfortable than the regular Ralph Lauren shorts because they're made for sports, so they're very stretchy. Normal beach shorts won't be anywhere near as comfortable.
6. Preferably, a long-sleeve rash guard (if you can't find a long sleeve one, short sleeves will do but prepare for a hell of a farmer's tan. Nothing you can counter with sitting in the sun after your lesson though!). You can find those at any Quiksilver store. Usually schools will have rash guards that you can use but trust me; you're going to be wanting one soon anyway!
So where in Egypt can you go?
Egypt is known to be the number 2 spot in the world when it comes to Kitesurfing! It's every kitesurfers' dream, so as you can imagine there are a variety of places to go. Here's a list of these districts:
1. RasSudr: 2.5 hours away from Cairo. Ideal for weekend trips!
2. Zaafarana: 2 hours away from Cairo. Beware of the corals there though! Not recommended for beginners.
3. Gouna, Hurghada, Soma Bay: If you're looking for a longer trip
4. Hamata: It's a 10 hour drive from Cairo. It's recommended to go there when you're more confident about your surfing skills. 
5. Sharm, Dahab: 5 hours away from Cairo. Dahab is known for its strong wind and current, which can also be a challenge for beginners. 
Personally, I've been going to RasSudr for the last two years, and believe it's the best spot. At RasSudr there are four main schools: Soul Kitesurfing Center, Kiteloop, Fun Kitesurfing, and Fly Kitesurfing.
The Soul Kitesurfing Center, in my opinion, the best spot to develop your Kitesurfing skills. Since it has onshore wind, there is a minimal amount of rocks, the tide doesn't go out for too long, and overall it's an awesome place!
So get up and head down to the beach, it's time to start what I promise will be one of the most remarkable experiences of your life.