Cairo's El Kobra, one of the most distinguished quarters of Heliopolis, is a bustling hub of history, food, and coffee. This neighborhood that is over 100 years old is a gathering spot of most Cairenes, especially during the winter season. A special pastime of many is to walk along its boulevard lined with Islamic archways behind which lies shops selling books, antiques, clothes, and the like. Recently, this hotspot also became home to some of the city's most iconic Italian coffee shops.
With today being International Coffee Day, we wanted to do something special to celebrate. To get a taste of El Korba's coffee scene, the Scoop Team thought it would be fun to hit up four cafes in the span of two hours. A questionable yet exciting attempt at coffee hopping that may have resulted in some interesting caffeine-induced nighttime shenanigans of laughter and dancing. It all started at 5 pm when we took a turn into a tiny street branching out of Baghdad's main road.
Nomadic Espresso Bar
A small square-shaped store emblazoned with a big light-up sign reading "Nomadic" was the first stop in our coffee hopping journey. A very recent addition to El Korba as it opened in April 2022. Despite it being a coffee shop, on entering, we were met with the smell of a pleasant fruity air freshener coupled with the gentle sound of Ed Sheeran's hits. The tiny store with its grey walls and round wooden tables gave off a calm vibe, especially as only two tables were seated.
At the counter, we were met with a friendly male barista who took an unconventional interactive approach when it came to our coffee order. Our conversation began with him giving us a taste of their Brazilian Paranà coffee beans which they roast on-site using their large grinding machine, all part of their artisanal brand.
Having no physical menu, the barista told us that to make an order, we'll just have a simple conversation and along the way, he'll know what coffee we'd enjoy. To start off, the barista begins with a simple base of one espresso shot, after asking me how much milk I like in my coffee, he was ready with recommendations, I was recommended a cortado. We also tried out some of their best sellers, salted caramel and Spanish lattes.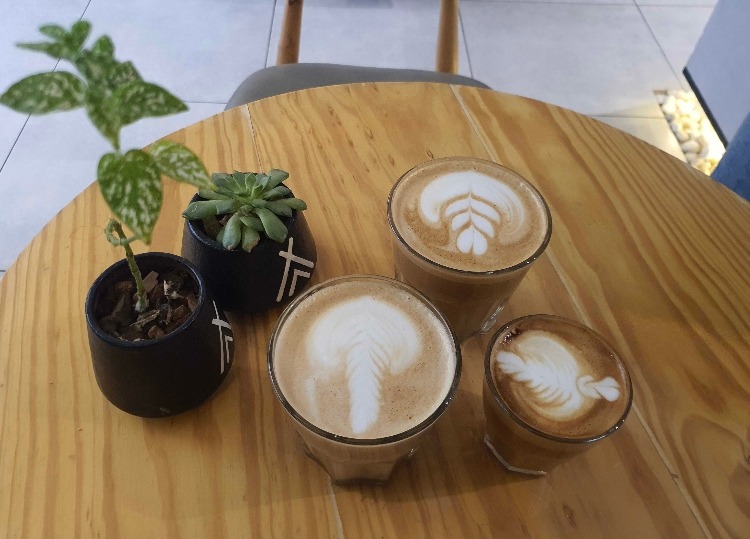 The cortado had a very strong aroma and nutty flavor. It gave off that immediate coffee kick from the very first sip, an indication that it's a proper cortado. The salted caramel and Spanish latte were very sweet, yet did give off authentic flavors as the caramel sauce used was actually handmade by Nomadic. One would think that with the excellent quality of the coffee there would be a hefty bill, yet it was very reasonably priced with the cortado costing 40 LE while the two lattes cost 60 LE each.
Bouchée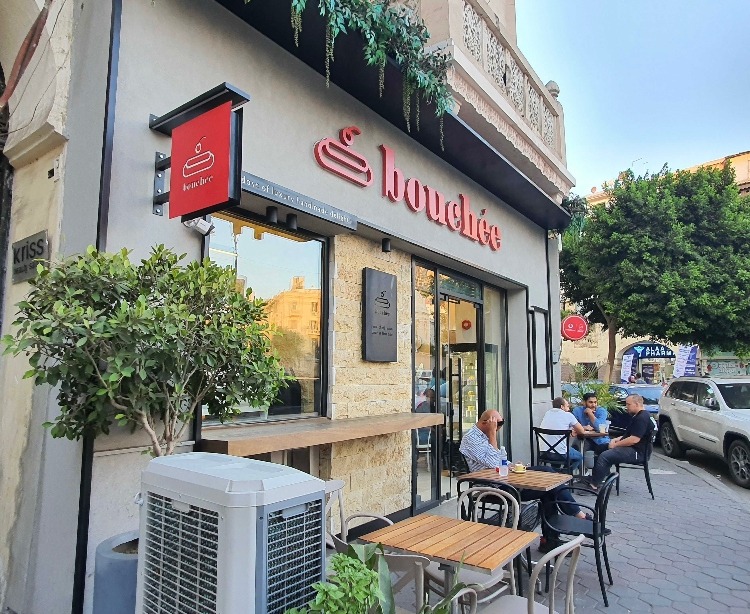 Bringing a taste of France to El Korba, Bouchée is both a French bakery and a specialty coffee shop; located a mere block away from Nomadic along 22 Baghdad street. Unlike Nomadic, Bouchée has an entirely different energy. From the moment you enter its store, you'll immediately be immersed in its playful nature as upbeat French music would play out from its speakers and on your right will be a revolving glass display case showcasing some of the shop's desserts.
Generally, their actual display cases, which take up 70% of the room, are exquisite. Lined with rows of gem-like lustrous pastries with equally luxurious names emblazoned on neatly stacked thick label cards that would read out "Framboise" or "Exotic Fruit Pavlova." As you walk toward their handmade chocolate display, you'll even notice three large poster-like screens surrounded by thick black borders that display videos of what occurs behind the scenes in their kitchen.
When it comes to their coffee, the order is made at their counter. Looking up at their wall-mounted menu board with its lacquered letters wedged between brown wooden rails, typical classics like espresso, cappuccino, and flat white caught our eye. We decided to stick to ordering only two drinks: one cold and one hot. We went for a flat white and an iced salted caramel latte.
It turns out that coffee is not Bouchée's strong suit. Despite their flat white being served in a fancy white ceramic cup decorated with lined grooves keeping up with Bouchée's luxurious feel, the coffee itself was quite mediocre. It was not smooth, the coffee flavor was there yet it was not the strongest. It was much more subtle, unlike Nomadic's pungent coffee. Yet, their iced salted caramel latte was quite balanced; striking the perfect sweetness.
Despite the consumption of this much coffee and a faster heartbeat, we pushed through to find the perfect cup of coffee.
Vasko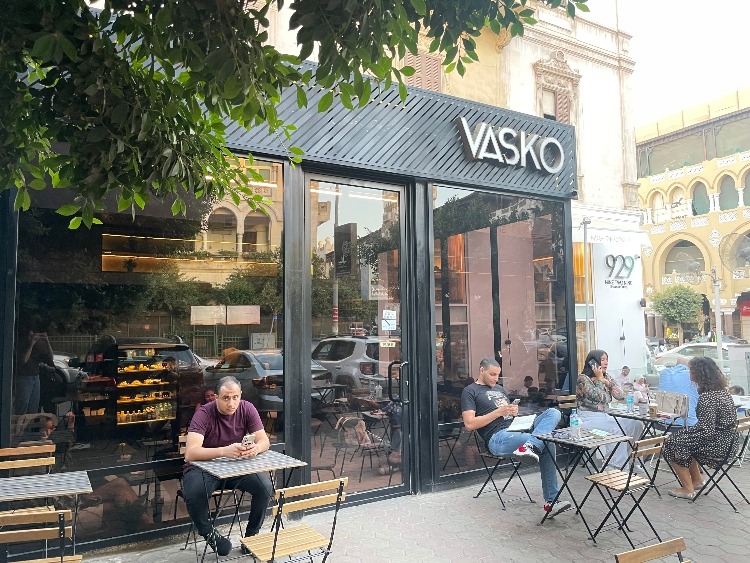 Vasko's exterior is unlike other coffee shops. Jutting out, encased in a square-box-like structure that is surrounded by dark framed glass on all sides. This coffee shop, that opened up in 2021, is a hub for students and employees who crowd its interiors and tap and click on their keyboards, focused on completing whatever project or assignment they have. On entering, its low moody lighting and instrumental jazz music make you feel like you are entering a 1920s jazz club.
Yet, over time, as you walk around inside, that vibe would be washed out by the echoing side conversations of its coffee goers. Operating more like a Starbucks, it relies on a fast-paced ordering system wherein the waiter would expect you to know your order then he'd snatch a pen and quickly scribble your name on a plastic cup. The coffee would be ready in minutes. That is why its quality was not the best.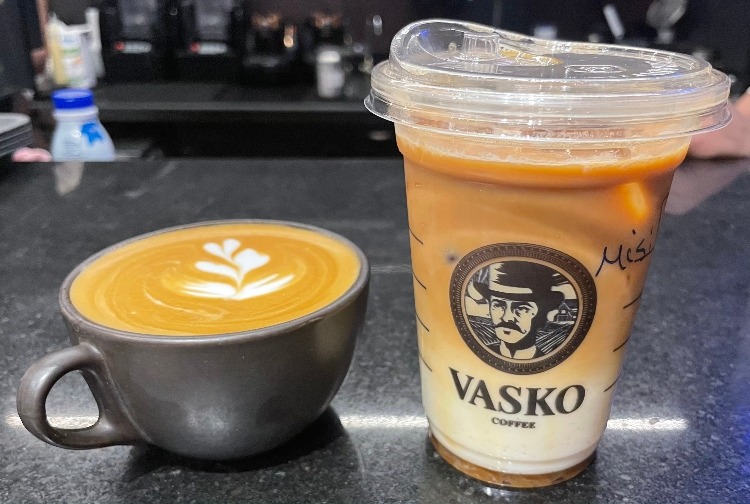 Despite ordering a cortado, known for having a strong flavor, it barely had any taste and was served in a round mug rather than the usual mini glass cup. The coffee we ordered was decaffeinated which may have been the reason for the weak taste. Our other drink, the iced caramel macchiato tasted like a sugar factory, yet it did have a pleasant bitter toffee and coffee aftertaste. What was good however was their decently priced coffee with their cortado amounting to 40 LE and their iced caramel macchiato costing 52 LE. Because of the noisy interior, echoey background noise, and mediocre coffee, we did not stay long and headed to its more popular neighbor, 929.
929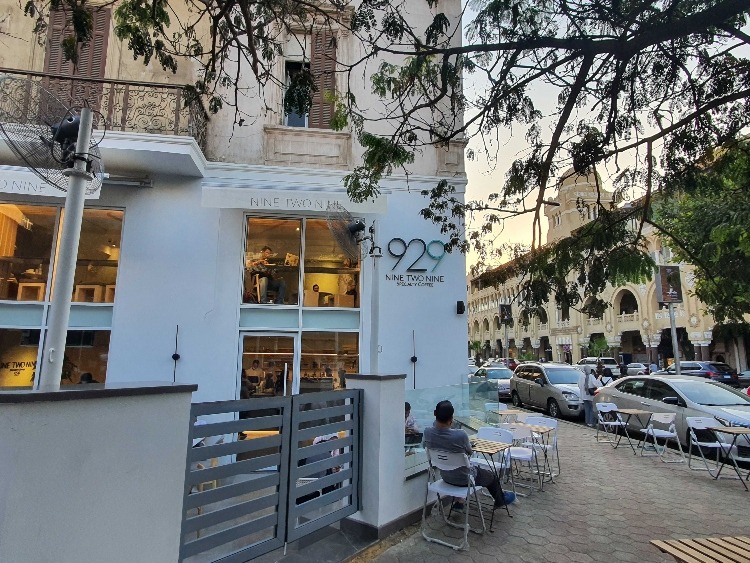 As coffee takes time to kick in, by the fourth coffee shop, we were not only wide awake but were caught in an endless fit of giggles as we navigated through the crowded tables that lined the pavement facing 929. Opened just 2 months ago, it amassed a big following on Instagram and TikTok naming it one of the trending spots that most Cairenes would visit. Whether during the early morning hours or late at night, the two-floor coffee shop is usually packed with people.
The moment we walked through its doors, we were met with an intense coffee aroma. Adele's powerful ballads wafted out of the speakers as we navigated the crowd and found a place in the long line of people waiting to make an order. Bright lighting illuminated the entire room marked by chic decor that was dominated by light grey and brown accents along its white-walled interiors. Behind the counter was a lively bustling scene of five baristas expertly crafting several coffee orders.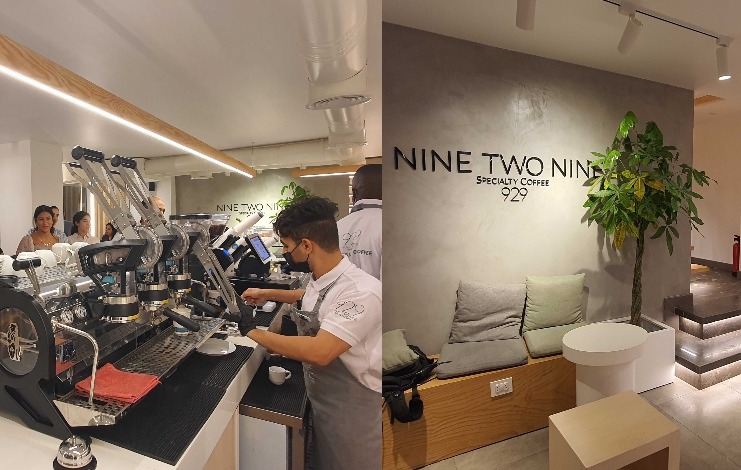 As with Vasko, everything was super quick as the barista took our order, scribbled our names on plastic cups, and prepared our drinks. Our cortado was served in a white paper cup labeled with their logo while the iced Spanish latte came in their plastic to-go cup also decorated with their logo. Taking our drinks to one of the few tables in the corner of the room, we were not ready for that bitter coffee taste considering that we had our fair share of coffee on that day. The cortado was disappointing as it tasted like milk with a tiny hint of coffee. At that point, we were unsure if the lack of flavor was because their coffee was weak or because the day's overconsumption of coffee was masking its actual taste.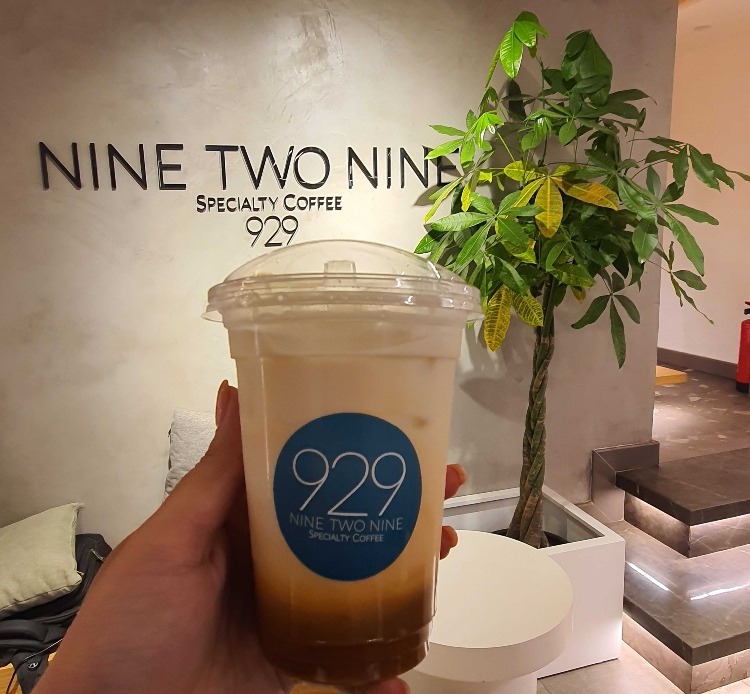 It is important to note that 929 was on the pricy side in comparison to the other coffee shops with its cortado costing a whopping 55 LE while its iced Spanish latte costing above 70 LE. Yet, despite this, it was the most popular coffee shop along El Korba's streets.
Leaving 929 to hit the streets of El Korba, we ended the day feeling jittery and hyper; knowing we reached a count of more than seven coffees. By then, we concluded that one place, in particular, stood out. Among the four coffee spots, Nomadic Espresso Bar was the one that offered the best quality in terms of coffee flavor, aroma and experience, their handcrafted drinks and ingredients have a touch of authenticity and dedication to good coffee.