The clock is already ticking and Eid Al Adha is almost here. Mutton, family gatherings, Eideyas, new outfits, festive vibes, and mutton, lots of mutton! This all what Eid is about to most of us, but ever thought how it is for the unfortunate ones? With prices of almost everything skyrocketing more than ever, a lot of people are not privileged enough to have a day like yours and ours. Meat hasn't always been the most affordable meal, and now, it's definitely an almost impossible thing to afford in some people's kitchen.
But what if you can make things right for someone in need? What if you can give Eid, in its finest shape, to someone who's missing it? Because as far as we know, Misr El Kheir is giving you this opportunity by launching the Sakk Al Adheya campaign once again for the 4th year in a row.
This year, Sakk Al Adheya is sold for EGP 3,300 only. And what do you as a donor get out of that? Well, you get 27KG of premium quality mutton; 9KG for you and your family and 18KG for the unfortunate. And the best thing about it is that Misr El Kheir delivers the meat when it's still fresh on the first days of Eid. The campaign is not just about the act of giving, but also about youth empowerment. All meat comes from Ard Al Kheir; a project started to support young graduates provide a source of income.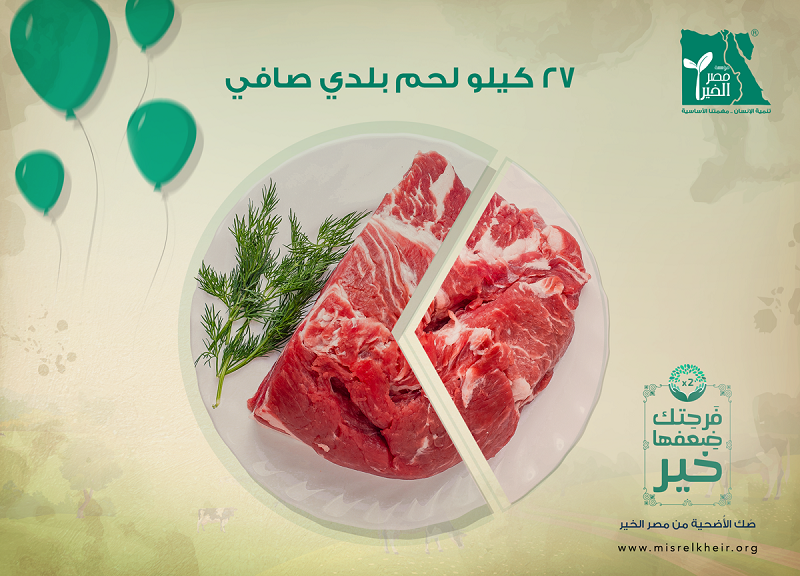 Speaking of Ard Al Kheir, the project is considered one of Egypt's biggest farms. The farm that has branches in Asiout, Toor Sinai, Al Wadi Al Gedid, and Al Wahat Al Bahareya, is taking part in the country's strategy of being self-sufficient in providing meat and dairy products. Not just that, but the project also aims to create thousands of jobs for Egyptian youth in an attempt to reduce the unemployment rate. Workers have gone through intensive training sessions to help develop the required skills for their new jobs. As a result, they successfully managed to make an average net profit of 10 to 15 thousand Egyptian Pounds each during one round of Sakk Al Adheya.
From 150 to 300 people; each in charge of around 20 cattle, participate in a round that usually takes up to five to six months. Those who sell the most during one round automatically get selected to take part in the new round afterwards and so forth. This way, everyone gets his/her share of a wonderful Eid; it's a win-win!
WE SAID THIS: Sakk El Adheya will be available for sale until the afternoon of the day of Arafat at all Misr El Kheir branches and offices, or you can call 16140. Eid Mubarak in advance to you all!