I always thought that the best thing about Cairo is that t all it takes for you to see great remains of history is a slight head turn in either direction. We, Cairenes, are always surrounded by history in all its forms and shapes and it's nothing short of fascinating.
Considering that Cairo's a city to a ridiculous number of landmarks, including the Great Pyramids Of Giza, which are the only standing ancient wonder of the world, it's easy to let some of them pass you by unnoticed.
Here are only a few of these landmarks that don't get the same attention as some of Cairo's heavyweights, but which have a magnificent history nonetheless:
1. Babylon Fortress
Although countless tourists and locals have been to the Religious Complex in general, and the Hanging Church specifically, only a few stop to notice the Roman ruins of Fort Babylon.
The fort was built in 300 AD (yes it IS almost 2,000 years old) to overlook the Nile, which used to reach that area back then. The location of the fort was chosen to secure ships' transportation between Upper and Lower Egypt.
It's one of the few standing Roman relics in Cairo and it definitively deserves a trip to wonder at, or at least a long and hard look next time you find yourself in Coptic Cairo.
2. The Church Of Abu Serga
Cairo's not short on any form of history, and when it comes to churches with great histories, our old city does not disappoint.
St. Serguis Church is believed to be the resting place of the Holy Family at the end of their journey to Egypt. It was built in the 4th century and was named after St. Serguis, a martyr in the reign of Roman Emperor Maximian.
Visit the church to enter the crypt where the Holy Family is believed to have rested and to soak in the ancientness of the premises.
3. Windsor Hotel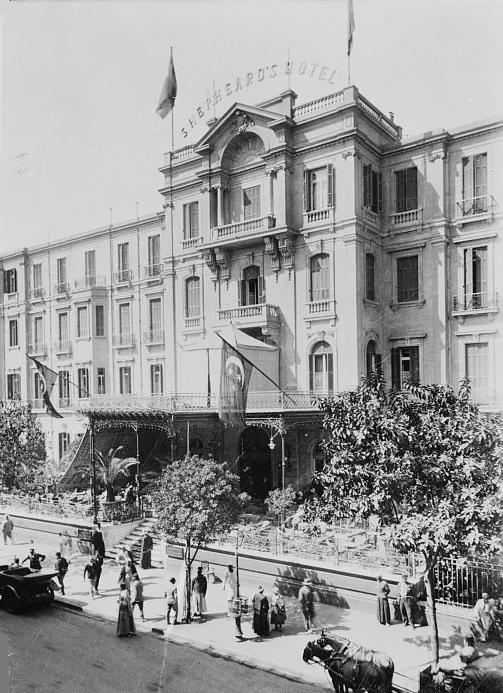 Previously known as the Shepheard's Hotel, it is the first of its kind in Egypt and Africa, and it was been erected long before some of the most famous hotels in cities like London and Paris.
The hotel was originally the site of a Turkish bath for Cairo's royal families. It then became the Shepheard's Hotel, which was a favorite among British soldiers and hosted many famous names, from Mark Twain to Josephine Baker.
The hotel is also said to have the oldest manually-operated elevator in Egypt, and is one of the oldest in the world. Although the Windsor is past its heyday, the charming history behind it is hard to be ignored.
4. Beit Zeinab Khatoun
This courtyard-turned-ahwa is a favorite among people who have a knack for Islamic Cairo and welcomes as many visitors as any other well-known coffee shop in the area, such as Al Fishawy.
This one is not the easiest to get to as the way to it is somewhat sketchy, but definitely worth the trek.
After all, the place is more than 500 years old and the courtyard shared by it and Beit El Hawari will transfer you right to the enchanting ambiance of that era.
5. The Gayer-Anderson Museum
The museum, which was once the residence of Major R.G. Gayer-Anderson Pasha, is a tribute to him and hosts his extensive collection of furniture and carpets, among other objects.
If you've ever been to Ahmed Ibn Tulun Mosque, there's a good chance you've spotted this building, as it was built to use the mosque's outer wall for support.
Besides its beautiful architecture and its preserved value as one of the few 17th-century domestic premises in good shape, we can't help but geek out at the fact that scenes from the James Bond film The Spy Who Loved Me were shot in the ceremonial reception hall and the rooftop terrace of the house.
6. Beit Al Souhaimy
Beit Al Souhaimy to Cairo is what Casa Batllo is to Barcelona. The fact that they were both owned by families who hail from past centuries and the incredible attention to detail that these houses were built with is truly fascinating.
Beit Al Souhaimy is a perfect example of the 17th century architecture during the Mamluk period. Even if you're not into architecture, it is surely worth getting lost in for a couple of hours to observe the beautiful architecture and unparalleled wood work that's found in its many mashrabeyas and in every corner of the house.
7. The Palace of Mohamed Ali in Shubra AKA "The Shubra Pavilion"
When Mohamed Ali wanted to build a getaway from his official residence in the Citadel, he chose what was then the uninhabited and secluded neighborhood of Shubra Al Kheima.
Some say he chose Shubra for its seclusion and its proximity to the Nile and some speculate that he wanted to build it in a place outside what Cairo was then so that his people wouldn't hold negative images about him taking their lands.
The premises, completed in 1809, were nothing like anything Cairo has seen during that time (or any other time, really). From the impressive entrance and the fountain-slash-lake to the vast courtyards, this palace has might as well come out of a fairy tale.
8. Abdeen Palace
The sheer size of the palace is enough to stop anyone passing or driving by in the neighborhood of Abdeen. It's a true blast from the past.
Finished in 1863, Abdeen Palace was built by Khedive Ismail to become his official residence and government headquarters instead of the Citadel. The palace is probably most known for the abdication of King Farouk I in 1942, an incident which is considered a defining milestone in modern Egyptian history.
It now serves as a museum that contains jewelry, relics and documents from the time it was built until its last occupancy by King Farouk I.
9. Immobilia Buliding

If there was ever a celebrity sighting in the past, this building would've definitely been one of the top spots to do so.
It was erected in 1938 in Qasr Al Nil, and since then has housed the residences and offices of countless Egyptian and Arab authors, actors, singers and producers, the most famous including Naguib Al Rihany, Anwar Wagdy and Laila Mourad, Mohamed Abdel Wahab and Umm Kulthoum.
It is also said to have been the shooting location of about 30 Egyptian films that were produced in the mid years of the past century. On top of that, it is considered to be one of the oldest and most prominent buildings in Downtown Cairo.
10. The Maraspini Building in Zamalek
Although 14 El Gezira St. may strike you as just another building that's not worth mentioning, the blue plaque affixed above its front entrance begs to differ.
According to the plaque, the 18th president of France, General Charles De Gaulle himself, and General Georges Catroux held discussions that would later define France's modern history in this building during World War II, where Catroux used to reside.
11. Abbasiya Mental Hospital
The Abbasiya Mental Hospital is the oldest in Egypt and the largest in the Middle East. Its 70 acre grounds are home to more than 1500 patients, most of whom receive free treatment.
Considering that the building dates back to 1883, it has been officially named as a historic monument in Egypt. It has also served as the setting of many Egyptian works of art, most recent of which is blockbuster book and film Al Feel Al Azraq.
12. Heliopolis War Cemetery
Just when you think Cairo has a landmark that tells of every historic era of humanity's existence, it comes at you with a World War II cemetery whose beauty rivals the ones you find in Europe, if not in their grandeur.
Although, as Egyptians, we do have a reputation of letting the conditions of our national treasures deteriorate, the cemetery is kept in oddly excellent shape. It was opened in 1941 and has been tended to by Commonwealth War Graves Commission ever since.
The graves mostly commemorate fallen British soldiers of World War II, with a minor number of other nationalities buried there as well. This is the perfect place to go when you need a reminder of a much looked over period of time in this gorgeous city's history.
WE SAID THIS: Don't miss 14 Touristic Spots in Egypt That Every Building Must Visit.