Coming back for a new season, the CIFF will kick-start its 44th edition with a special opening ceremony taking place at the prestigious Cairo Opera House. Starting today and continuing until Nov.22, the International Festival will celebrate a total of 97 films stemming from 52 world countries.
Since its launch in 1976, the festival constantly acted as a hub to promote the film industry and bring together intercultural talent under one roof to showcase the diversity of world narratives and their power to shift perspectives. With this year's edition, the narrative continues with a jam-packed itinerary of film screenings, workshops, panel discussions as well as new surprises. To take part in the festivities, we have curated a roundup of the most exciting features of the 10-day event that you should not miss.
Arab Film Selection
This year's roster of films handpicked from across the region place a lens on the intricacies of today's Arab world; whether it's true stories of heroic and passionate figures like the Mardini sisters in Sally El Hosaini's coveted biographical drama film The Swimmers or an experimental take on gender roles in an Egyptian relationship through Kawthar Younis' 17-minute short film My Girl Friend.
In this special edition, many of these films will be presented for the first time in front of global audiences including Egyptian director Ahmed Abdalla's 19 B which chronicles the story of an old guard of a delipidated villa and his struggles to stand his ground after receiving threats from a young park attendant. This special film will also be taking part in the International Competition wherein a handpicked selection of films will be judged by a special jury including the esteemed French actor, Samir Guesmi and Egyptian cinematographer, Nancy Abdelfattah.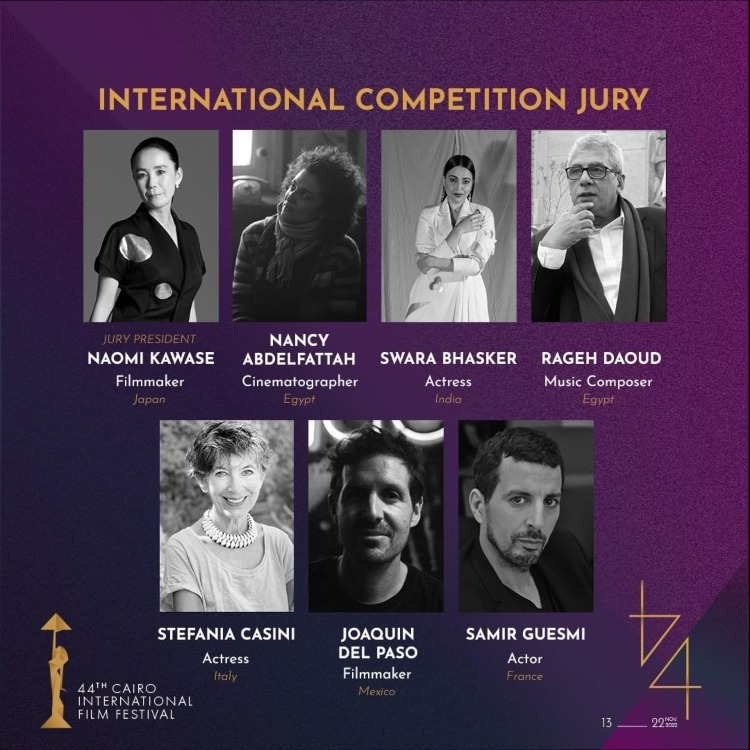 For the full list of Arab film selections, you can check out the full schedule available on several platforms including Instagram:
Esteemed Panels, Conversations & Workshops
Such a prestigious festival always attracts the likes of legendary figures in the film industry and with this year's edition, a very special guest is going to be making an appearance. Known as the pioneer of the French New Wave, Jean-Luc Godard has constantly been known to shake up ways of bringing narratives to the screen. When people first saw a jump cut during his film Breathless, they thought it was a mistake when in fact it was completely intentional and from then on, it became a common technique used in various films to this day.
During his visit to CIFF, the infamous director will have a special conversation with Andrew Mohsen, CIFF's Programming Director about his innovative and out-of-the-box approach when it comes to filmmaking. Attending such a talk will introduce you to new ways of creating stories and cinematic work.
Throughout the festival, there will also be a wide array of panels discussing a host of topics; including the rise of Saudi cinema, an apt topic considering that the Kingdom has been strongly pushing towards its Vision 2030 goals of becoming a prime entertainment and art hub.
Workshops and masterclasses will also be included in the festival's special lineup of activities and events. Attendees who are passionate about the filmmaking process can take part in several masterclasses led by experts including the renowned Hungarian filmmaker Béla Tarr who, for a specific period of his career relied on social cinema, a style of filmmaking that places a special focus on telling everyday stories about ordinary people.
If you want to take part in this eclectic range of activities and discussions, you can check out the entire schedule below:
Special Revival Of Egyptian Classics
Since Egyptian cinema spans a long and rich history that dates back to the 1800s, many films across the generations and years have left a special mark on viewers both regionally and on a global scale. Hussein Fahmy, CIFF's president is well aware of the power of Egyptian classics when it comes to shedding light on the history and vitality of Egypt's people, culture, and heritage. In this year's edition, Fahmy wanted to use the festival as a way to revive these old classics and place them at the forefront so that not just film aficionados but the younger generation would come to learn of and appreciate Egypt's golden age of entertainment.
For the first time ever since the debut of CIFF, starting this year and for the ongoing years to come, three of Egypt's classic films will be restored and screened at the CIFF. This year, Fahmy picked three films from the 70s to shed light on that special time in Egypt's film history. His selection includes the classic 1969 film Diaries of a DA in the Countryside, the 1971 film The Choice, and the 1972 film A Song On The Passage.
Tickets & Updates
With the festival already underway, to stay in the loop and keep track of all its events you can download the official CIFF App that will include everything from the festival program to all the films that will be screened including their timings. If you also want to take part and immerse yourself in the rich world of film, cinema, and art, you can purchase tickets through the Tazkarti's official page.