Yet another eventful day has passed at the summer Olympiad in the city of 2012. Athletics had the stadium jam-packed yesterday, with the men's 100 meter qualifier being one of the highlights of the day. Fun fact: we had a sprinter in the 100 meter race, his name is Amr Ibrahim Mostafa Seoud. Unfortunately for Seoud, he was in the same qualifier as Usain Bolt (the record-shattering sprinter from Jamaica). Seoud ran his season's best time of 10 seconds 22, which was actually an okay time and he narrowly missed out on the final (which takes place today). Egypt's bad luck continued over in football as our squad got school by the Japanese 3-0. I choose not to go into details about this match, mainly because I am a bad sport and I really hate losing. On the upside, our equestrian athlete, Karim El Zoghby, performed well enough in yesterday's qualifier to secure himself a spot in today's jumping session. Fingers crossed.
Great Britain managed to pick up a few gold medals yesterday. Jessica Ennis won the women's heptathlon, which is basically 7 sports crammed into one event (known to the common couch potato as hell). Team GB's Mohamed Farah (yes, he is English, even though he is actually from Somalia) snatched the gold in the men's 10,000 meters (that's 25 laps), while Greg Rutherford took top honors in the men's long jump. Great Britain also took gold in the following team events: women's team cycling, women's lightweight double sculls (rowing) and the men's four (also rowing). So overall, a good day for the host nation.
The men's weightlifting really held my attention for the entire length of the event yesterday, as I was mesmerized by a man from Kazakhstan named Ilya Ilyin. This man, the current Olympic champion, blew away the competition by consistently lifting the bar as it got heavier and heavier. Ilyin lifted a world record berating 233kg with the grace and ease that I use to lift a forkful of spaghetti to my mouth. It was insane watching a man who weights 94 kilos lift 2.5 times his own body weight, oh yeah and he's only 24 (some of these athletes make me feel so unaccomplished).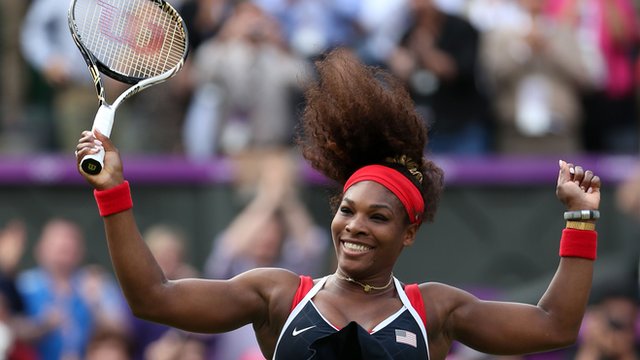 Serena William's thwarted Maria Sharapova's chances of a gold medal, as she won in straight sets and claimed the top spot. The men's tennis final will feature Britain's Andy Murray versus the world number one from Switzerland, Roger Federer. Of course, a day at the Olympics would not be complete without Michael Phelps winning a medal, which he did in the men's 4×100 meter medley relay. It was a gold medal in case you were wondering.
WE SAID THIS: Check Back Soon For More Olympic Awesomeness!