On Saturday the 23rd of October, a blazing fire was reported at the Marina Diamond 2 residential building in the Sayorah Street area.
Taking place at 3:30 in the morning, residents were forced to leave their beds and homes in a hurry covered by plumes of smoke and relentless fire. Fortunately, there are no reports of casualties. The police got families and residents to safety, offering them meals and shelter while the fire was being put out.
This mid-rise tower has seen the most damage to its upper floors where the fire initially broke out. According to the National News, eyewitnesses reported that there wasn't even an alarm that sounded! Videos of the footage spread around on social media as many posed the question, why do fires keep haunting Dubai?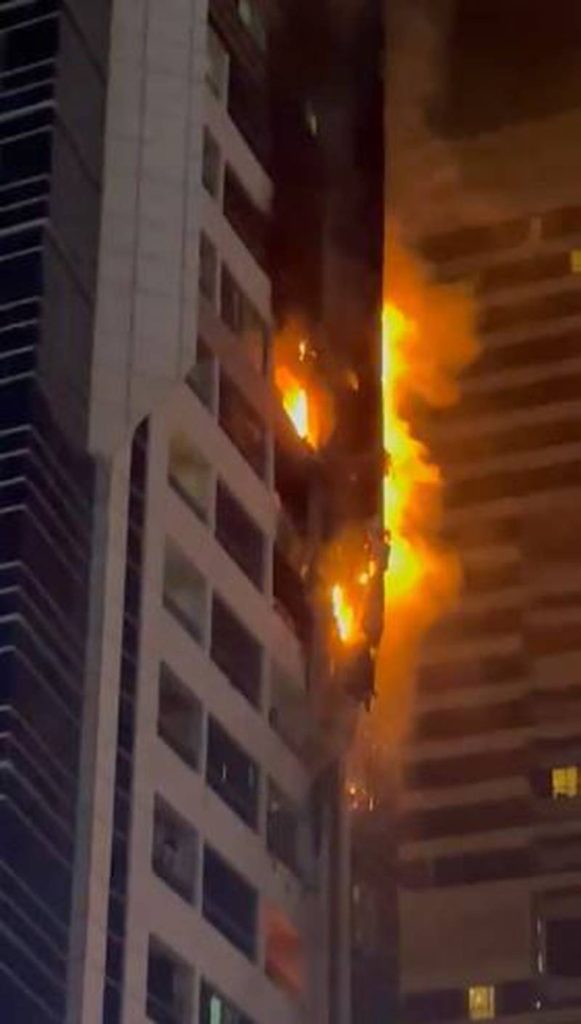 The building's management company, Prime Association are yet to make a statement.
Most keep scratching their heads as to why the UAE seems to be bombarded by fires. The National News reported that last year, an investigation was launched to determine the possible cause for an alarming series of fires in Sharjah and Dubai. The main culprit in question seems to be a type of Aluminium building cladding that was banned by the UAE in 2017 for an increased risk of fire hazards. This ban and subsequent update of the UAE Fire and Life Safety Code of Practice came after 'The Torch', one of the world's tallest residential buildings, caught fire twice in 2017. The investigation itself came to be after a massive fire at 'Abbco tower' in Sharjah back in May 2020 that was caused by this type of cladding.
Building cladding, being the main reason for the many fires is not anything new nor is it a joke.
Flammable siding that caused the fire at 'The Torch' was also the reason for the Fire at 'Grenfell Tower' in London that took the lives of 80 people. Given that most of these buildings were built before the ban on flammable cladding, the fact remains that many buildings in the UAE face a fire hazard and are in need of restoration. Additionally, warnings were previously issued by authorities pertaining to poor wiring in buildings and misuse or overload of electric outlets being major culprits when it comes to fires in the UAE.
The exact cause of the Dubai Marina Fire is yet to be determined, yet the positive side of the story is all the significant efforts that the firefighters and authorities took to secure the safety of the residents and try to quickly get them back to their homes.