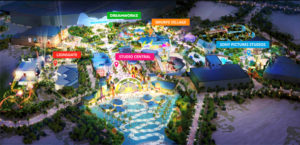 www.whatson.ae
Get ready for some smurfin' rides and live entertainment at the Smurf Village at Motiongate park in Dubai that is set to open in October this year.
www.motiongate.com
It's been officially announced that a Smurf Village section will take place in the park where you can witness a one-on-one live animated interactive shows and get to interact with Brainy Smurf and the entire cast of the Smurfs Village Playhouse.
www.motiongate.com
Also, it will be home to a kid-zone, and will host plenty of rides and attractions. You can take a family-friendly rollercoaster around the village with your young ones.
WE SAID THIS: Motiongate Dubai is a theme park that's opening in Jebel Ali this October, and they've just revealed that there will be 27 key rides and attractions in total, all centered around 13 Hollywood films.