Saudi Arabia's Princess Hassa Weds Prince Fahad in a Glamorous Wedding Gown by Stéphane Rolland
Last week, the granddaughter of the Kingdom of Saudi Arabia's King Salman Bin Saud, Her Royal Highness Princess Hassa bin Salman Al Saud, married Prince Fahad Bin Saad. Although there were no available pictures of the wedding online, like any Saudi royal event, the princess' wedding dress has been the talk of the entire Arab region recently, with people speculating about what it looked like. The princess wore a glamorous wedding gown designed by the French fashion designer Stéphane Rolland, complemented by a white gold headpiece and cuffs. The headpiece and cuffs were designed over 30 years ago by Her Royal Highness, Princess Sultana bint Turki al Sudeiry, and jeweller Jahan, as a tribute for Princess Hassa's wedding.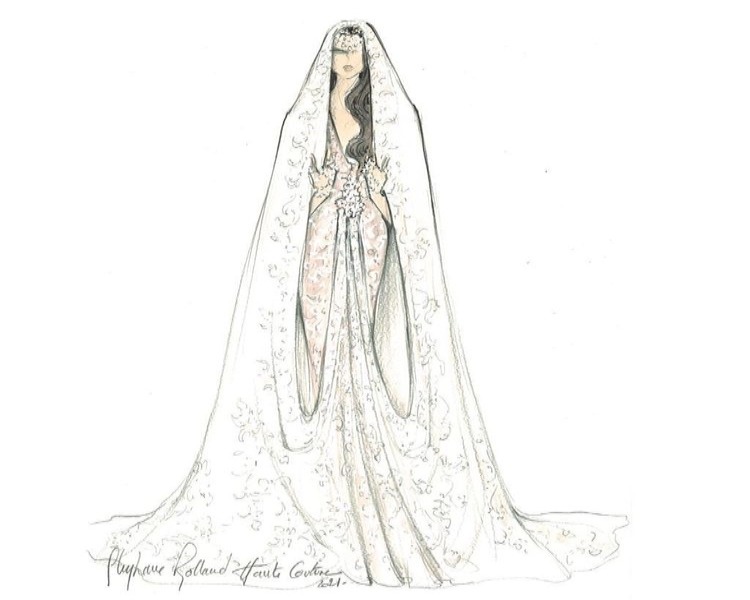 In an attractive Instagram post, the designer congratulated the royal bride and said, "Your wish to combine deep Saudi culture with modernity in your wedding gown was really inspirational." His first post about the royal wedding gown showed magnificent details from pearls to glitter to flowers, all beautifully embellished on the beautiful fabric. The comments on the post mainly asked him to reveal the dress. However, he responded to some of his fans, explaining that the dress is "a secret," and that he isn't allowed to show it to the public.
A few days later, he gave us a glimpse of the glamorous dress, through a series of images of the sketches he had made. The sketches truly showed royal elegance and modernity, mixed with traditional Saudi culture.