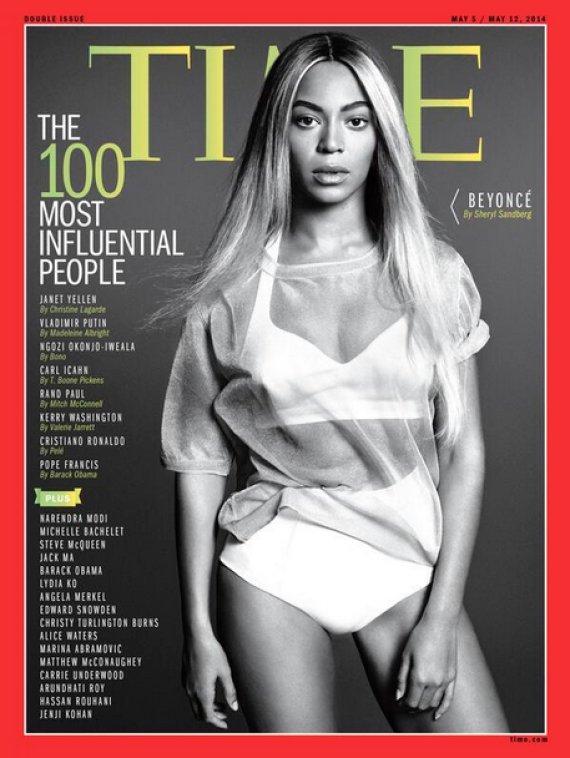 Who better than Queen Bey to grace the cover of Time's 2014 "100 Most Influential People" issue? Beyoncé is one of just four musicians on this year's list, which also includes Miley Cyrus, Carrie Underwood and Pharrell Williams. The magazine also announced her new social media campaign about beauty standards using the hashtag #WhatIsPretty, which goes along nicely with her brand new video for "Pretty Hurts":
Avril Lavigne is the latest pop star to face accusations of racism for the release of the video accompanying her new track "Hello Kitty". She defended herself on Twitter saying: "I love Japanese culture and I spend half of my time in Japan. I flew to Tokyo to shoot this video specifically for my Japanese fans, WITH my Japanese label, Japanese choreographers AND a Japanese director IN Japan." I don't know whether it's racist, but I do know that I was pretty offended by how terrible the song is:
Lily Allen continues preaching female empowerment in her song "Sheezus", in which she praises today's pop divas including Beyoncé, Lorde and Lady Gaga, but despite the fun lyrics the song and video are kind of lame:
After her comments earlier this week that she would like to change her sexual image, Katy Perry does just that spectacularly as she goes undercover and ruins a few birthday parties in "Birthday":
Tiesto is back with "Wasted" and I suspect that the video was made by a hormonal teenager with a Mad Men obsession. The track is off his new album titled A Town Called Paradise, due this June, which also includes first single "Red Lights" and collaborations with Icona Pop and Hardwell. Check out "Wasted" here:
And Pharrell and his hat – now in more colors! – are back with the new video for Marilyn Monroe, with an appearance by Kelly Osbourne thrown in:
WE SAID THIS: If you're into remixes, check out the works of remix producer and Avicii's protege, Kygo.