An Open Letter to My Late Grandparents
Asmaa Waguih/Reuters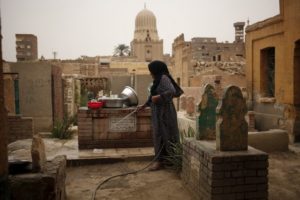 Dear Grandma and Grandpa,
It's been a while since I've last written to you. Life has taken its toll on me but you never leave my stream of thoughts. You left me when I was about to head off to explore the real world; I was a child who was not mature enough to think for herself. But now that I do, I wonder whether you'd side with my stances or not, and even if you wouldn't – would you still be there?
Death was not in the equation until you died. I have moved on, but sometimes I wonder what would you think of that politician, or that's president's doings. Would you side with their wrongdoings – that my principles have judged as wrongdoings – like the rest, or would you stand with me against him? I was very young, I don't remember you talking about your stances in politics and society. If you were alive with us now, would politics and society drive us apart? Would I see you as a bigot and would you see me as a heretic? Maybe fate meant for it to be like that so none of us gets disappointed.
As much as I can't wait to see you again, in the afterlife, I really hope we can get to accept one another, regardless of our stances.
WE SAID THIS: May you rest in peace, Grams and Pops.