When it comes to finding a relaxing destination to visit, Italy and Spain are two countries that you can count on. They've got everything you need from interesting cities to relaxing, beautiful beaches. Whether your idea of chill is exploring ancient architecture or topping up your tan on the beach, you're sure to find what you need at either of these popular destinations.
Italy
With its passionate people, unforgettable landscapes, on-trend fashion scene and some of the best artists around the world, Italy's charm never ceases to amaze travelers. With so many delights and awesome sights on offer, it might take a lifetime to explore it all. It's widely known as one of the most gorgeous and most visited destinations in the world; a unique place that offers plenty of relaxing experiences. See it all with the best tours to Italy.
The Amalfi Coast: Deemed as one of the most stunning beach destinations in Europe, this gorgeous haven will intrigue and delight travelers thanks to its stunning combination of both natural and cultural wonders. Deemed a UNESCO World Heritage Site in 1997, the scenic harbor has been a firm favorite among both tourists and cinematographers thanks to its quintessential, stunning Mediterranean beauty.
Cinque Terre: Located among some of the most dramatic and beautiful scenery in the world, this bright, bewitching and colorful Italian paradise will make you feel both relaxed and uplifted at the same time. Steeply terraced cliffs, gorgeous pastel houses, and vernacular architecture will leave you in complete awe.
Rimini: The largest beach resort on the Adriatic Sea; it's easy to see why this beach vacation destination is a firm favorite of both Italians and Russians. The excellent food is not to be missed, and after a long day of relaxing on the beaches along the impressive shoreline, the energetic nightlife will certainly pick you up. And, the helpful, friendly locals are always willing to lend a hand.
Spain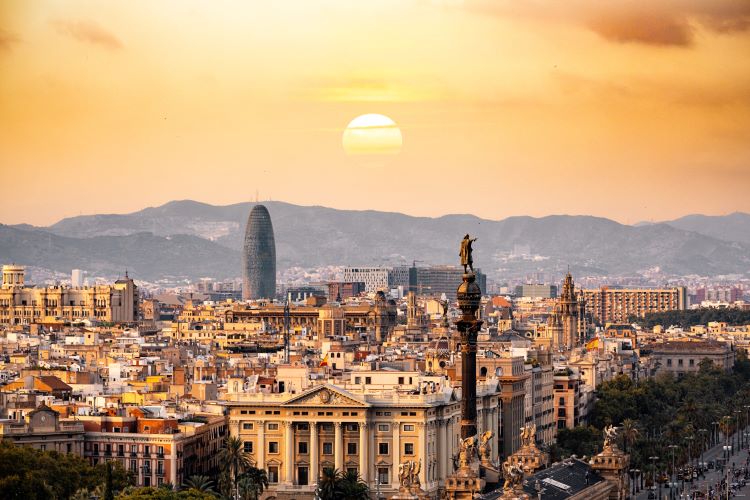 Spain is a firm favorite choice of vacation destination for British holidaymakers and it's easy to see why. It's home to some of the best beaches in Europe; perfect for a relaxing break. It's surrounded by the Alboran Sea, the Balearic Sea and the Bay of Biscay, and the miles of stunning coastlines make it an obvious choice.
Nerja: Just a few miles away from the busy Malaga beaches on the Costa del Sol lies Nerja, a charming coastal area located at the foot of the Sierra Almijara Mountain range. It's grown from a small, traditional fishing village to one of the top tourist destinations in the country, but unlike many other tourist favorites, it's retained its authentic Spanish atmosphere. Be sure to head to the Balcony of Europe for spectacular views over the water.
Santander: In the north of Spain, the city of Santander is located on a stretch of coastline called the Costa de Cantabria. Boasting a historic city center and the stunning Magdalena Palace, this city is actually best known for its gorgeous beaches. Magdalena Beach is a must-visit; it's a popular local swimming spot and a big hit with tourists looking to relax. Or if you prefer quieter, secluded spots to sunbathe, head to the Playa de la Virgen del Mar.
Corralejo: This gorgeous beach town is located on the northern tip of Fuerteventura, the second-largest of the Canary Islands. After you're done exploring the big cities, take a train from Barcelona to Madrid and catch a flight to this stunning island. Not only is it great for relaxing, but it's also a fantastic destination for watersports, with regular winds providing the perfect conditions for sailing, windsurfing and surfing.
WE SAID THIS: Where will your adventure begin – Spain or Italy?