Since quarantine started a few months ago and everyone has been stuck at home trying to pass the time either by being productive, trying new hobbies, or just having fun, one of the top things people are learning to is going back to basics; board and card games!
While we, of course, have the original games we all loved and played growing up, like Monopoly, Bank El Haz and Ludo, we also have the newly popular ones like Phase10, Pictionary, Sequence and Identical, which are definitely a great way to kill time. But why not go local? We found some great homegrown brands that will turn your game night upside down!
1. Carnaval 2020
Carnaval 2020 consists of 4 flashcard games. The first game is called "Afashat" where players team up and try to guess which movie the iconic line on the flashcard belongs to.

The second game is "Habasat'halak", where teams get 90 seconds to guess 2 of the 3 things written on the flashcard, which are a movie, an actor, and a common saying.

The third game is "Kalam Kebeer"; this one is like playing truth, where each player has to draw a card and answer the question, HONESTLY!

And the last game is "Mo'assasa". This one is a bit of a mind riddler where you have to draw a card and whisper the word on it in all the players' ears except for one, to whom you will just whisper "Spy". The players then start to ask questions and figure out who the spy amongst them is!
2. Quarantivity
Quarantivity is a real fun one that consists of 4 categories: "Albert Brainstein", "J.K. Reading", "Moma Lisa", and "Quentin Talentine". Each category assembles a bunch of games we love like Charades, tongue twisters, Taboo, Pictionary, Autobus Complete, forward spelling, math riddles, Trivia and much more!
When we spoke to one of the creators Mostafa Sedky he told us, "It was created by the three partners, Mostafa Sedky, Ahmed and Farah Selim, when we casually discussed the idea of a small business during quarantine. It was created, produced, and designed in 19 days with a stock of 1000 boards ready to sell."

Sedky added, "We have several expansion plans in the future, and seeing the demand we started thinking of creating an Egyptian board game company and we're already working on a few new ideas ."
3. 2ool A Meme
This one can be played in 4 different modes; the first one is "Caption Master", where each player gets 8 cards from the yellow deck then the judge flips a meme card from the blue deck and each player chooses one of his cards as a caption for the judge's card, then the judge chooses the funniest!

The second mode is "Meme Master", which is the opposite of the first game. The players answer a caption card with a meme card; that sounds fun!

The third mode is "Speed Mode", where the players have to put a matching meme card to the one on the floor and whoever finishes their cards first wins!

The fourth mode is "Charades", or you can call it Aflam with Memes, where a player acts the scene on his card and the rest try to guess it!
4. Makouk
Makouk, which originally was Weladna, was based on making games and books for children, and then evolved to Makouk, making games for teens and adults as well because, yes, grown-ups play too!

One of their games is Dystopia, where, in a way, you have to gather survival resources that will grant you a spot on a spaceship to live on another planet after the Earth was destroyed. Yup, it's the apocalypse!
5. Entrivia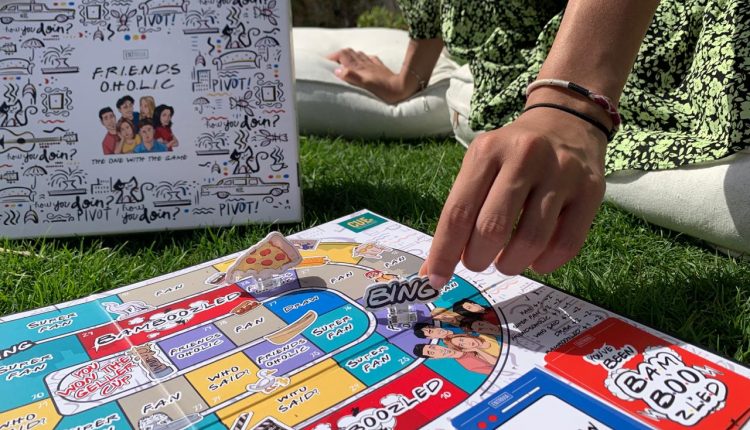 Entrivia is a new format for board games that just got released today, and each batch will have a different theme. We had the chance to talk to the creator of the game, Product Designer Hana Mansour, where she told us about her game and the first theme. "The main purpose of my idea is getting people away from electronics so that they can connect more in real life!! The first edition is dedicated to my favorite tv show and for all FRIENDS fans so I decided to call it "FRIENDSOHOLIC"."

Hana also added, describing this edition, "This game consists of 6 decks of cards, with different difficulty levels. It does not only test your memory and your knowledge, but also your drawing skills and your quick reflexes! So take care you might get BAMBOOZLED! After the expected success this edition will make, stay tuned for more exciting ENTRIVIA games."
If you haven't tried any of these locally made board games yet, now is your chance to order yours and play your heart out! We know we'll be!
We said this: Order your favorite now!