Yesterday, Egypt's Elmenus, a startup food delivery platform and Etisalat, a telecommunications service provider, announced they will be collaborating together on a new project.
We spoke with Elmenus CEO Amr Allam to get his take on this new partnership. He was very excited to share his insight on the collaboration. Starting off, he mentioned how Etisalat has several postpaid tariff packages for its customers, one of which is Emerald. With Emerald, customers get points through their internet and phone call consumption, giving them access to discounts from several popular franchises like H&M and McDonalds.
The partnership mainly involves having Emerald customers of the Etisalat App use their points on the Elmenus app to get exclusive discounts and vouchers to up to 2000 of their restaurants.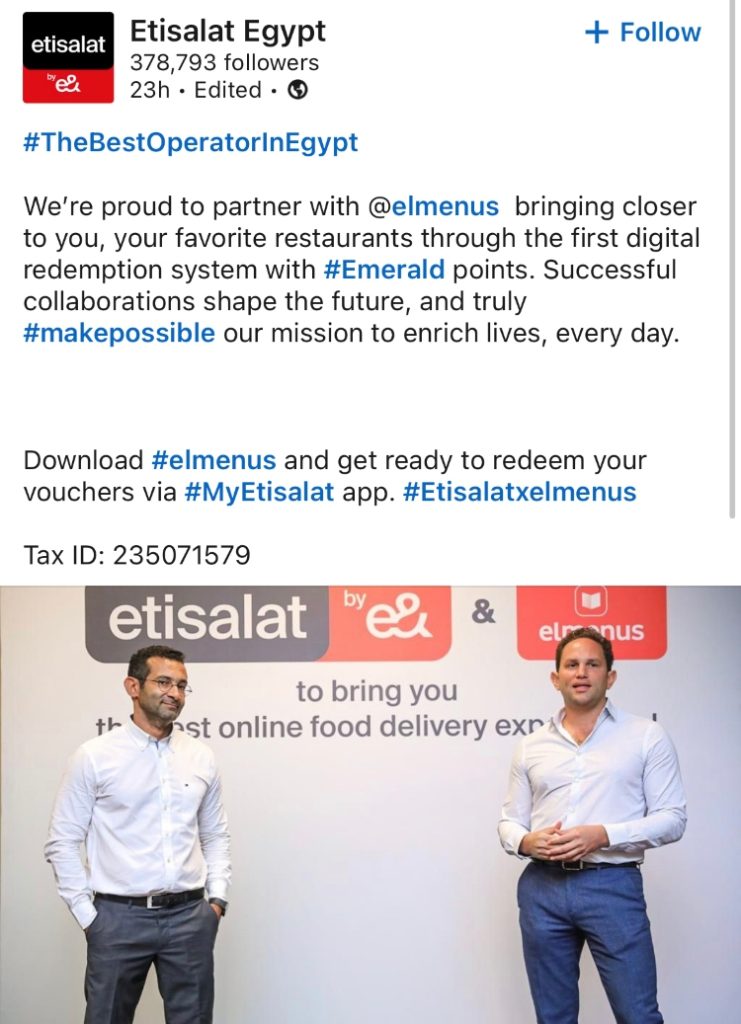 Allam stated that Etisalat and Elmenus share many interests leading both of their customers to benefit from this partnership.
"The project and collaboration will help us expand and grow our reach."

– Amr Allam
When asking Allam about more details concerning the partnership, he told us about how it's not just about the Emerald Rewards program. Etisalat is also providing the restaurants of Elemenus with tablets that have strong data and VPN connections from Etisalat's network, helping to make the delivery-order process quicker and more efficient.
The reason for the success of this partnership is the fact that it pools from the strengths of both parties. Allam even mentioned that for now, this will be the main collaboration with Etisalat, yet there may be more future collaborations with the company in the works.
We'll just have to wait and see.
WE SAID THIS: Don't miss…Elmenus Raises USD 10 Million In Latest Round From Fawry And Luxor Capital