Any kitchen in a catering establishment should have a sufficient amount of equipment to help cooks in the process of food preparation. Despite the fact that household appliances and utensils are of paramount importance, it is impossible to competently and efficiently organize the cooking processes without equipment such as a stainless steel table. Let's explore some of the most used stainless steel table models that you can acquire for your kitchen:
Prep table with casters. For enhancing cleaning and adding mobility, purchase a stainless steel table with wheels. Thus, you will eliminate the need of lifting heavy stationary items.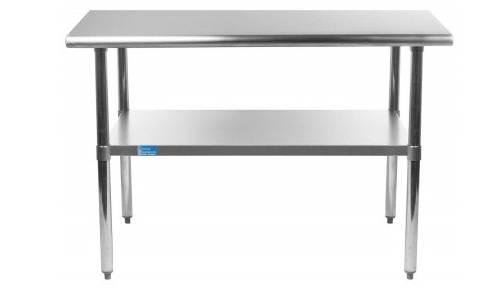 Table with extra metal shelf. Storage capacity is possible to improve by picking an option with one or two under-shelves. In such a way you will get more area for keeping frequently used tools, items, utensils within the reach, facilitating cooking practices and boosting the performance of your staff.
Open base work tables. Empty space under the table allows placing a waste or ingredient bin to meet all ergonomics criteria and simplify the food prep routine.
Work tables with backsplash. Protection of the wall is a top priority since your staff must comply with hygienic rules. It won't be a straightforward task in case your table is located near the table. Extra accessories will help you to maintain a neat area and properly arrange the entire space.
Benefits of a stainless steel table
Stainless steel products offer excellent performance, and metal tables are no exception. They have a bunch of significant advantages over other popular types of materials for commercial use such as wooden or aluminum alternatives:
resistance to regular exposure to moisture, high temperatures, and cleaning chemicals;
strength, sturdiness, and structural integrity are the main features;
possibility of instant disinfection, which is quite essential when working with food;
resistance to mechanical damage: external impacts and influences will not affect the operation properties and appearance of the production stainless steel table. Even if scratches appear on the cutting surface, corrosion will not show up in these places;
a non-porous surface does not accumulate dirt, bacteria, dust.
When choosing a table, pick only heavy-duty food-grade stainless steel worktops.
Wise tips on how to clean stainless steel restaurant equipment
Maintenance won't be too complicated or take a lot of time and effort. The cleaning rules are quite simple:
Schedule and regular care. It is much easier to constantly wipe and clean products than to buy costly cleaners for removing old and stubborn dirt. Clean the countertop daily from food debris.
Apply only the right tools. Wash the surface of furniture items with a soft sponge. Abrasive and metallic elements can cause scratches; avoid using products that contain chlorine;
Protective film. To protect stainless steel products, you can treat their surfaces with special agents. They create a thin film that protects against damage.
Steel equipment does not require special care, but nevertheless, follow these rules, so it won't deteriorate due to intensive use in high humidity environments. Thus, stainless steel equipment will retain its original look.
WE SAID THIS: Tell us your thoughts below.