After just launching her latest Fall/ Winter collection at Left Bank in an impressive display with the likes of super star Nadia Ali passing by. I sat down with Amina to discuss her background, her vision and all the trials and tribulations that come with being a working woman in todays age.
Amina K with Singing Sensation Nadia Ali @ The Left Bank
When did you start designing? Tell us about your experience in the field?
I have been designing and playing around with the idea of being a designer since i was 12. But i started taking it to a professional level when i went to university in London, this is where i learned technique and to thinking like a designer. I studied Fashion design & Marketing for 3 years and moved on to doing several internships in different companies and areas in the fashion industry, i did various intense courses in everything you can think of pattern making, make up, photography, photoshop etc. I wanted to make the most of my time in London and get a feel of the Fashion industry and all its different sides. I then moved back and started Amina K. in 2009.
How do you feel you have grown in the field throughout the years? risks you have taken/ regrets?
I am constantly learning, everyday i am learning something new. Whether in design, fabrics, have to manage employees, how to manage myself, learning how to work in Egypt and the list can go on. Starting your own business is a risk, you need to be focused on your goal and have the instinct to take risks when need. I regret starting my business too soon there is a lot of work experience i could have gained had i worked for other fashion companies. But things don't always go according to plan and opportunities present themselves and you need to know when is the right time to grab them.
This collection uses allot of leather and wool, where do you get most of your materials from? import or local? and do you have trouble when finding your visionary fabrics?
Sourcing material is one of my major obstacles when putting together a new collection. I try to buy local material as much as possible and what we do not produce here in Egypt i turn to imported material. At the end of the day i have to do what is best for my designs. I also use a lot of handmade fabric such as the handmade crochet in this collection. I try to encourage NGOs and working women to keep using their hands and producing beautiful things while maintaining an income for their families.
Tell us about the inspiration behind the collection? The fashion shoot and the way it was displayed at Left Bank.
What started out as an easy and simple collection focusing on comfort and originality turned out to be another turning point for Amina K. And this is why the collection is called "Shifting Gears" I focused on creating new fabric combinations that gave the collection a rough look while maintaining an element of elegance and comfort. Leather, suede, hand-made knit, woven printed fabrics combined with chiffon, viscose and jersey all contrast and compliment each other to create edgy new shapes.
As for the fashion shoot and display at Left bank we wanted to give a rough, industrial feel so we used wooden logs and wooden boxes. For the shoot the styling, and hair also added to the mood of the collection.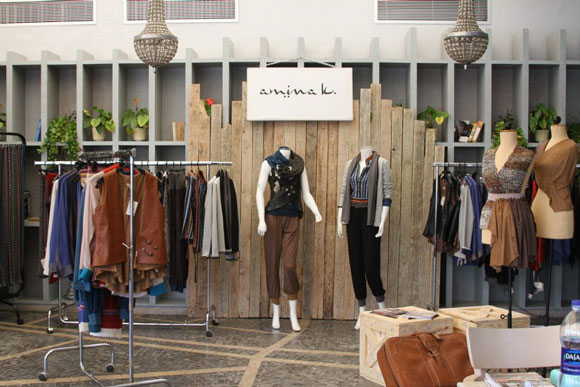 What is your vision for Amina k?
I started Amina K. with the goal of going international. And this is exactly what i am working for. All my daily decision whether in design, production, or management i am setting very high standards and i am preparing Amina K. to be able to compete internationally.
You have flourished throughout the years and we have watched your journey, what do you feel were your biggest hardships and sacrifices?
When starting your own fashion business in a country like Egypt where fashion is a very young and new industry you are always struggling to pave you way. You find obstacles in sourcing fabric, producing high quality goods, managing employees and creating a hard working loyal team. You just have to take each obstacle as it comes and you always learn from you mistakes. And you need to make peace that your work is your life, when you are running your own business it is very difficult to switch off and you find you sacrifice a lot of you free time and energy just thinking and worrying about your work.
Have you ever worked a 9-5 corporate job? and if so what gave you that extra push to venture in to the fashion world?
My work now is actually is from 9 to 5. I am at the office every day and the whole company is here from 9 to 5 so even though it seems like the fashion industry has more of a creative feel but the way we work is quite corporate. Other than that All my internships whether at Matthew Williamson, or Diane Von Furstenburg where also a 9 to 5 job.
Every little girl knows what they want to be, did you ever think this would be your destiny?
Ya i actually always knew i was gonna be doing this it was just a matter of timing.
Your designs vary from bags, belt's to clothes, what is your favorite item to design / most difficult to work with?
I love designing everything i get attached to each piece i am working with and i keep changing my favorites depending on my mood. I think the most difficult think for me is perfect the fit and cut of Shirts and pants. Its something we work on season after season.
You have an Egyptian background and have been in the industry for a couple years now. Who is your favorite Arab Designer / International Designer?
I love Elli Saab he just understands a woman's body, Karl Lagerfeld he is just a machine and has the capability to work on so many lines at the same time, and Dolce & Gabbana have been doing amazing work.
Shoe's or Bag's?
Ahhh i cant pick both ?!? I have my phases when i am really into bags and others when I'm really into shoes.
If you had the opportunity to train at one fashion house in the world which would it be?
Chanel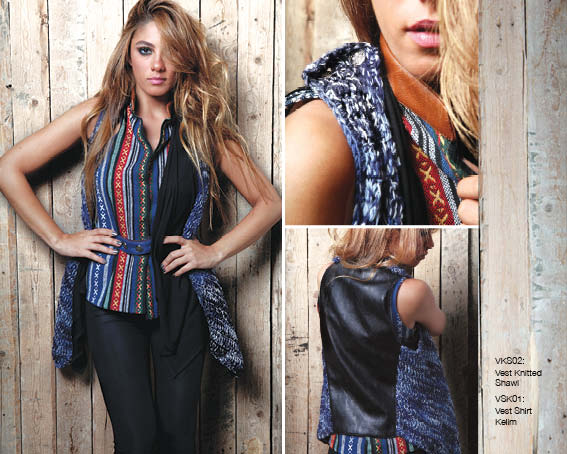 What is your favorite piece this season?
I love the Vest Knit Shawl I just feel i will be able to wear it all the time and it has all the key features this season; the hand made knit, leather, and the kelim fabric.
Who are the women you admire in life be it on a professional or personal level?
It sounds really cliche but my mom. She works with me and without her daily support i would never be able to built Amina K.
We know you were recently married and wanted to touch base on your thoughts on working wives, do you find it difficult to juggle both? and what is your view on working mothers?
Ya it is a daily challenge, I have to remind myself of my priorities and always try to balance both. You learn how to manage you time that is why i wake up at 6:30 am every day to get everything done and still have time for my husband. As for working mothers now that's the ultimate challenge but i feel with the right time management and the support system i have from my family i will find a way to make it happen.
Where else in the region can we find Amina K? and what is next for you as a designer / business woman in the field?
You can find Amina K. in Saudi, and Kuwait. We have had orders in Bahrain and Lebanon as well.
As for what is next for me I have already moved on and I am working on my SS'13 summer samples so I am really excited about that. I am also working on my company's structure and hiring the right people. My main goal is to great a strong team that together we can start moving into new markets.
WE SAID THIS: Amina K – A Modern Woman In A Modern Age