Who is Amina Khalil?
I think she's a monkey. Ha! There's a little reality to that. I'm always jumping around working on projects, traveling somewhere, exploring something new.
As a person that is very involved in the arts, where do you feel more at home, on stage or on camera?
Definitely on stage. It all began on stage for me, be it theatre, singing or dance (when I used to), the camera just felt like the next natural step. Being on stage makes me feel alive, and theres no sweeter feeling.
How long have you been acting?
I started when I was a kid, school plays, drama classes, independent films. I then went to study theatre at AUC and that's where I learned the tools of acting. And AUC taught me something critical, how to act in Arabic which is very different than English (thank you Mahmoud el lozy and Leila saad). After college I was still eager to learn more about acting so I studied at The Lee Strasberg Institute for Theatre And Film in NewYork and then the Moscow Art Theatre in Russia. And i still want to keep learning more methods and exploring, it's a constant process to build your tapestry of knowledge in this field. It's always evolving.
Give us a brief on the roles you are playing in this Ramadan Series?
The first role I play is Nadia in the series "sharbat loz" starring Yosra and Samir Ghanem, directed by Khaled Marie. She is a spoilt college student in her early twenties living off her father's millions. Her know-it-all attitude got her caught up in an abusive relationship with her boyfriend (played by ex-football player Ahmed Salah Hosny) and she's trying to deal with the curveballs life throws at her as she discovers the value of true friendships and family.
The second is the role of Amina in "Taraf Talet" starring Amir Karara, Mahmoud Abdel Moghny, Amr Youssef, Dina ElSherbiny and a few other familiar faces from last year's hit show "Mowaten x". The series is directed by the genius Mohamed Bakir. Amina is a tough cookie in a tough world. She dreams of being a journalist but wants to succeed without complying to society's below the belt loopholes. She meets Dibo who wants to escape his own world of poverty and persecution in his neighborhood or "el 7ara" and they both begin to build a world of their own with a very disturbed social and political backdrop.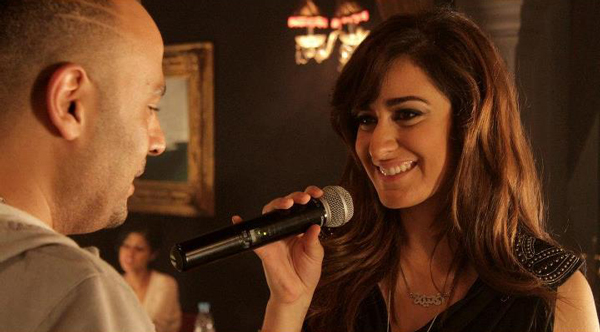 Which character do you identify yourself more with?
I think there's a little of me in both of these characters. They're both very real young women. I mean, who hasn't been confused about what we want, or been in a relationship with the wrong guy, or fought against a norm society imposes? To a certain extent, all of us have. I think their struggles are common against women in that age bracket. So, I'd have to say both.
Do you watch any Ramadan Series?
Yes, I always follow at least one. I spend the first few days watching as many as I can to get an idea of all what's out there, then choose one to stick to. It's Ramadan tradition. I also feel it's part of my job to stay updated on what's on the scene. I wish Cairo would have prime time throughout the year so we wouldn't end up with 83 TV series one month a year.
Do you feel any pressure as an artist since the dawn of the 'New Egypt'?
I wouldn't call it pressure. More inspiration.
What do you think of Ramez Gallal?
I'm not into that kind of humor, personally. The whole "camera el khafeya" or "you've got punk'd" concept is a bit bizarre for my taste. It's the highest rated show this season, I'm just skeptical about why people watch it, out of entertainment or shock.