As an Egyptian woman I feel pride when I look at the strides entrepreneurs like Azza Fahmy have taken. Putting Egypt on the map on an international scale I got to sit down with the second generation designer Amina Ghali, daughter to Azza Fahmy. Discussing everything from the roots of Azza Fahmy's brand to her own we delve in everything from the materials and workmanship to their new advanced workshops and user friendly website.
Last but not least we spoke about the jewellery and upcoming collections!
How long have you been working in the family business & what is your role in the company?
My journey with Azza Fahmy Jewellery officially started in 2005 after spending years working behind the scenes designing and developing pieces across the brand's different collections, producing unique pieces with subtle cultural references and a fashionable modern twist.
My desire to become a designer began more than 20 years ago. My sister and I would shadow my mother in her workshop during summers. It was at the age of 26 that I began noticing my passion for jewellery making which triggered the launch of my first Fashion Collection in 2008.
Having proved myself, I'm now a core designer at Azza Fahmy Jewellery – which means I'm heavily involved in the creation of the multiple lines released every season (i.e. Culture, Fashion, Valentine's, Mother's Day)..
What is your background in the industry other than being the daughter of a renowned designer?
I initially studied contemporary jewellery design in one of Italy's finest design schools- Alchimia Design School. I then went on to complete a BA in jewellery design and silversmith at the University of Central England, Birmingham, UK.
Who are you idols and what is your inspiration?
Inspiration can derive from anyone and anything… but II owe a special tribute to every creative mind that has invested in enhancing the global industry's craftsmanship and handwork detailing like Chanel & Miriam Haskell.
The bottom line is, I can look around me and feel inspired; anything can be turned into a piece of jewellery!
Azza Fahmy has grown rapidly in its time, tell us more about the story behind the brand. Where, why and how did it start building up to where it is now?
When my mother, Azza Fahmy, originally started her journey in the 70's in the passageways of old Cairo's Khan El Khalili to learn the craft from its roots, she had a dream- a vision. She wanted women from around the world to proudly wear handmade Egyptian design-led jewellery. This dream later transcended to become mine and my sister's, Fatma Ghaly, who is currently the Managing Director of Azza Fahmy Jewellery.
The growth you witness today is a result of many years of invested research, will, team work and unshakable passion.
How many outlets do you have internationally now and where?
Alongside Egypt, our presence is extended across the MENA region, Europe and the U.S. We've recently launched our worldwide online boutique, one of our biggest projects this year. We're are now retailing at the British Museum's Grenville store in London and at the Louvre Museum's shop in Paris and also began retailing in Washington D.C. amounting to 18 outlets worldwide.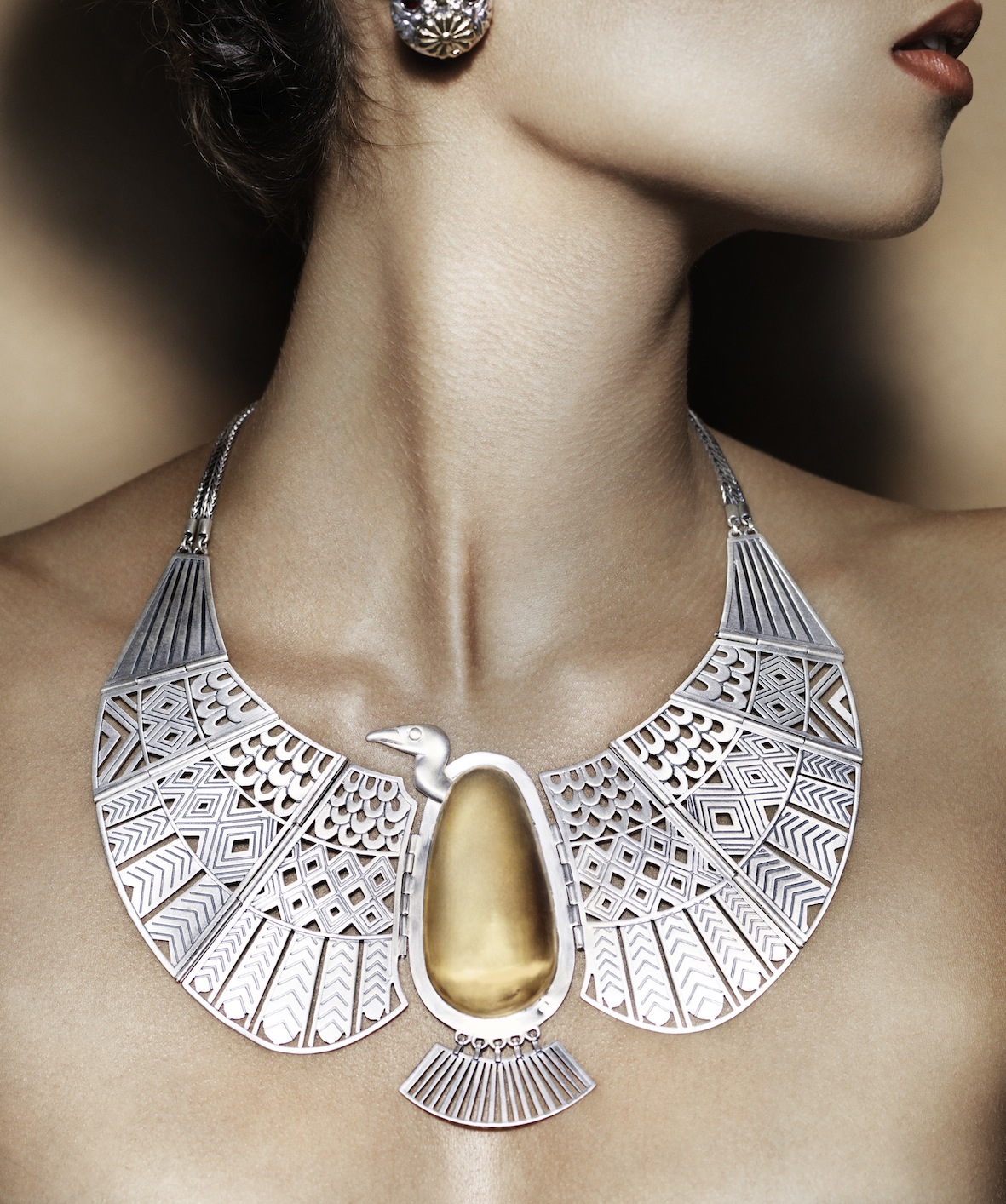 The Pharonic collection is one of our favorite collections but a lot of people are not very familiar with the amount of work that goes into each collection. How long did it take to complete the collection?
I'd say it took us a little over 8 years of research, innovation, and design to proudly introduce our Pharaonic Collection to the world. Every piece has a unique story that translates 7000 years of history and culture combined with contemporary design and traditional craftsmanship, representing Love and Wisdom in ancient Egypt. The trick was to find a new design edge that would compliment and not take away from the timeless beauty of Pharaonic art. Our challenge was to get Egyptian women accustomed to wearing Pharaonic jewellery again after so many years.
Tell us about your new collection for Valentines, why is it different to the others?
I wanted to do something original this season! Believing that buying a piece of jewellery is in itself a special act of love, I chose not to go with the conventional "Symbols" of love. I thought why not make your loved one trendy instead?
The Surreal movement is a huge trend this season; I was inspired by Salvador Dali's paintings, Spanish Architect Oscar Tusquets, and Egypt's very own 'Eye of Horus', pushing me to design anything but the cliché! I took the traditional 'Hand of Fatima' and 'Eye' symbol and transformed them completely, turning them into hip pieces of wearable art.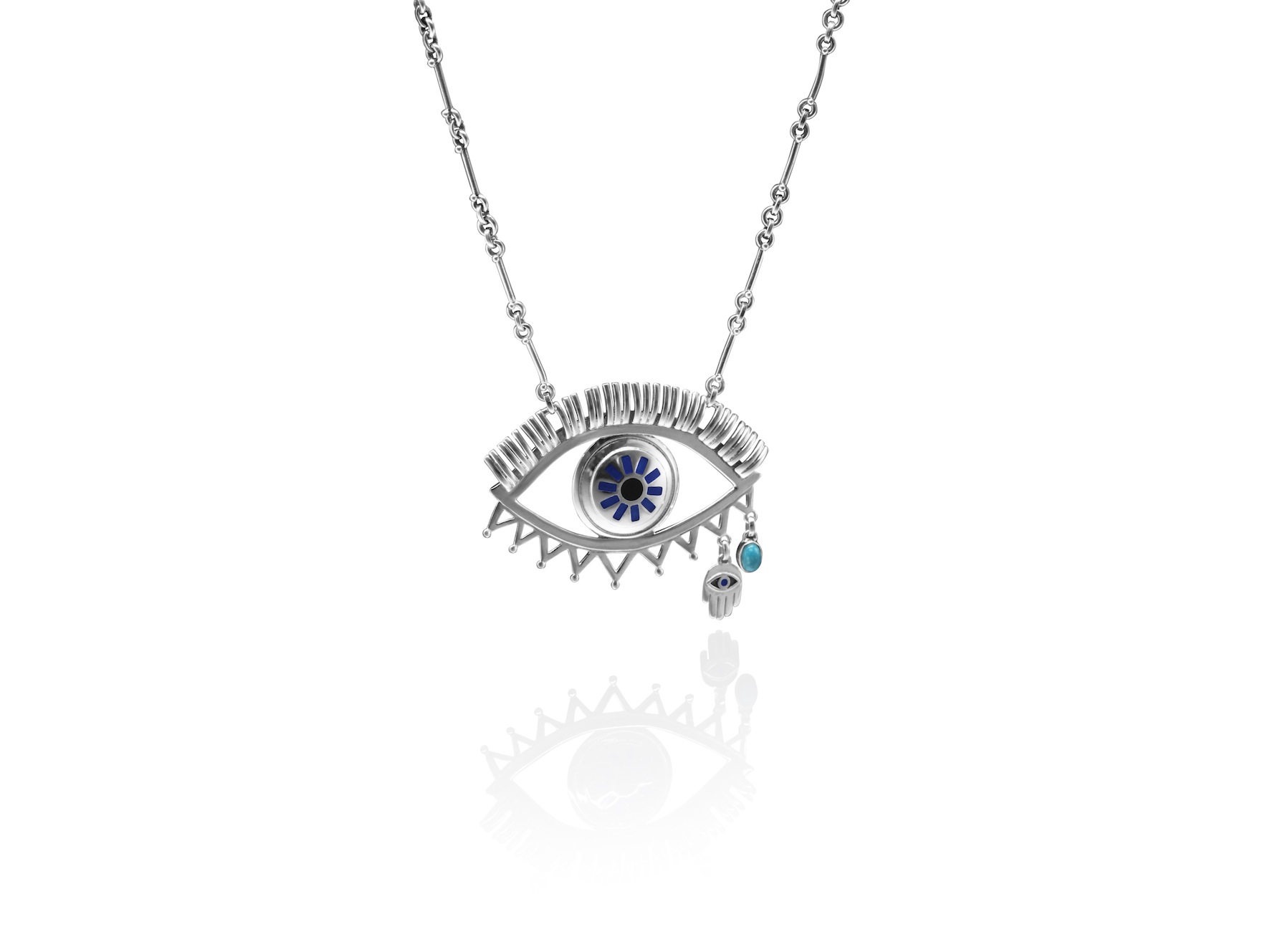 A lot of people are sometimes discouraged when looking at some of the Azza Fahmy Jewellery. Tell us more about the technique and materials used in your pieces.
We try as much as possible to make our audiences aware of the essence and luxury behind our art. What we do at Azza Fahmy is design pieces with an artistic and cultural value. Each Azza Fahmy piece is unique, with a special tale behind it. Inspired by various cultures, each handmade design is a manifestation of a thought supported by an abundance of research, dedicated craftsmanship and ancient jewellery techniques that are no longer in use (i.e. filigree, repousse, and ajour techniques). Not to mention the incredible amount of team effort shown for each individual piece.
What is your favorite piece of this collection and in general from Azza Fahmy?
The Azza Fahmy for Preen spiral bangle, I just LOVE this piece!
What is 3031?
Our 3031 community aims to build a network of people who share the same beliefs and interests in art, culture, design, luxury, debates, and fashion. Even though it is a work in progress, some of the privileges will include private viewings, special invites, and many more to expand as we go along. We aim that 3031 in the future becomes not only exclusive to the Azza Fahmy brand but also extended to the industry as a whole.
You have just revamped your website, how do you feel it better services your clients out there as well as representing you as a brand?
The brand's strategy is to expand regionally and globally and as we developed a certain demand across international markets and with the launch of our Online Boutique and new website, we aim to bring to our clients into the world of Azza Fahmy Jewellery and give them a glimpse of our inspirations, our craft, and our story in time.
Who is your favorite jewellery designer?
My all-time favorite has got to be Miriam Haskell!
What kind of CSR does Azza Fahmy do as we know you are very good candidates of giving back?
We've been involved in multiple projects which have been directed towards helping the community. We launched our 'I'm Egyptian' charity bracelet; with the proceeds assisting various charities each month. We've also been heading various projects go towards feeding the creative industry and helping women, in Aswan, in collaboration with Hepca, Egypt alongside other developments in association with the Prince's Trust and Turnov School of Applied Arts.
When would you say was your proudest moment yet in the industry?
There are so many of them; seeing our work in Vogue Magazine or on the runways during the Fashion Weeks of London and New York, seeing my work on celebrities and Grammy Award winners, or standing in line at a cafeteria in London and spotting someone wearing my jewellery; that all definitely makes me proud. However, my proudest moment was when someone told me once that I had my mother's talent and that I was going to be as great as her.
What should we expect from Azza Fahmy in 2013?
So many things in the pipeline! Our latest exciting project is that we'll be launching the Azza Fahmy Design Studio in association with Alchimia Design School of Florence, Italy this March; the first jewellery design school of its kind in Egypt and in the region. Also coming up are some major musical collaborations and celebrity placements. We'll also be launching out Mother's Day collection in weeks alongside two very exciting major collections that I can't wait to reveal!
We Said This: I Leave You With One of My Favorite Azza Fahmy Quotes Bellow. Truly An Inspiration to Women Everywhere.