In Honor of His Departure, Here's A List of Former British Ambassador to Egypt, John Casson's, Achievements
A few weeks ago, John Casson, the former British Ambassador to Egypt, bid the nation farewell after 4 years of honorable service. As many of you know, the Ambassador "represents Her Majesty The Queen and the UK government in the country to which they are appointed. They are responsible for the direction and work of the Embassy and its Consulates, including political work, trade and investment, press and cultural relations, and visa and consular services". Some of you may ask, "What is so special about this particular ambassador?" Well, hopefully, the answer will be clear after reading this article.
First off, what did Casson do before managing this prestigious position? Before joining the government, he worked as a Research Assistant at Cambridge University and the House of Commons. He also worked for the UK Representation to the EU in Brussels and as a Senior Policy Adviser in HM Treasury. Afterward, his career path mainly revolved around the Arab world. He was the former Deputy Ambassador in Jordan and Head of the FCO's Near East and North Africa Department. Eventually, Casson moved to Cairo from 10 Downing Street where he was the Prime Minister's Foreign Affairs Private Secretary from 2010 to 2014.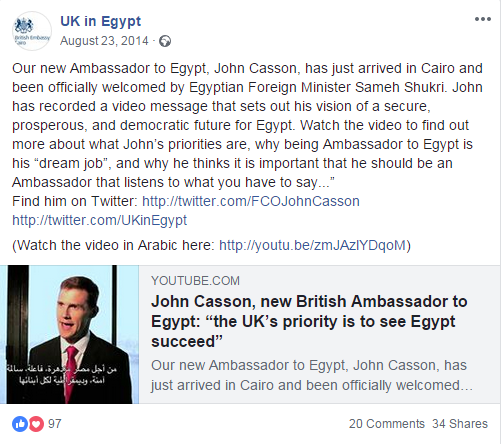 Via Facebook
Upon his appointment, Casson stated, "Egypt's current period of challenge and change will shape the long-term future for Egyptians, and will be pivotal for the region. Britain has a deep interest in Egypt's political, security and economic success – and in a broad and productive relationship that delivers for British and Egyptian people alike. I am proud to have the privilege and responsibility of leading our teams in Egypt at this vital time."
What will Casson be remembered for the most? Most famously, the people of Egypt, especially the youngsters, were drawn to his character due to his alternative and humorous social media posts sometimes via Egyptian colloquial slang. He always expressed his love of traditional Egyptian food and encouraged open discussions with the natives under the hashtag #askElsafirJohn. This explains why his official account has 1 million followers which probably exceed those of any other diplomats. When his departure was announced, a follower tweeted, "You will be missed too and your very unique unconventional style dear kind ambassador."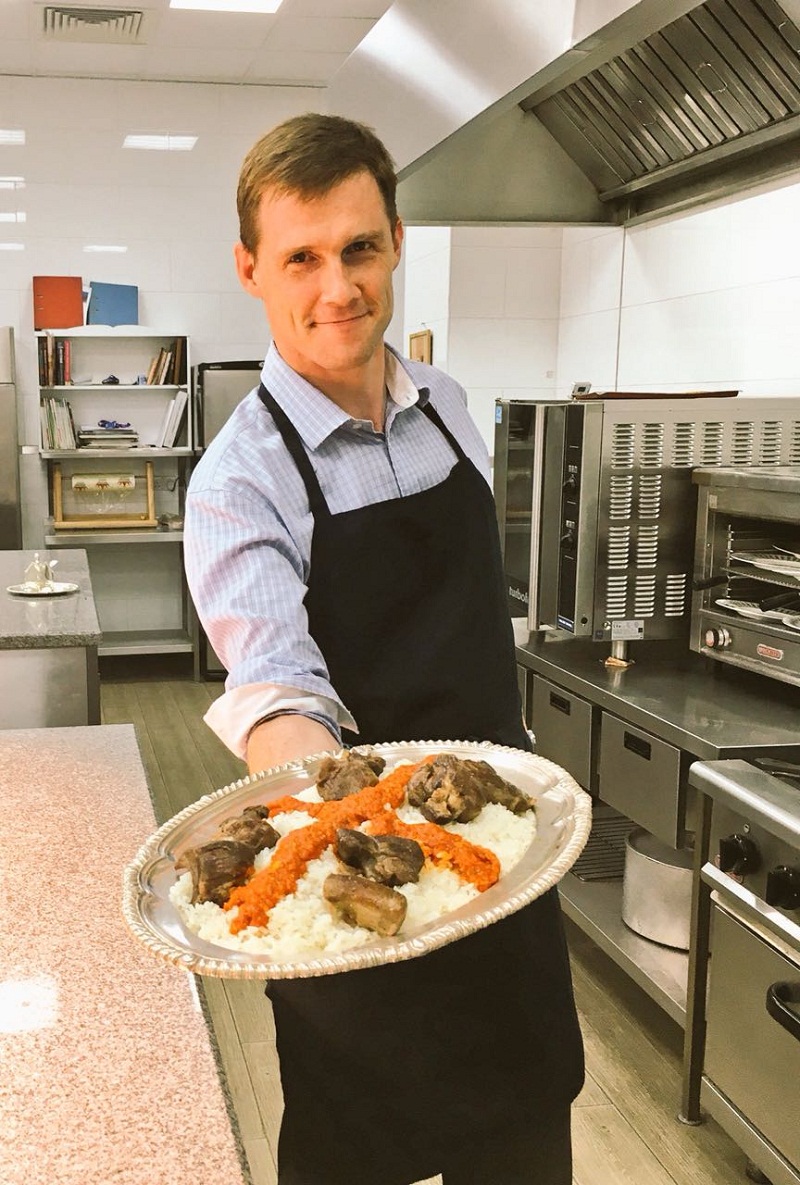 Entrepreneurship was another key passion that Casson shared with the youth of Egypt. "In August 2017, the British Embassy teamed up with Flat6Labs to organize a hackathon for social entrepreneurs and later announced a £2 million fund to support entrepreneurs at the RiseUp Summit". You can hear more about his insight in detail in the following interview:
Let's conclude this piece with a tweet of Casson's, "Being the Ambassador was the best experience of my life. I have always tried to listen to the Egyptians, learn from them, and work for them. I am proud that Britain is Egypt's first partner in the economy, not only in mega-projects because of every Egyptian benefit from growth in jobs and education."
WE SAID THIS: You'll be missed!