In the fast-growing world where everything depends on mobility, people tend to spend more and more of their time in a car. For decades, in Hollywood, we have seen cars able to drive and even fly themselves. The comfort, security, and intelligence are top-notch in these vehicles. Is there any certainty we will get such technologies shortly? Subsequently, all motor companies are heading their ways to most relaxed and user friendly technology. Electric cars are undoubtedly the future; however, here are some called-for upcoming car technologies to look after.
All digital dashboards
If you are on the road to find hotels, you will probably browse it on your mobile phones. In the future, these smartphone GPS tracking is likely to be switched to tablets assembled in front of the car dashboard. The digital panel is in implementation in some of the cars able to show gear, RPM, fuel, speed, and so forth information. Future all technology should be able to handle the car's function and features with a touch screen. The giant all-digital dashboard's cloud service could synchronize your mobile phones, smartwatch, and other necessary accessories.
Another leap forwards, on-screen biometrics in cars, is set to achieve next-level advancement in the motor industry. With the technology, you would be able to lock your car, start the engine, and open windows likely functions possible in a smartphone these days. It would be fantastic to see Augmented Reality dashboards able to overlay information on what the driver sees on the road. However, AR in cars is still in development, and you could possibly see the technology in near BMW and Toyota cars as they are researching the topic.
External airbags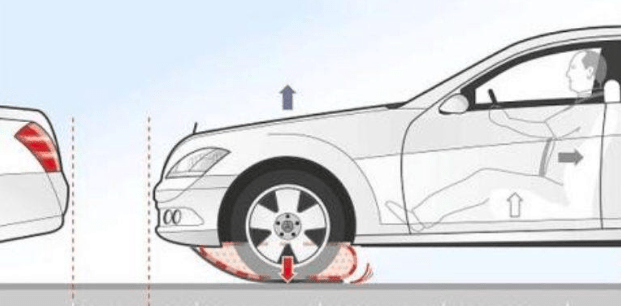 Since airbags in a car have been developed, every motor company is implementing the safety measure. Airbags in cars are generally ubiquitous until you fall under the condition to know its necessity. For future tech, we are eager to see external airbags helping to avoid an extreme collision.
Companies like Mercedes, BMW are experimenting on the external airbag technologies in their cars. The technology could result in a giant leap in the motor industry. For this to work, a sensor needs to be attached underneath the vehicle that detects any fall or near impact. Here, machine learning is crucial; the hardcore resonance of the sensor pop-open the airbag to decrease the driver's and passengers' effect. It should not be a stretch to discuss; the technology should focus on passengers' safety and cars.
It's still time to see what technology brings this impressive feature on cars; however, Mercedes, who have been studying in this area, should come up with something shortly.
Car-to-car communication
Motor companies are looking closely into the technology that allows car-to-car and car-to-X communication development in the future. The machine to machine communication can be achieved with Intel's M2M (Machine-to-Machine) technology. Once there is the mass production of cars implementing M2M technology, vehicles will be able to share data and information among them.
The real-time data tracking will lessen the collision of cars. Also, the alternative navigation system from traffic will benefit you from getting away with traffic for hours. This will not only provide safety but also increase the usability of vehicles on the road. Cars can use GTT (Glide through Technology) to guide you through the traffic conditions.
The car-to-car technology could be a breakthrough in how autonomous cars are driven on the road. Good thing, various motor companies, and governments have started working to develop the technology, and soon it should be available to all car companies.
Even if people ride vehicles inherited with these technologies and safety measures, there is a slight chance of the vehicle getting impacted. If you wish to buy used cars having all the certainties in the future, you can look into its history report. If you are living in Australia, you are in the proper hand, getting a revs check helps you inspect history reports of the car. It's better to get legal and clean history vehicles.
WE SAID THIS: Tell us your thoughts down below.