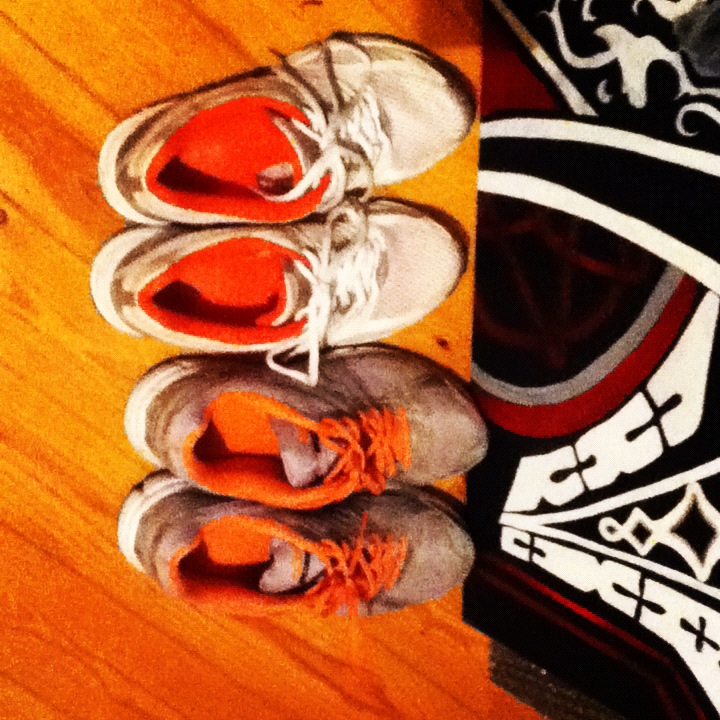 We have finally finished metamorphosis. Who were we kidding? It was a pain in the ass + there are no underlying sexual tones. Originally this was because Dom had a disturbing thought that led us to ponder the possibility that we are being tailed by the new and improved MB Mukhabarat, which prevented us from painting nude women for quite a spell.
The thought of 'mysteriously disappearing' or even worse that we might need to rewind and paint black tents on all our hard work to disguise the nipples almost gave us an ulcer, however after some external consulting with more sensible peers and (smart thinking on Kenzie's part) writing a hidden will of instructions in the event that we do go missing, we calmed down and finished the prudish pieces.
No way Morsaaay – No one can stop us now. We shall continue tra-la-la-ing with Pop Culture, boobs and our best friend Mario Testino as we see fit.
Today's gym babe episode has left us both drowsy and hungry. Kenzie got home at 7am last night while Dom was nicely russled in bed. Dom insisted we could not bail on day 2's work out and forced Kenzie's plomp derrier out the door. Little did we know, Papousa had organised for Captain Sayed to walk us through the A, B, C's of exercise. We found him at the gym entrance clapping excitedly, fresh faced Dom trotted in like a docile gazelle after her sweet snooze. Kenzie on the other hand, hadn't even bothered to take last nights make up off and spend 50% of the session nauseous and angry. 20 minutes of the 1.5 hours were left when Kenzie finally gave up and sunk to the ground. Concerned Captain Sayed inquired if she has been using any type of recreational drug and insisted she looked like a ' drog addect'.
In an attempt to act as surrogate father, he told her nice girls don't do these things and that she should focus on getting into shape rather than shabab. This angered Kenzie. She pulled out the wild card Dom had been thinking all along but was too polite to say; 'Inta ezay Personal Trainer aslan ya Captain? Inta lazem ti khes minimum 20kg!'. Captain Sayed, regretful that he even cared enough about this ungrateful beast to offer his valuable insight, answered the Arabic equivalent of get down and gimme 200 hundred, to which Kenzie refused.
The session ended with the Captain storming away with a wedgie he was too proud to pull out in front of us. I think that might be the end of Captain Sayed. Bless Papousa for her efforts, but next time she might want to measure the trainers BMI before she schedules a sneaky fat burning session.