Aug 29 – Today Kenzie had an experience that changed her life forever. She fit into her 13 year old cousins bra.. Ok fine just jk-ing. That event did not change her life. Her ultimate judgement day arrived last night, by pure spontaneous action; She met her fantasy idol, a famous artist who has chosen to remain unnamed in this entry. This is how it all happened, the magical and wondrous surprise:
As Dom and Kenzie were in the middle of their spiritual earth break, the phone rang. Kenzie answered the telephonic intruder and trumpeted that we shall be having a visitor (not The Visitor, just a regular Jane visitor) so this "pre" visitor arrives, wearing a back pack and draping gown-like silk pants. We felt safer with this monk-like virtuous fellow soul wanderer and we continued painting, sipping on Gin n Juice and throwing ideas into the ozone.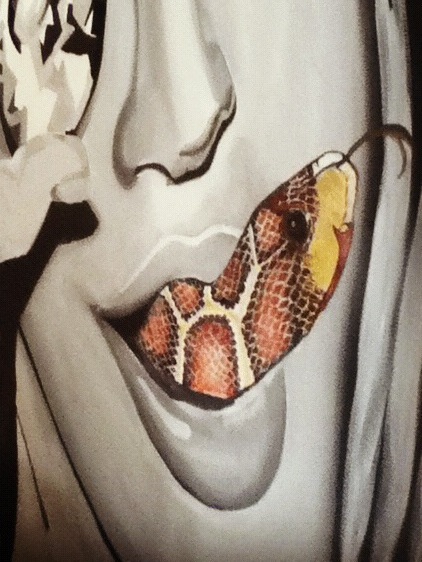 A while later the phone rings. It was Papousa, excited and almost unable to get the sentence out; 'Coming home… Famous Artist… Ready, set, plop.' She crowed in a frenzy. Dom, Kenzie and Shaman visitor sat up in morbid fear as the room was in no shape for the love of Kenzie's artistic life to see.
As we scrambled to hide the controlled substances (Dom thought under a paper would be a good idea and Kenzie was proud she managed to stuff a bottle into a converse) Papousa swings the door wide open – to find this scenario, cover up in action. Behind her is a shy man, peeking over her shoulder – frightened. There is a stunned deer in the headlights pregnant pause between all parties included. Except for the "Forgot about Dre" left playing in the background.
Kenzie jumped up and tried to act as welcoming as possible. What we had forgotten, unfortunately, was that we had decorated ourselves in paint with faces, names, mufasa smudges, bindi's and more. This explained the fear in the famous anonymous mans eyes. 10 minutes into their convo, as the gentleman stared at Kenzie's bindi prominent forehead, he described 'the third eye' and how it is necessary to paint with a mirror behind her. A tip from her ultimate artistic cherry popping mentor… Success.
Ps. Dom also learn't how to play the harmonica