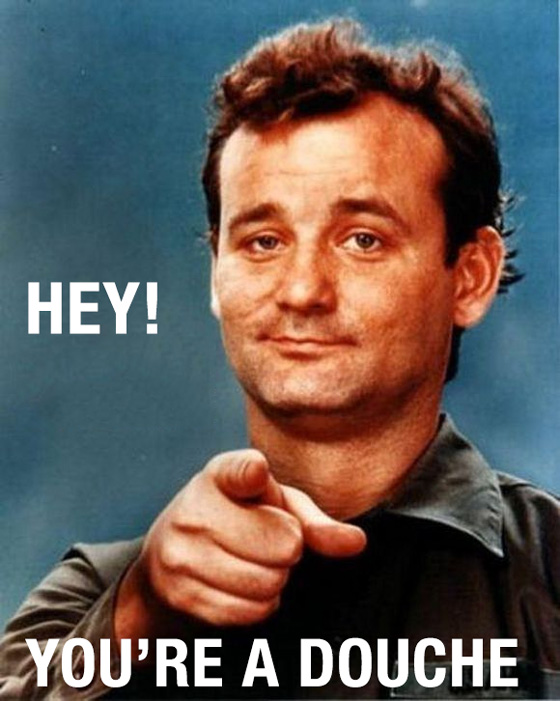 Me: Do you think that wearing a shirt open to your stomach makes you look cool?
Douche: The open shirt defines who I am, this is me. Also, the ladies love it.
Me: What do you think about the world being a contradictive place where they encourage you to be yourself and at the same time push ideas and trends to follow?
Douche: Actually that is not my concern, people choose their own paths whether it's to be a follower or a pioneer, at the end it's their choice and they should be comfortable with it.
Me: What drives you to be who you are?
Douche: People's opinion of me, I like the idea of being in the spotlight.
This was part of a two hour conversation with one of my best friends who so happens to be a douche in attitude. Let me give you some details about my idea of a douche. Well, a douche is someone who is trying so hard to be someone else, and screaming for attention anywhere he goes. Walking into a place and walking slowly and capturing everyone in their eyes so they can acknowledge that he/she have arrived. I've always been a great sympathizer to these people and I was always under the impression that they are airheads, well most of them are but I came to a conclusion that we need those people in our world to create a balance.
Imagine if you may an entire community filled with philosophers and thinkers only, some may think it would be a pool of knowledge and enrichment, but in my opinion it would suck. The power of knowledge and the fulfillment you get is when you reach with your ideas to someone who is completely unaware of what you are talking about and make a difference in their life. But if we are all thinkers and philosophers then this feeling would fade and nothing will be left except hours of hectic debates. The importance of ignorant people is as significant as the intelligent ones to create an economy of ideas that could be traded everywhere like universities, night clubs and bars. You need the entire community to spread your ideas and thoughts to reach that rewarding state of enrichment and knowing that you have reached someone and made a difference in their life.
As quoted from one of favorite writes of all-time Mark Twain "It were not best that we should all think alike; it is difference of opinion that makes horse races".