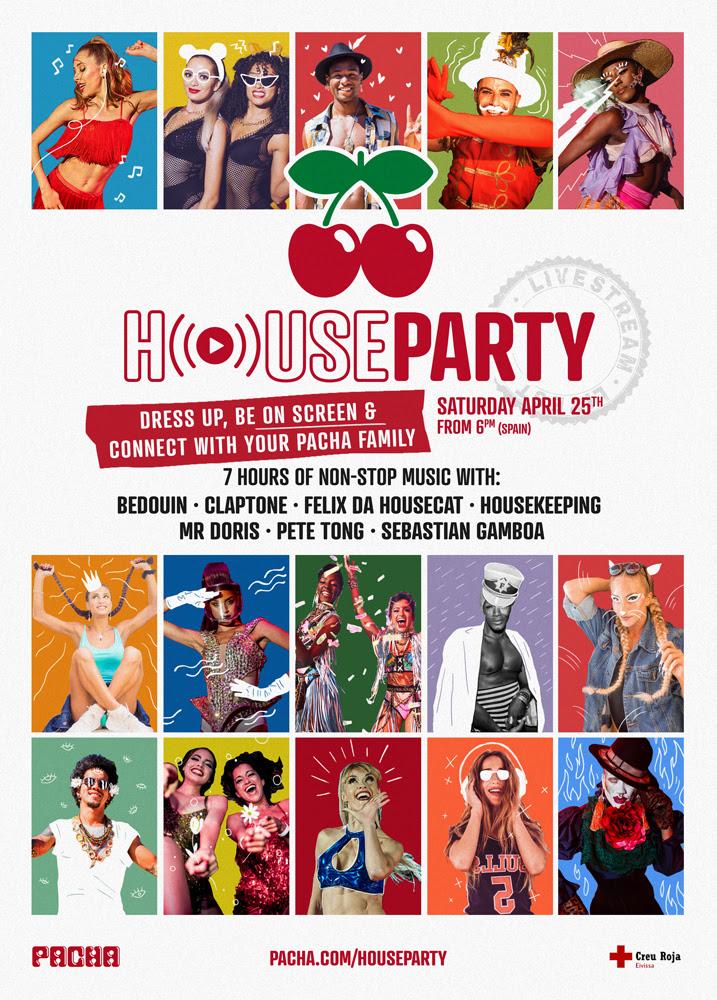 Pacha: House Party
For an opportunity to distract yourselves during the lockdown, Pacha invites you to join their House Party, and be part of the first interactive experience hosted by Pacha: whether you prefer to wear a costume, a classy night out look, your raver outfit or simply a comfy gear, come prepared to interact with hundreds of Pacha lovers while listening to your favorite DJs!
6pm-7pm Mr Doris
7pm-8pm Sebastian Gamboa 
8pm-9pm Felix Da Housecat 
9pm-10pm Housekeeping 
10pm-11pm Claptone 
11pm-00 Pete Tong 
00-1am Bedouin
Through this initiative, Pacha wants to raise money to provide the Red Cross in Ibiza relief in the fight against COVID-19 while we gather virtually to enjoy the music and have fun with the best Pacha Attitude.
Recomendations for the House Party experience:
First 500 participants will be able to appear on screen through Zoom. If you join after please go to the Facebook livestream but keep trying on zoom as available spots are constantly generated.
To better enjoy the experience, we recommend you to use a good sound system, dim the lights of your room, have your favorite drink at reach and interact with other participants 
Also, bring your best costume or outfit (you never know who is going to be there…)
On zoom you can interact through chat with participants.
You can easily add a virtual background in the zoom video settings.
We strongly recommend to update zoom to the latest available version.
Explorer & Safari not supported, we recommend you to download the app.
On zoom mobile app, see participants by swiping left and right.