iPhone 11 Pro Max is well known as the latest and the biggest Apple smartphone, and also one of the most popular gadgets of 2020. But the price is too high and it is not so easy to find enough money to buy a brand new Apple iPhone, especially Pro and Pro Max. Today, on Scoop Empire, we tell you about at least 5 ways which might help to get the cheapest iPhone 11 Pro Max.
But, right before you start, look at the 11 Pro Max' prices in different countries:
Egypt: almost $1400;
UAE: almost $1300;
Germany: almost $1400;
Italy: almost $1400;
China: almost $1370.
As you can see, the prices in other countries are at least $50 more expensive than initial price in US – $1250. But believe us, it's worth every penny of its price.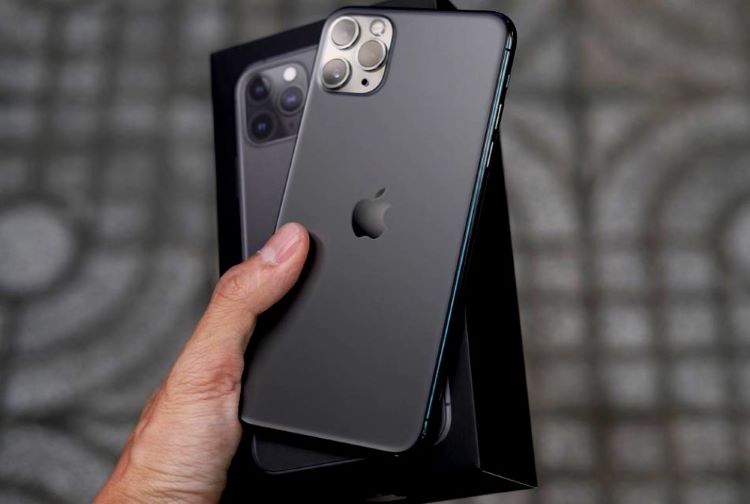 If you're waiting for iPhone 12, then you can check our latest material, where we told about the feature of opening cars using your smartphone: https://scoopempire.com/apples-newest-iphone-feature-aims-to-replace-your-car-key/
5 ways to get an iPhone 11 Pro Max for the lowest price
Sometimes it seems quite impossible to get the most expensive Apple smartphone for the lowest price, but it is not true. If you keep looking for the good offer, you should learn more about all of the ways that might help to save your money and achieve your goal. By the way, it doesn't take too much time it!
Purchasing iPhone on sales and special deals
Online markets are often offering special deals with the best prices for today. You should know that it is much better to look for sales and special deals online because you can save a lot of time and get a fast delivery. Sometimes you can get a good price only if you are willing to buy a lot of original accessories which are way too expensive.
How to do it: You can download a special market app or visit sites like Amazon or Souq to search for a good offer. If you really want to buy iPhone 11 Pro Max for the cheapest price, you'd have to look through the list of iPhone 11 Pro Max deals.
| | |
| --- | --- |
| Pros | Cons |
| You can save up to 30% | You have to spend a lot of time to find a good deal |
| | Sellers are often making prices too high before setting a new sale |
Getting an iPhone "second hand"
Sometimes you can find a good offer and buy a "second hand" iPhone. Actually, this is not the best decision you can make, because you can get a fake iPhone or pay for the phone that has been broken. Anyways, you can pay the lower price for iPhone 11 Pro Max if you will find a good offer and make a profit from it if a seller is honest.
| | |
| --- | --- |
| Pros | Cons |
| You can find the phone for really low price | iPhone can be drowned or broken |
| | iPhone can be fake |
| | You need to invest some amount of time to find the best offer |
Win an iPhone in sweepstakes or giveaways
A lot of famous bloggers, blog websites or ecommerce websites are presenting giveaways for subscribers and customers. They are always giving a promise that it would be fair and the prize will be given to the real follower. But it is not always the truth – there was a lot of fake giveaways and sweepstakes, even you might found some of them. But it's still a way to get a cheap Apple iPhone 11 Pro Max and even a slight chance to get it for real.
| | |
| --- | --- |
| Pros | Cons |
| Sometimes it's funny | Almost 99% of giveaways are fake |
| | If it's real, the probability to win a prize is too low |
Participate in contests
If you want to find another way how you can win the newest iPhone, you can take part in online competitions or challenge. Most of the times you'd have to write the text, make a video or invite other people to participate, just to take part in these contests. But, the chances of getting a free Apple iPhone 11 Pro Max are almost the same as for winning it in giveaways – approximately 1 to 100000.
| | |
| --- | --- |
| Pros | Cons |
| You can get a free iPhone | It's really hard to win |
| | You need to be very creative |
| | You need certain skills to compete |
Get an iPhone 11 Pro Max from a mystery box
For those, who don't want to invest a lot of time trying to get a cheap iPhone 11 Pro Max online we found one more, pretty interesting way of doing it. There is a mystery box website called DrakeMall, where users can open virtual surprise boxes from which they can get valuable (and not so valuable prizes). To get chance of winning iPhone 11 Pro Max you need to search for iPhone or Apple Mystery Box.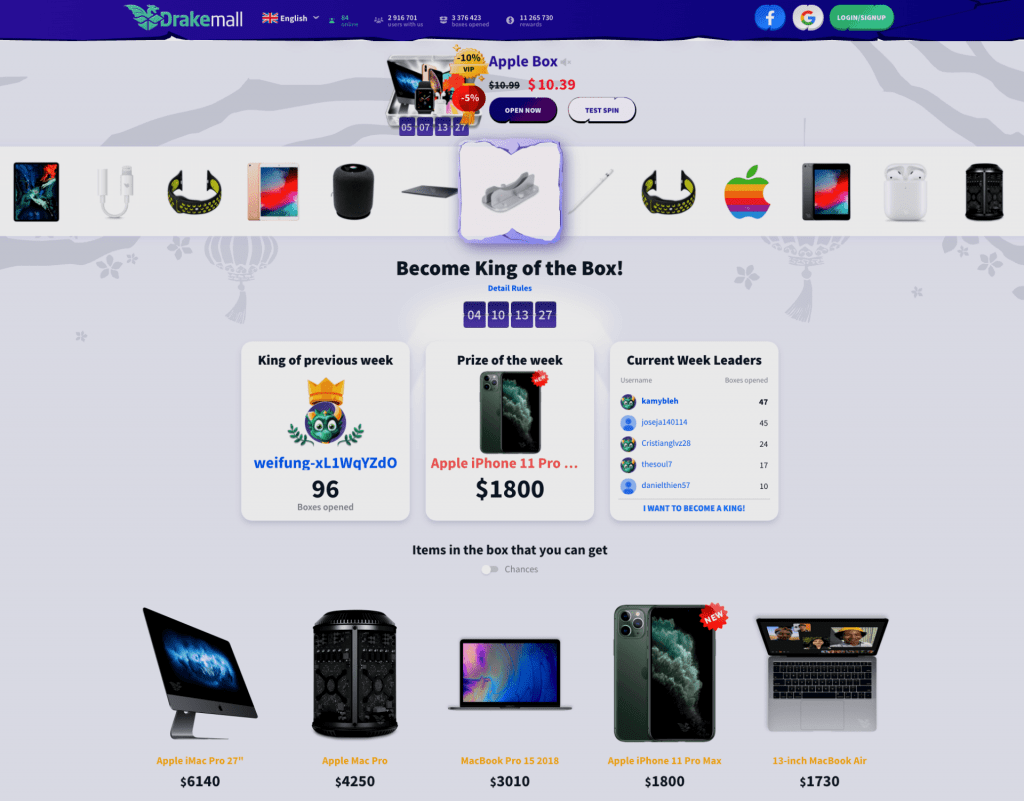 Yes, all you have to do is register an account and pay $5 for a mystery box opening, that gonna get a good opportunity to make your dream come true.
| | |
| --- | --- |
| Pros | Cons |
| You can get a lot of good things besides an iPhone | You can get the prize that you wouldn't like (for example, iPhone case) |
| 100% real prize chance (each opening will get you a random product) | |
| Low cost of mystery boxes | |
What else can you get for cheap on DrakeMall
Despite that Drake Mall is the real way to get iPhone 11 under $50, you can get another huge amount of awesome prizes from its mystery boxes. Here is the short review of things that might be hidden inside loot boxes on the website: Xbox One X, PS4 Pro, Alienware laptops, iPhone XR, GoPro Hero, Ninebot Segway etc. Even if you're not gonna win iPhone 11 Pro Max, you wouldn't be so sad, because other prizes can be even better (the same mystery box with Apple products can get you Mac Pro 2019!).
If you have a premium subscription on DrakeMall (VIP) you can open daily free mystery box which costs $0.00, from which you can get the latest version of Asus Zenbook, iPhone XS, iPad Pro 11 or another gadget!
Welcome bonus and other promo offers from DrakeMall
Now, if you found yourself interested in DrakeMall mystery box marketplace, it gives bonuses for new and existing users and presents different promotional offers that may increase the possibility to win a good prize or, at least, add some excitement into mystery box opening game. As an example, you can get up to 50% bonus for the first deposit so you can use these additional money to open more boxes.
This is not the only offer from DrakeMall. You can check this out:
Monthly community giveaways: start collecting points for spending money. At the end of the month, users, that got the most points win exclusive products!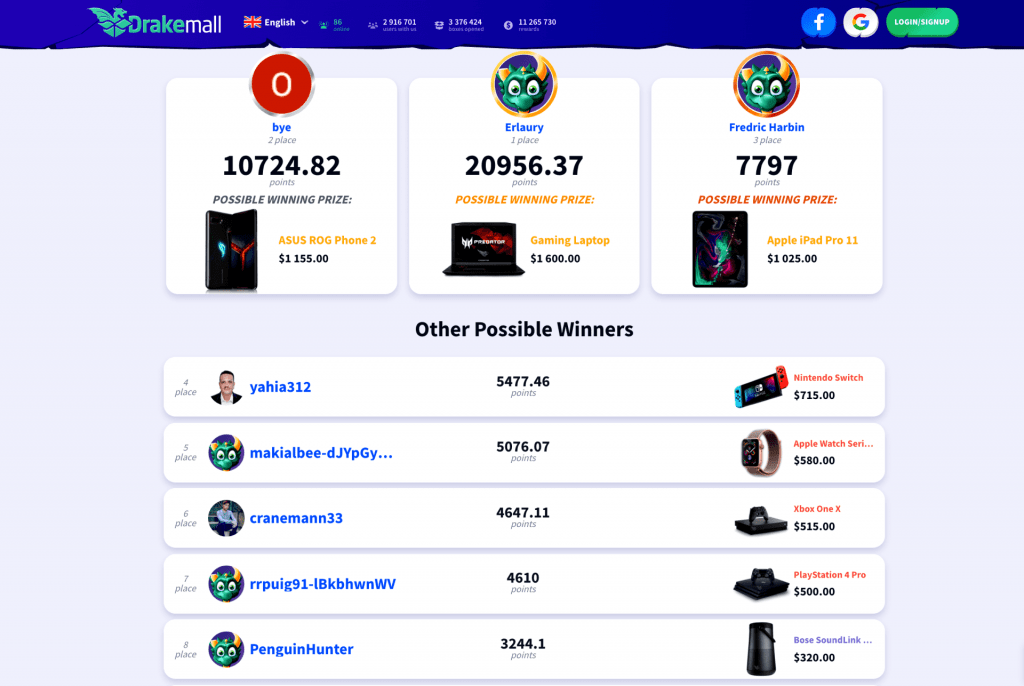 Make a prize unboxing and get free delivery: won an item? Shoot your unboxing of this product and get up to $30!
VIP subscription: pay $9.99/month and receive new premium features – daily free surprise box, weekly promo codes, extra discounts, special boxes and MORE!
WE SAID THIS: Tell us your thoughts!