Amazon FBA (Fulfillment by Amazon) is a good thing for new sellers. They can benefit from providing more qualitative services, comparing to those merchants who fulfill their orders themselves. There are such advantages as fast delivery or a wider customer base. It is suitable for high-volume sellers and their goods of large weights and dimensions. Besides, sellers have such advantages as Buy Box or Prime eligibility. Nevertheless, it is not free.
The Amazon calculator is a seller-oriented tool for anybody who considering either dipping into the FBA program or, vice versa, using another fulfillment method. Numerous sellers successfully apply this tool to calculate their approximate revenue on the platform and all Amazon fees. The best thing that you don't need profound knowledge to use the calculator.
Why do You Need FBA Fee Calculator?

The main reason for using FBA Revenue Calculator is to monitor profits. It gives an accurate idea of the income you will actually receive. In fact, all sellers take advantage of it, visualizing the profit and assessing all financial risks. Sounds good, doesn't it? 

Is FBA calculator profitable for you?

After launching a product, sellers focus on calculating profits. To do profitable business on Amazon, you should take into account some initial data. For example, calculate profit margins, initial investments, fulfillment fees, and other nuance. This way, you will better understand how to run your business.

What tasks can Amazon FBA calculator resolve?

It helps manage seller finances and correctly calculate profit margins. This helpful tool ensures that a product you sell on Amazon is bringing you money and available to more customers. The Amazon fee calculator also works out your final income taking into account other factors. Subsequently, it helps you define whether a particular product will make a profit.

Its interface is user-friendly. Everything you need is to input an ASIN. You can choose the same ASIN as you will sell or find a product similar to the one you've researched. Then you should fill out the cost of an item. After that, a seller gets a list of all FBA fees related to the particular item. Besides, you can use it for calculating Amazon FBM (fulfillment by merchant) ones. But then you should point out the price for delivering your product.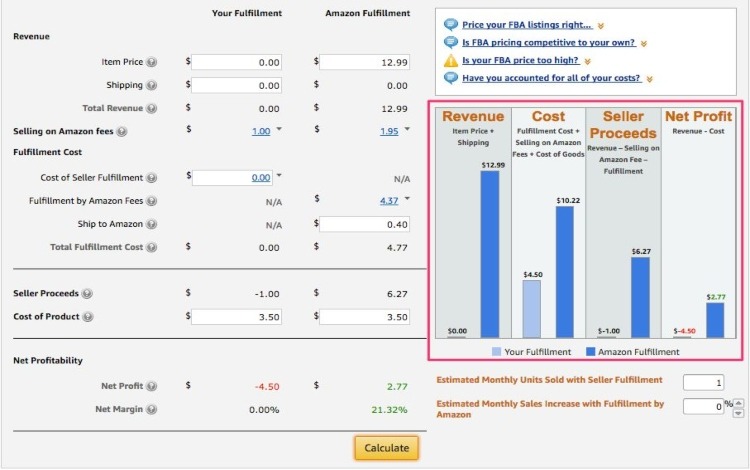 Which Amazon dee does the FBA fee calculator fail to comprise?

Not all FBA fulfillment fees can be counted with the Amazon calculator. Nevertheless, it is a great tool to keep an eye on the cost of selling. According to SageMailer, some FBA fulfillment fees occur only in definite circumstances. You should know what those fees are as well as recognize the cases in which they take place. Let's discuss them.
Can I Use FBA calculator for working out returns processing fees?

Amazon charges it for goods that are to ship back for free. For example, there are such products on Amazon as shoes, clothes, bags, glasses, and other not so costly things. The price for services is the same as the total fee. Do not forget about it if you sell items that belong to this category of goods on Amazon. Thus, the Amazon FBA fee calculator does not take this fee into account.

Does Amazon calculator recognize unplanned service fees?
Some inventories lack labeling or other necessary elements. Amazon fixes such issues on a paid basis. If it is your first shipment, Amazon's fulfillment centers do not provide a large fee. However, if a seller makes mistakes over and over again, they will double the cost. This way, be sure that you correctly label your shipments to avoid such extras. If not, include the spending in the price of your goods. Then you will have an accurate margin calculation.
Final Thoughts
The point of any business is to make money. However, many new sellers often don't know precisely what their profit margin and expenses are. The best way to find out this is by using the Amazon FBA calculator. It's a free tool provided by Amazon that helps all sellers to calculate their profit margins even before manufacturing and shipping their products to the marketplace. 
WE SAID THIS: What are your thoughts on this product?