During Eid El Adha there are many destinations that are known as the Go-To-Spots to unwind with family. For Egypt, it's the North Coast, for Saudi Arabia, it's the UAE and just as there are Go-To-Spots, there are some places known to be avoided during the holiday, one of which is Egypt's Alexandria. With most of Egypt's governates like El Behera and El Gharbiya flocking to the coastal city for its long stretches of sandy beaches, it can get a little crowded. This is assumption is a common mistake and the mermaid of the Mediterranean that is Alexandria has so much to offer.
A Hefty Breakfast
To start off the day, head to downtown, known as Raml Station. During the rule of King Farouk in the 1920s, it was known as the booming cosmopolitan hub of fashion and food, with Greeks, Egyptians, Italians and Armenians flocking its streets. As you drive through Corniche to reach this old gem, you'll notice many Greek establishments on your left, from Athenos to Calithea. As you get closer to Raml Station, you'll feel as though you're getting transported back in time, with the buildings retaining their façade from as far back as the 1850s, with green shutters and their significant Moresque style.
Once you arrive at Saad Zaghlol Square, head to Trianon, a café overlooking the square and take a right then cross the street there you will find Mohamed Ahmed on your left, I'd recommend arriving at this popular local eatery at 8 or 9 am. With Eid, especially if it's the first day, most families would probably be asleep after staying up for Eid prayer. By entering Muhammed Ahmed, established in 1957, you'll be entering a space that was visited by some of the most prominent local and global figures like Queen Sofia of Spain and Naghib Maafouz. The reason for its popularity being its cheap yet extremely delicious breakfast options. Their falafel is coined as the best falafel in all of Egypt, you should also try out their grilled halloumi, eggs with basterma along with their Alexandrian foul.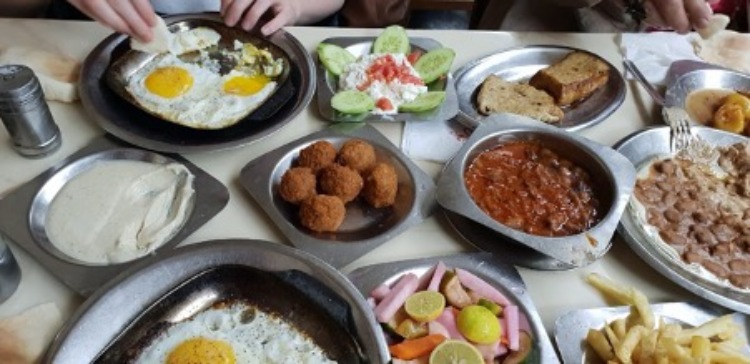 In case Muhammed Ahmed is closed, a nearby backup breakfast option would be the hidden gem: The International Seaman's Club. Situated in one of Alexandria's older buildings on the second floor, its marked by high ceilings, taking up 2 floors of space, a rarity in Egypt's current architecture, as well as windows overlooking some of Alexandria's top landmarks from Saad Zaghlol Square to Cecil hotel, all with the backdrop of Alexandria's Corniche. For their breakfast, try out their feteer (popular Egyptian dish can be both savoury or sweet depending on topping) that is served with molasses, cheese and honey.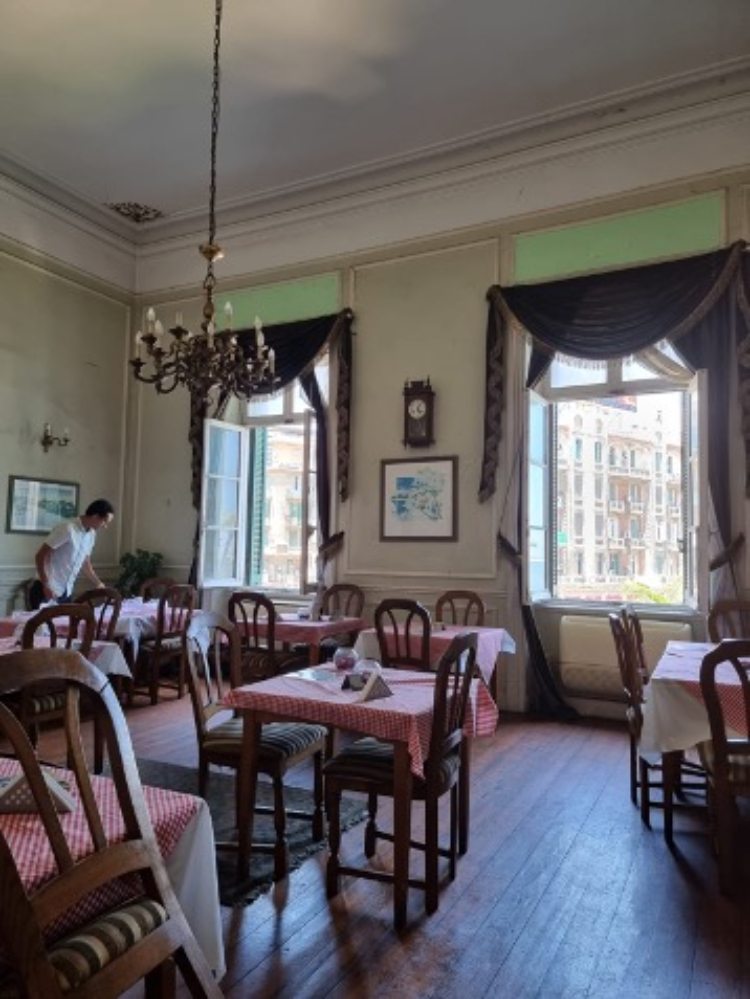 The Historical Trio: Greece, Rome and Egypt
For the history buffs out there, the Catacombs of Kom El Shoqafa are a must visit. Discovered by accident in 1900 when a donkey fell into a 30-meter hole, these catacombs mark the union of the three top ancient civilizations: Greece, Rome and Egypt. Be sure to get there at least an hour before their closing time of 4 pm, as by then the heat will have subsided. It is okay to arrive before then as well, as once you travel down and reach its depth of 30 meters, there will be a significant drop in temperature making the air feel cool and fresh.
To get there from Raml station, you have two options. If you're the adventurous type, you can tell the uber to take the inner route to the catacombs. Be ready for extremely narrow passageways populated with auto repair and tool shops. You might even witness the remaining flocks of sheep and cows gathered on the sides of the streets for Eid. Or you can take the much calmer and safer route that includes taking the Corniche then Qanat El Suez Road.
I'd recommend taking a guide to learn all you can about this historical landmark. Some cool things you'll get to see include more than 300 side openings that used to house mummies that are now scattered all over the world, statues and carvings of mythical figures like Medusa and a funeral banquet hall.
Seafood, Ice Cream and a Coastal Stroll
When it comes to seafood, most Alexandrians will tell you to check out Farag, Seagull and Zefir, yet, from experience, nothing beats Aroos El Bahr. Located at Bahari, this is the place to go for an authentic Alexandrian seafood experience. Surrounded by glass on all sides and topped with a lacquered blue ceiling covered with marine life and mermaids, you'll feel as though you're in an open-air submarine.
In terms of their food, some of the most unique dishes include their Besaria, tiny finger-sized fish, deep fried and eaten whole. Its akin to eating a packet of salty chips, they are quite addictive. For the shrimp lovers, go for the grilled option as its very juicy and packed with flavor! Bear in mind, as they usually serve the jumbo shrimp, 2 to 3 pieces per person will be more than enough. Don't forget to try out their fish, with options ranging from chargrilled Denise, Sengari Aroos with potatoes to deep fried Mussa.
If you have any room left, you should go for some dessert. Usually people would flock to Azza, a popular ice cream spot to cool off but instead, you should check out Couscous Yesmin especially if you want to avoid the crowds. Despite it being known for its delicious, sweet couscous, its ice cream is pretty great too!
Instead of taking the car, a fun way to get to Yesmin would be to walk through El Corniche. It will be slightly crowded but you'll get to see the water as in that particular part of Alexandria, there are no restaurant chains or cafeterias blocking the view. The walk will also help with digesting all that flavorful seafood. Plus, do not worry about the weather because during sunset time, by the beach, it gets pretty windy and fresh so by the time you reach Yesmin you'll probably have cooled off. Once you get there, head straight inside and ask for their menu. I would recommend trying out their dynamic trio of Roz Bil Laban, ice cream and mixed nuts.
There you have it, one complete day spent in Alexandria during Eid, with a jam-packed itinerary that avoids crowds and includes several hidden gems!
WE SAID THIS: Don't miss El-Gawla: A Tour By Mina Zaki That Uncovers Alexandria's Beauty