When's a better time to clear your mind and relax than on Valentine's Day? To celebrate love correctly, you need to be on your A-game. We've got all kinds of places you can visit to feel the serenity and passion of love. Pack up your bags, call in sick from work, and turn off your phone. It's time for you to refresh and enjoy some intimacy. Here are 21 amazing destinations in Egypt to visit this Valentine's Day!
1. Dahab: Tropitel Dahab Oasis
It's a 4-star hotel, where each room has a sea view. It has a pool, spa, gym, and a beauty salon. You can book easily through multiple websites. It's a great, romantic place to pamper yourself and feel closer to your lover.
2. Sharm El Sheikh: Tiran Island Snorkeling with Lunch on Boat
Sunbathing in the Gulf of Aqaba never sounded so good. You can go for a swim, or a dive and enjoy the sea creatures. It's peaceful and dreamy; your day is best spent at the sea.
3. Hurghada: Parasailing Adventure with Hotel Pickup
It's a two people adventure. Attached to a boat in a parachute, you can parasail and enjoy a great view of the sea. Floating in the air has never felt better than with your sweetheart.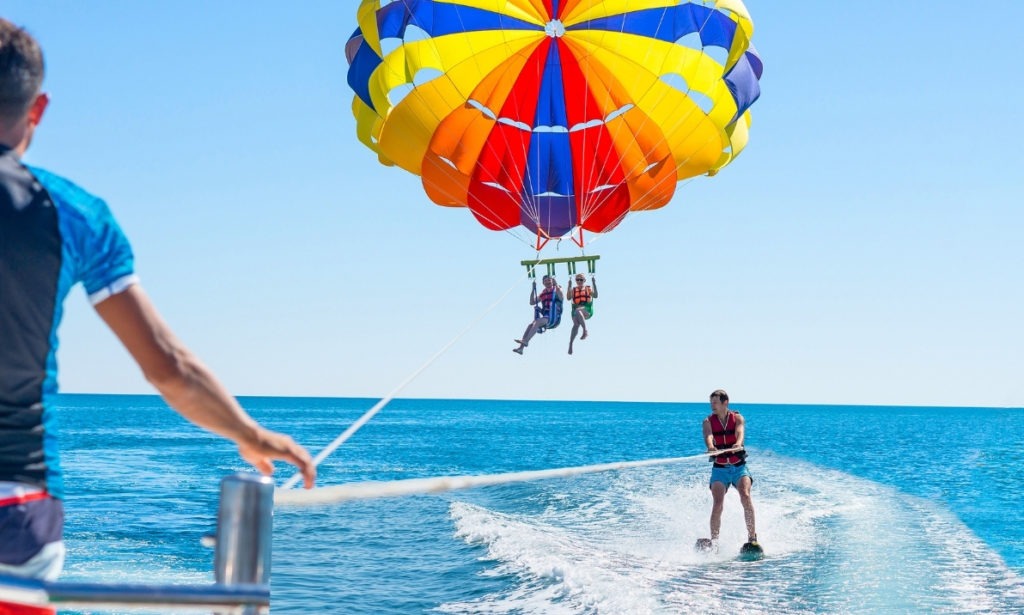 4. Al Fayyum: Valley of the Whales and Wadi El Rayan Water Falls Day Tour
You can see Egypt's highest waterfalls up close. Take a tour through Al Fayyum and experience for yourself the mesmerizing serenity of the waterfalls. Then proceed by visiting Valley of the Whales to witness a great fossil collection. Take in the beautiful nature with your significant other.
5. Siwa: Desert Safari-Fire camps
With people around you in traditional dress and a place shaped by ancient cultures, you will feel reborn and nostalgic. Enjoy nature with your loved one in the best way. Book now.
6. Alexandria: Cleopatra's Palace
Take a dive into history by visiting Queen Cleopatra's Palace. You can dive into the sea to see the underwater historical monuments of ancient Alexandria, definitely a one-of-a-kind experience! Make sure to pass by one of the city's many excellent restaurants for some delicious seafood.
7. Sokhna: Cancun Sokhna Resort
Visit one of the most romantic hotels in Egypt now for some guaranteed relaxation and intimacy. Relish each other's company in the spa and take advantage of the great service and views.
8. Gouna: La Playa Restaurant
Spending the weekend in Gouna? La Playa will let you luxuriate in deliciously fresh and tasty food with your other half, a romantic soothing beach view as your backdrop. What more could you want!
9. Luxor: Sound and Light Show at Karnak Temple
To witness the history of ancient Thebes, you can experience the romantic light show. You'll be stunned by how amazing the atmosphere is. Make your reservation now!
10. Aswan: Kitchener's Island
An island in the Nile river is definitely a spot to reminisce on your first date with your partner. It's a romantic spot to watch the sunset and enjoy a cool, Egyptian breeze of air. For something a little different, head over to Kitchener's Island.
11. Cairo: The Revolving Restaurant At Cairo Tower
One of the most romantic places in Cairo is the rotating restaurant on top of Cairo Tower. You can have a 360 view of the city from your chair as you have dinner. It's a romantic view for a night out.
12. Orabi: Nūt Boutique Farm Lodge
It's a great farm and ecolodge, surrounded by lush greenery. You can watch the scenery and take in the rustic natural surroundings without having to travel far!
13. Egypt's Wellness Seek Cruise
Take a cruise down the Nile river through Luxor and Aswan. With a soul-cleansing program, you will definitely feel inner-peace and catharsis, and you'll be more connected to your roots than ever.
14. Sahl Hasheesh: Sunrise Romance Resort
Spend a romantic evening with your darling in this resort, near the sea, or by candlelight in your luxurious suite.
15. Marsa Alam: Blue Ocean Dive Centers & Resorts
It's all fairy-tale like scenery down there. You can go diving with the best divers in Egypt, and discover the mysteries of the Red Sea.
16. Ra's Sudr: The Kite Buzz
Water sports are always fun, and kite surfing can be romantic when done with your beloved. You can enjoy kite surfing at this amazing center in Ras Sudr.
17. Port Said & Suez Canal: Private Full-Day Tour
Take a full tour down the Suez Canal on a cruise, and watch Egypt pass by you as you relax. Definitely one for those looking to go off the beaten path!
18. Saint Catherine Hike
You can enjoy outdoor activities as a couple, to connect to each other and nature. Go on a hike together and take in the stunning, awe-inspiring beauty of Saint Catherine's mountains.
19. Safaga: Menaville Resort and Spa
At this spa, you'll get the royal treatment from a team of professionals who are there just to make sure you have the absolute best experience possible.
20. Nuweibaa: Basata Village
Visit this village to chill and have a soul-cleansing experience away from all technology and the city lights. The rustic vibes are mesmerizing.
21. Aswan: Saluga & Ghazal Islands
Two beautiful Islands in the middle of the Nile River will help you both find love, and maybe rebirth, in nature.